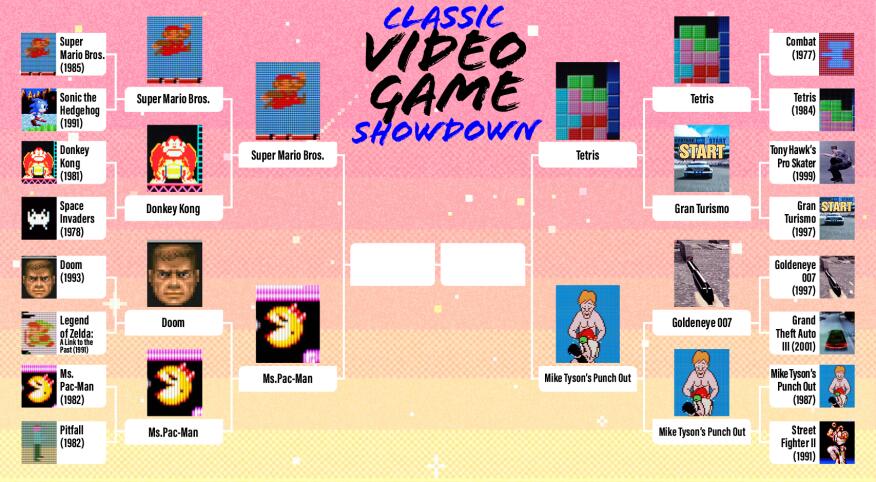 Every Gen Xer has at least one memory of playing a video game for the first time and having their mind blown.

Maybe they were at an arcade, their pockets full of quarters, discovering the endorphin rush of jumping over barrels thrown by a damsel-kidnapping ape. Or maybe they were in the living room of a buddy, whose parents had sprung for an Atari console, which was to our generation what TVs were to the Boomers. We discovered and fell in love with characters like Mario, Sonic, Ryu, Scorpion, a pixilated Tony Hawk, and Ms. Pac-Man. Some of us still have more complicated feelings for Lara Croft than we do our flesh-and-blood exes.

Ranking the best classic arcade games might feel like an exercise in futility. And you'd be right! That's why we're passing the buck to you, the Arrow readers. In the coming weeks, we're asking you to make some impossible decisions and pick your favorite classic video games in a March-Madness style showdown. Was Mike Tyson's Punch more epically awesome than Street Fighter II? Who will emerge triumphant in a popularity contest between Doom and Legend of Zelda, or Goldeneye 007 and Grand Theft Auto III? Hey, don't look at us, that's your call.

We're down to the Final Four, with only four champions remaining: Super Mario Bros., Ms. Pac-Man, Tetris, and Mike Tyson's Punch-Out!! Who will wear the crown of Gen X's favorite video game? The battle continues in just a few days.

Come back to see a full rundown of the winners and losers, and in an upcoming issue of The Arrow, we'll have an official crowning of Gen X's Favorite Classic Video Game. Subscribe today so you don't miss a moment of it. It's completely free, and we won't inundate your inbox with emails.