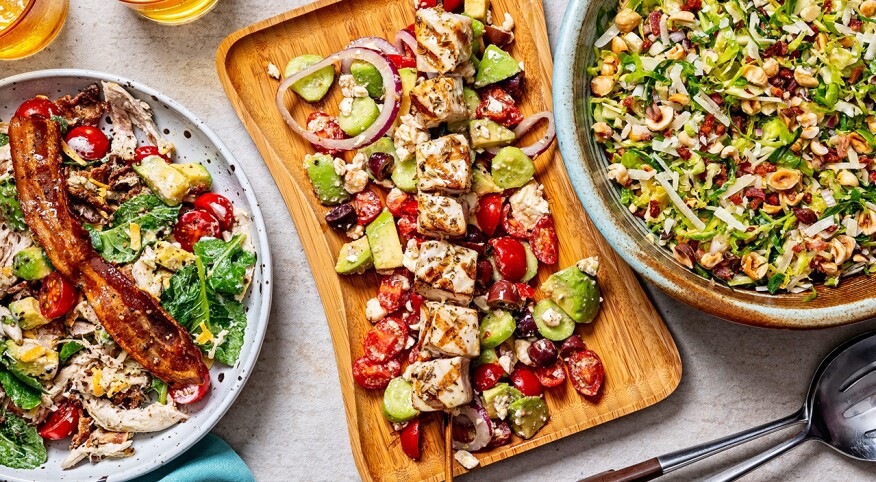 According to the Merck Veterinary Manual, rabbits are receptive to mating about 14 of every 16 days. A guy can only dream, but incorporating a bit more "rabbit food" into your diet can't hurt.

Getting more leafy greens in your diet can also strengthen your muscles, according to recent research. Just a cup a day can improve muscle function, especially in your lower limbs. Maybe the trick to sprinting like Tom Cruise comes down to eating like Popeye.

I'm not talking about those bowls of sad lettuce that your wife tries to make you eat when your cholesterol gets too high. I'm talking about hearty, deeply satisfying, protein-rich salads that help you feel healthy, satisfied and full — but not bloated.

The following three salads deliver everything you're looking for in a manly, muscle-building lunch or a refreshing al fresco dinner.

Club Sandwich Salad

All the good stuff you love about a club sandwich, without the bread and gratuitous calories.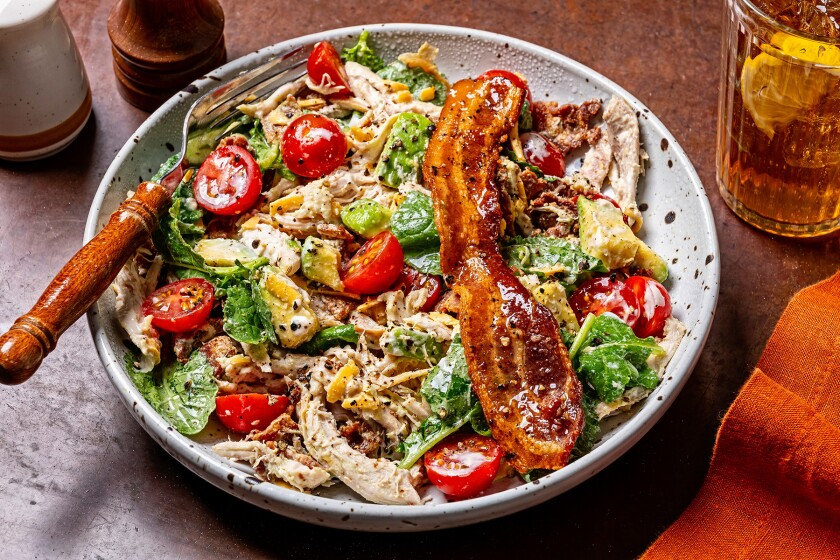 For the salad

1½ cups pulled rotisserie chicken, or any other type of cooked chicken

⅓ cup shredded or crumbled sharp cheddar cheese, Monterey jack, or your favorite semi-hard cheese

1 cup red cherry tomatoes

2 cups baby kale or baby spinach

1 avocado, pitted and cut into ½-inch cubes

6 strips of thick-cut bacon, divided

For the dressing

3 tablespoons plain Greek yogurt

1 tablespoon lemon juice

1 tablespoon red wine vinegar

1 teaspoon Dijon mustard

Salt and pepper to taste

Slice 4 strips of bacon crosswise into ½-inch slices. Fry until crispy. Cook remaining whole slices of bacon until crispy. Reserve.

Combine all dressing ingredients in a bowl and whisk until smooth.

In a large bowl, add all the salad ingredients. Add dressing and toss gently.

Top each salad with a slice of crispy bacon.

Yield: 2 servings

The Shredded Salad

Brussels sprouts are high in nutrients, antioxidants and fiber. But don't let that scare you. This salad has so many layers of flavor and texture that you'll forget it's healthy.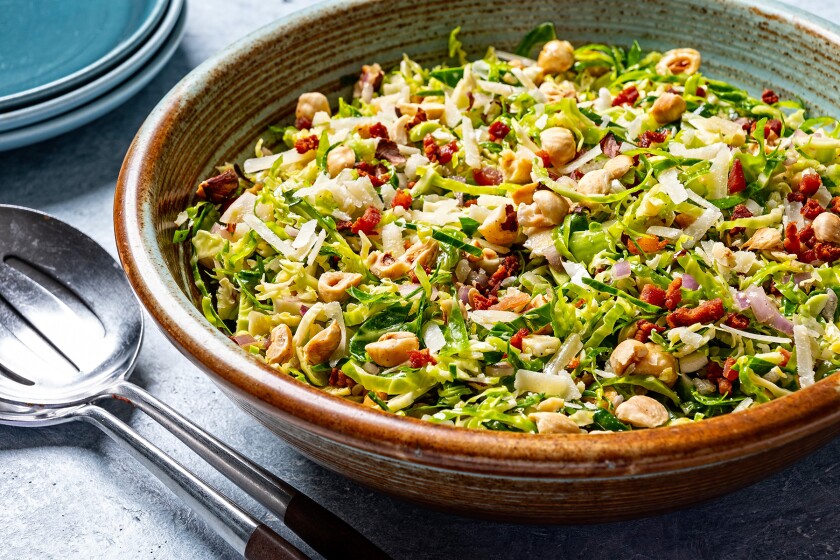 For the salad

¾ pound precut brussels sprouts

4 ounces diced pancetta

½ cup roasted hazelnuts, slightly crushed with the flat side of a chef's knife

½ cup shaved, or coarsely grated, Parmigiano-Reggiano

1 tablespoon shallot, or onion, diced finely

For the dressing

2 teaspoons Dijon mustard

1 tablespoon maple syrup or, in a pinch, honey

2 teaspoons balsamic vinegar

1 teaspoon lemon juice

3 tablespoons olive oil

Salt and pepper to taste

Fry pancetta until it is crispy. Reserve.

In a small bowl, whisk together mustard, maple syrup, vinegar and lemon juice. Slowly drizzle in olive oil, whisking constantly until emulsified. Season to taste with salt and pepper. Reserve.

To a large bowl add brussels sprouts, hazelnuts, Parmigiano- Reggiano, pancetta and shallots. Add dressing and toss thoroughly.

Yield: 2 servings

Greek God Salad

If you start with the most flavorful components of a classic Greek salad, add the lusciousness of avocado and the meatiness of a grilled swordfish kabob — you will eat like a Greek god.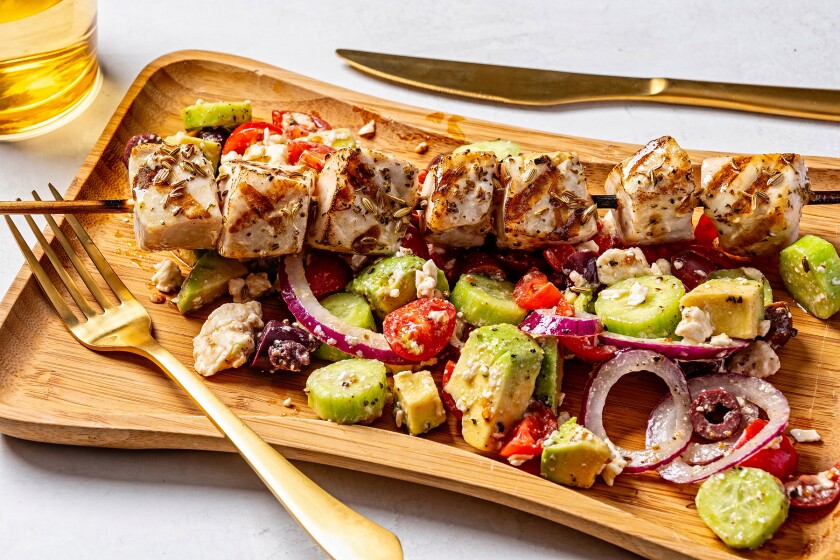 For the swordfish

12 ounces swordfish, cut into 1-inch cubes

1 tablespoon lemon juice

1 tablespoon olive oil

2 teaspoons dried oregano (or any mix of oregano, mint, fennel seeds and minced garlic)

½ teaspoon salt

2 10-inch bamboo skewers

For the salad

½ cup pitted Kalamata olives (pro tip: To minimize the possibility of a stowaway pit sending you to the dentist, slice each olive in half)

1½ cups best-available cherry tomatoes, whole, or best-available tomatoes, quartered

2 Persian cucumbers, or ½ English cucumber, or 1 conventional cucumber, peeled and cut into ¼-inch thick rounds

¼ cup red onion, cut into rings from the center 2 inches of the onion

1 avocado, peeled, pitted and cut into ½-inch cubes

4 ounces best-available feta cheese, crumbled

Salt and pepper to taste

For the dressing

3 tablespoons best-available olive oil

1 tablespoon red wine vinegar

In a resealable plastic bag, add the swordfish, lemon juice, olive oil, oregano (and any additional spices) and salt. Marinate for a minimum of 30 minutes in the refrigerator. At the same time, soak your bamboo skewers in water.

In a large bowl, add all of the salad ingredients. Reserve.

Skewer the swordfish on the bamboo skewers. Over a hot grill, or in a hot pan, cook your kabob, turning ¼ rotation every minute or until cooked throughout — about 4 minutes.

Add the oil, vinegar, salt and pepper to the salad ingredients. Toss gently and serve in bowls. Top each serving with a swordfish kabob.

Yield: 2 servings