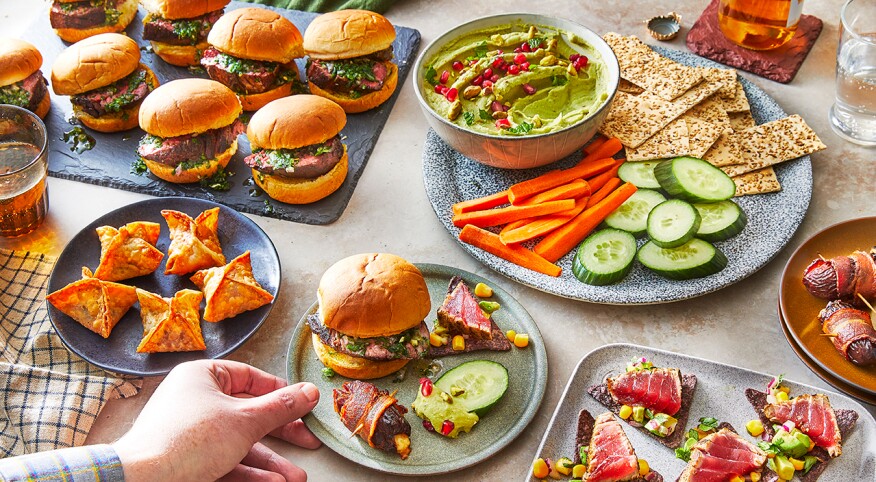 Having friends over to watch the Super Bowl? They deserve better than grocery store deli platters, delivery pizza and wings, and bowls of stale chips. But you don't need to spend hours laboring over a pot of Guy Fieri's Dragon's Breath Chili to knock out some respectable game-time snacks. As a culinary charlatan, I can assure you that the easiest way to punch above your weight class in the kitchen is to start with unexpected ingredients.

These three foolproof recipes will allow you to feed your homies some classy snacks without missing a moment of the action.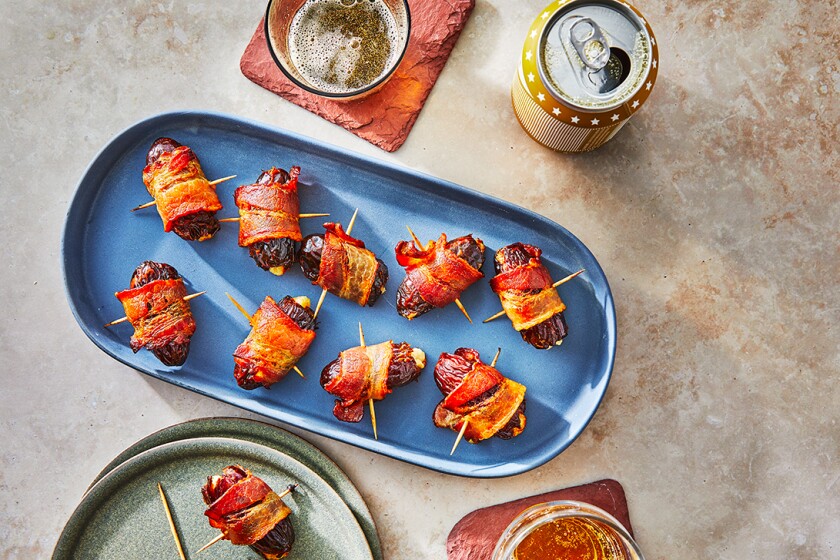 COCKTAIL DATES

In their unadorned state, Medjool dates are sweet and rich. But stuff them with nutty Parmigiano-Reggiano, wrap them in the smoky saltiness of bacon and bake them, and they turn into molten balls of decadence that will blow everyone's mind.

12 large, dried Medjool dates
4-ounce chunk Parmigiano-Reggiano
6 slices bacon (ideally the fancy smoked variety), cut in half widthwise
12 wooden toothpicks

Preheat oven to 350°F.

Use a paring knife to make a lengthwise slit in the date. Splay open the date and remove the pit. Reserve dates.

Using your sharpest knife, cut Parmigiano-Reggiano into sticks that are 1 inch long by ¼ inch x ¼ inch.

Fill the pit cavity of each date with a piece of cheese. Close the dates around the cheese and press to seal.

Wrap each date with a piece of bacon and set on a baking sheet, seam-side down. Skewer with a toothpick to hold bacon in place.

Bake on a sheet pan for approximately 20 minutes, or until bacon is crispy.

Yield: 12 bites

Prep strategy: Wrap in advance, then pop in the oven during gametime.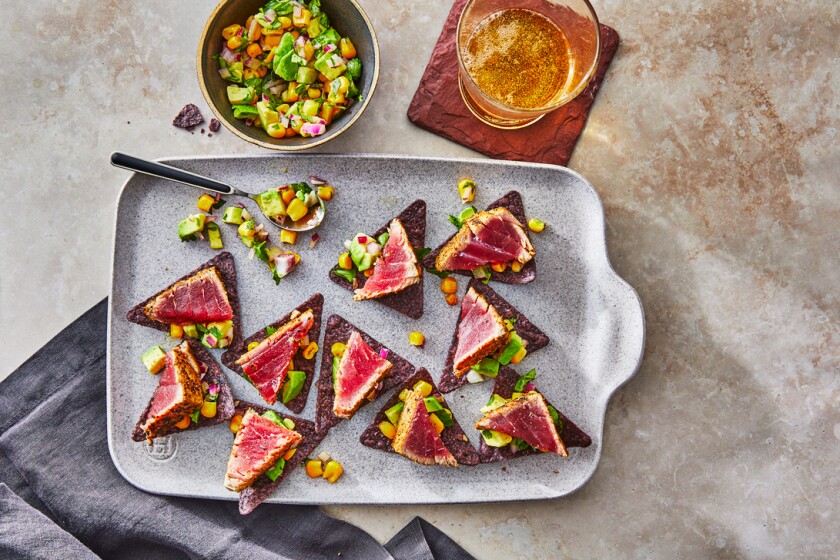 TUNA FISH & CHIPS

Upgrade your tortilla chips from a delivery vehicle for salsa to the perfect foil for a melt-in-your-mouth slice of cumin-crusted tuna.

Part 1: The avocado relish

1 ripe-but-still-firm avocado, diced into ¼-inch cubes
½ cup frozen corn kernels, thawed
¼ cup cilantro, chopped
¼ cup red onion, diced
2 tablespoons freshly squeezed lime juice
Salt to taste

In a medium bowl, combine all the relish ingredients and toss gently. Reserve.

Part 2: The tuna

12 ounces sushi-quality ahi, or albacore tuna, 1-inch thick
1 teaspoon ground cumin
1 teaspoon freshly ground black pepper
½ teaspoon ground coriander
½ teaspoon salt
¼ teaspoon cayenne pepper
1 tablespoon canola oil
12 blue corn tortilla chips

Using a long, sharp knife, cut tuna into triangle-shaped strips, 1¼ inches per side (see diagram).

In a small bowl, combine cumin, pepper, coriander, salt and cayenne. Rub spice mixture generously on all three long sides of the tuna.

Heat a nonstick pan over high heat. When pan is smoking hot, add canola oil. Wait 10 seconds, then add tuna. Sear for 30 seconds per side or until fish is cooked on the outside but still rare in the center. Transfer to a plate.

To assemble: Just before serving, slice tuna into ½-inch-thick triangles. Line up tortilla chips. Top each with a dollop of avocado relish and a slice of tuna.

Yield: 12 bites

Prep strategy: Relish can be made in advance. Tuna can be seared earlier in the day and served at room temperature. Assemble just before gametime.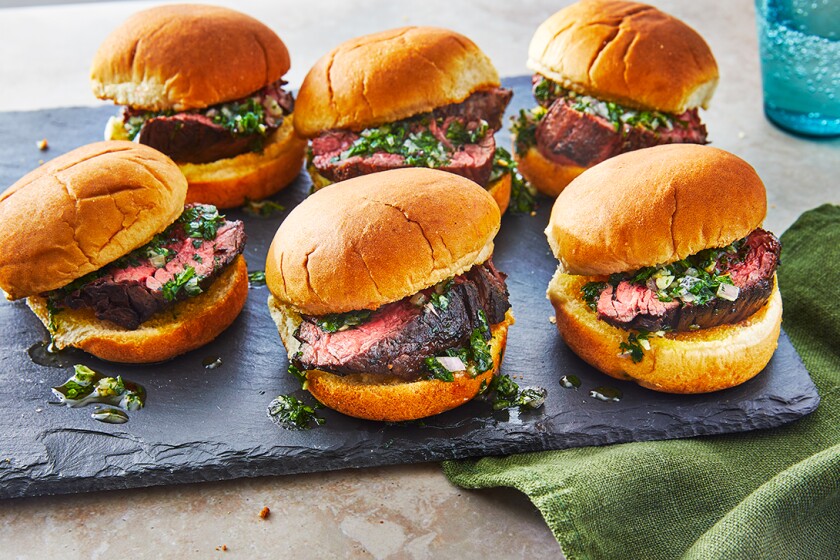 GAUCHO SLIDERS

Think of chimichurri, the traditional Argentinean condiment, an instant upgrade for your steak slider.

Part 1: The chimichurri

1 cup lightly packed fresh parsley (flat or curly)
4 tablespoons olive oil
1 tablespoon freshly squeezed lemon juice
1 clove garlic, minced
1 small shallot, minced
1 tablespoon sherry vinegar or red wine vinegar
¼ to ½ teaspoon chile pepper flakes
Salt and pepper, to taste

Place all chimichurri ingredients in a food processor or blender and pulse for about 30 seconds until very well chopped but not quite pureed. Reserve.

Part 2: the sliders

1½ pounds of hanger steak or your favorite steak
12 slider buns
Salt and pepper

Season the steak with salt and pepper. Grill or pan-cook to your desired degree of doneness. Let rest, uncut, for a minimum of 10 minutes.

To serve: Lightly toast buns in a toaster oven or in a pan. Cut steak against the grain into thick slices. Place a slice of steak on each bottom bun, then spoon a tablespoon of chimichurri sauce overtop.

Yield: 12 sliders

Prep strategy: Make chimichurri in advance. Cook steak earlier in the day and serve at room temp. Toast buns, slice steak and assemble sliders just before serving.