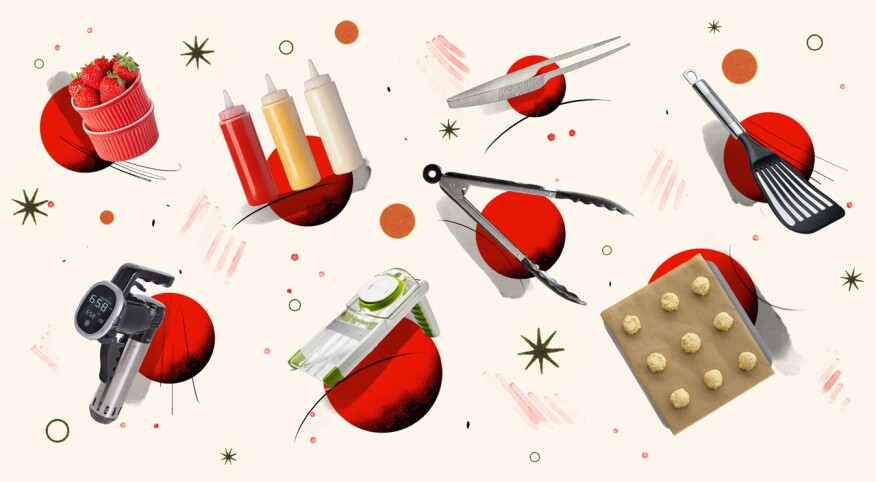 Americans spend about 400 hours in their kitchen every year. That's according to a recent poll that asked 2,000 people about their personal cooking habits. And that number doesn't include the countless hours spent watching food shows. You probably know at least a few people who consider themselves serious DIY foodies. When it comes to the 2022 holiday season, give them the gifts they really want: kitchen tools (a.k.a. chef candy).

The simplest rule of thumb for selecting an appropriate gift is to match the item to the skill level of the recipient — and steer clear of silly gadgets and novelty gifts (lobster claw oven mitts, I'm lookin' at you). Here's a suggestion for every budget and every level of cooking.

Stainless steel tongs

An agile, spring-loaded, 9-inch pair of tongs are to a cook what scissors were to a young Johnny Depp — a seamless extension of their hands. They allow the holder to dexterously flip food, move hot pans and toss salads like the Carmy in The Bear. About $15.

Kitchen tweezers

Any fan of food competition shows has watched contestants use a long pair of kitchen tweezers to precisely place a microgreen into position as the clock ticks down to zero. Even if they won't automatically turn home cooks into Iron Chefs, they're guaranteed to help them feel like one. About $10.

Mandolin

A mandolin is a versatile manual grater designed to slice vegetables to any desired degree of thickness, with speed and accuracy. It's the perfect tool for slicing potatoes for potato chips or cutting cucumbers into even rounds. Most mandolins come with a couple of additional blades that shred. Even the most skilled restaurant prep chef can't come close to cutting uniformly thin slices with a knife the way a mandolin can. About $50.

Sous Vide Immersion Circulator

Sous vide is a cooking technique that involves slow-cooking foods (usually meats) in vacuum-sealed plastic bags in a water bath at a precise temperature. If someone on your list drools over the perfectly cooked, rosy steaks featured in Ruth's Chris print ads, a sous vide circulator is their wet dream. About $100.

Six-ounce ramekins

Restaurant chefs set up their stations with their go-to ingredients already sliced and diced. The French term for this is mise en place (to put in place). A set of small ramekins allows cooks to apply the same approach at home and avoid becoming flustered when a recipe calls for a particular ingredient to be added at a crucial moment. Set of six, about $20.

Squeeze bottles (16 oz.)

These inexpensive, utilitarian, pointy-topped plastic bottles are ubiquitous in professional kitchens. They can be used for sauces, dressings, oils, vinegars and anything else that needs to be portioned out in small drops or quick squirts without losing time wrestling with lids or measuring out microportions. Set of six, about $15.

Pre-cut parchment paper

Pre-cut, disposable parchment sheets make cleanup a snap. The 12-by-16-inch sheets fit perfectly into a standard-size home sheet pan and prevent stickage without impeding the browning process. 200 sheets, about $15.

Fish spatula

On first blush, fish spatulas (which are wider at the tip than at the handle and super-thin) fall into the "why would I need this" category. But try to wrestle one back a few months after gifting it. Not only does it slide under delicate fish filets without chipping away at the edges, but it's perfect for fried eggs, pancakes, burgers and anything else that needs to be flipped. About $25.