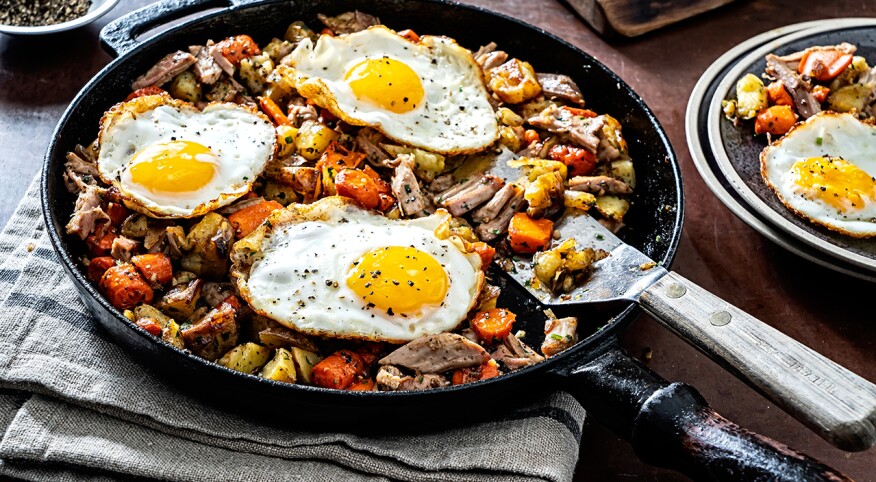 You spent countless hours shopping, prepping and cooking — or if you were lucky, you got off easy and just had to foot the insane grocery bill. Either way, your Thanksgiving meal is inhaled and the kitchen looks like it was hit by a tornado and the Tupperware lids are straining to contain the leftovers. Sound familiar?

Even if you contributed to the cooking and earned bonus points for cleaning up, chances are that the fate of the leftovers will still be deemed a "guy thing." So now that the life span of the picked-over turkey carcass is ticking down on your watch, it's up to you to produce more than just a week's worth of sandwiches.

As an ambassador for a national zero-waste initiative, I've got your back. The following recipes will help you repurpose all of your Thanksgiving leftovers while making the home team feel like they've been invited to a fabulous family meal, not a do-over.

Leftover Turkey Hash

The perfect morning-after breakfast. Pairs well with mimosas and Bloody Marys.

In a cast-iron or heavy-bottom pan over medium-high heat, add 2 tablespoons olive oil and 2 tablespoons butter.

When butter has melted, add 4 garlic cloves (minced), 1 large chopped shallot and 1 cup each of diced roasted potatoes and carrots or other leftover root veggies. Sauté for about 15 minutes, or until veggies begin to brown.

Add 1 cup salvaged turkey leftovers (torn or cut into half-inch pieces), ¼ cup of any leftover fresh herbs or parsley, ¼ teaspoon chipotle powder, and salt and pepper to taste.

Continue to sauté for a few more minutes until contents are transformed into crispy browned nuggets. Remove pan from heat.

As hash is at the final stage of browning, poach or fry eggs. Then transfer eggs onto the hash and serve straight out of the pan. Serves 4.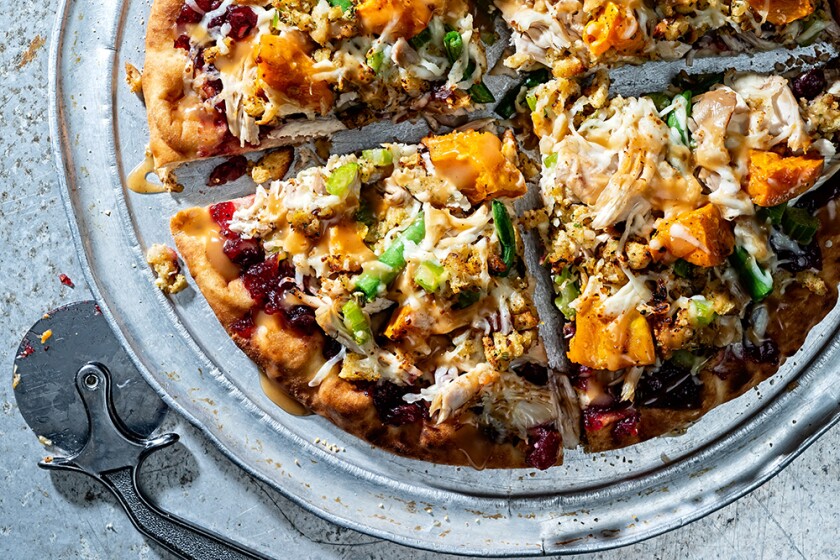 Leftover Turkey Pizza

All your favorite Thanksgiving leftovers together on one crust.

Preheat oven to 450°F. Brush premade pizza crust with 2 tablespoons olive oil and bake directly on the oven grate for 5 minutes, or until it starts to get crispy. Remove from oven and immediately spread the entire surface with 1 cup leftover cranberry sauce. Top with 2 cups shredded leftover turkey, then crumble ½ cup leftover dressing or stuffing over top. Add any other bits that seem appropriate (i.e., green beans, squash, bacon) with 1½ cups grated cheese.

Return pizza to oven and bake for 5–10 more minutes, or until cheese is fully melted and bubbling. While the pizza is finishing, warm ¼ cup leftover gravy in a small pot.

Remove the pizza from the oven and drizzle with the gravy. Slice and serve immediately. Serves 4.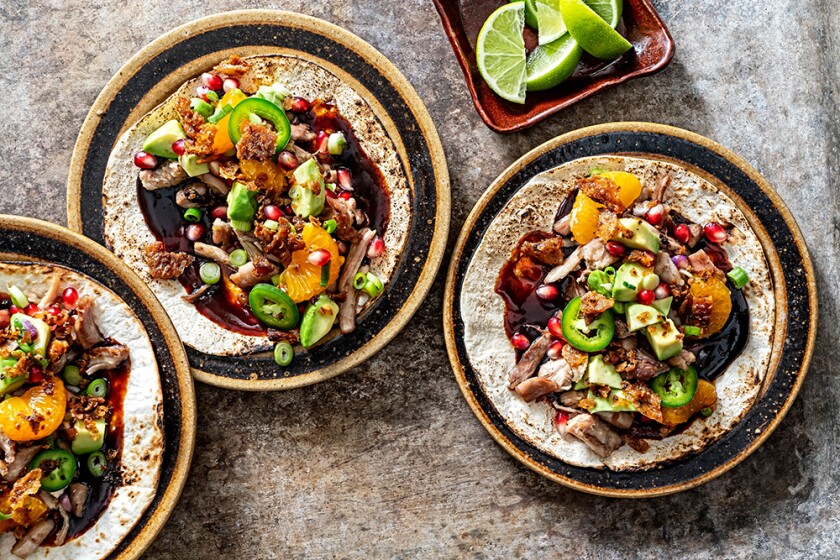 Leftover Turkey Tacos With Turkey Skin Bacon

This Chinese/Mexican mash-up leans on a simple hack that turns turkey skin into turkey bacon.

Take 1½ cups turkey meat (ideally, the dark meat) and pull the meat off the bones with as much skin as you can salvage. Separate the skin from the meat. Pull meat into ½-inch pieces. Reserve.

In a large heavy pan, over medium heat, add all of the turkey skin, fat side down, and cook for about 10 minutes, turning once, or until skin is super crispy — but not charred. Dredge on a paper towel. Reserve. Also reserve pan with fat.

In a medium bowl, add ½ cup canned mandarin slices (drained), 1 avocado (skinned, seeded and diced), 2 green onions (sliced thinly) and 2 tablespoons pomegranate seeds. Toss and reserve.

Just before serving, heat the pan to medium high, then add the turkey. Cook for 3 minutes, stirring occasionally.

While turkey is warming up, heat 4 6-inch flour tortillas. If you have a gas stove, grill directly over burner for about 30 seconds per side, turning several times, or until the tortilla is burnished on both sides. Repeat with all 4 tortillas. If you have another type of stovetop, heat tortillas in a dry pan over medium-high heat until they start to brown. Reserve.

To serve: Spread a tablespoon of hoisin sauce around the center of each tortilla. Spoon a quarter of the turkey mixture and a quarter of the mandarin-avocado salsa on top. Top with a few jalapeño slices and crumble the turkey skin bacon overtop. Serve with a lime wedge. Serves 4.