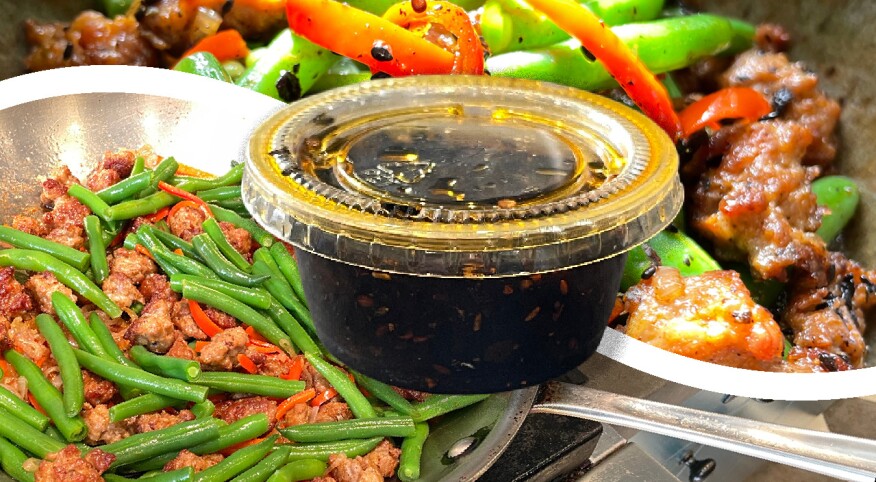 My wife saves takeout sauces so that I can knock them over when reaching for the milk. I am pretty sure that it's a trick to get me to clean the refrigerator shelves.

Mark Rosati, 45, the culinary director for burger chain Shake Shack, also saves them. But the difference is, he actually uses them.

"It's something I started doing during the pandemic," Rosati told me.

He knows how much of the work of cooking is concentrated in those tiny plastic containers. The ShackSauce on the ShackBurger has more than 20 ingredients, all made from scratch.

I invited Rosati over to my house to teach me how to use some of my plastic containers before they spilled.

Tip 1: Don't use as intended

Just because something is a dipping sauce doesn't mean it needs to stay that way. A mayonnaise-based sauce is a great way to dress dishes like roasted brussels sprouts or carrots.

Throw a BBQ sauce into a pan with beef, pork or lamb. And any sauce with light, citrusy vinegar, like Thai/Vietnamese dipping sauces, is perfect for glazing a fish before cooking.

A malt vinegar like the kind that's served with fried fish and chips can work in potato salad or as a pan sauce for chicken or pork.

Tip 2: Mix up the genres

The hot mustard sauces that are Chinese takeout staples don't have to sit in your fridge waiting for the next Chinese meal. Instead, Rosati recommends using them in any recipe that calls for mustard.

"If you're making steak au poivre, try using Chinese mustard, instead of Dijon," he said. "Also, add honey and mayo to the Chinese mustard and turn it into a honey- mustard sauce for chicken or salmon."

Deviled eggs with Chinese mustard might make a familiar classic interesting again. Rosati even suggests adding Chinese mustard to mac & cheese. "I love the subtle flavor and kick it gives the dish," he said.

Tip 3: Use takeout sauces to make healthier choices

Ranch dressing isn't going to make your cardiologist happy. But tzatziki and other Middle Eastern white sauces are made with Greek yogurt.

"Tzatziki can make a great salad dressing," Rosati told me. "I'd add a little salt and pepper to the salad greens and a splash of fresh lemon juice before tossing with the tzatziki. The same idea would work wonderfully as a dressing for roasted vegetables like carrots or broccoli."

For our cooking adventure together, he brought over a couple of containers from his own fridge, including some salsa macha (a sauce made with Chipolte chilis garlic peanuts fried in olive oil). He pulled a bag of string beans from my fridge, along with some Italian sausage, shallots and red pepper. He formed the sausage into tiny balls and sautéed them before adding two thinly sliced shallots and red pepper. Then he threw the string beans into the pan and poured in the salsa macha.

The taste was amazing. Rosati dubbed his new creation Green Beans à la

Javier.

"If I created the same dish in the same way I always do, I'm on autopilot," he said. "Having unknown ingredients is more of a challenge. I'm more energized. It keeps the cooking process fun and exploratory."

My wife is going to have to come up with a new way of getting me to clean the fridge.