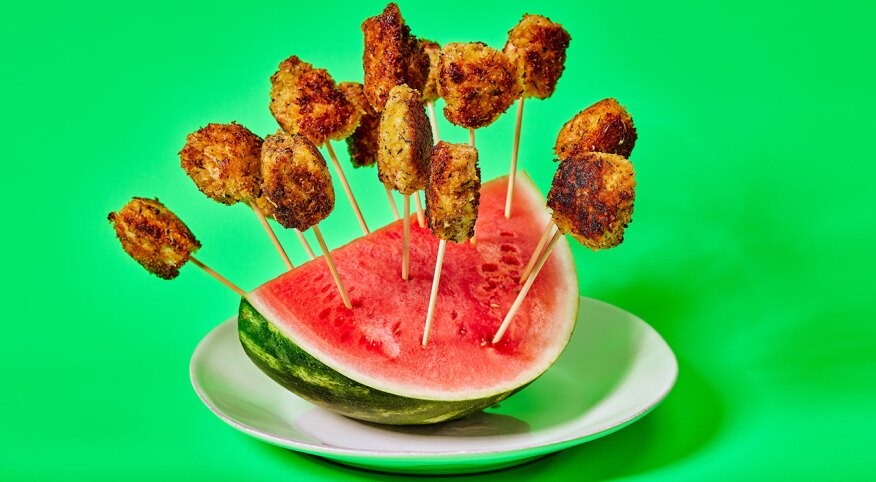 You've grilled it, baked it, stir-fried it, wrapped it, cooked it on a sheet pan, turned it into a burger, a meatball and a taco — not to mention reheated enough of it in nugget form to fill a stadium. Yet it's still the only thing your kids will eat — and you're flat out of new ideas.

We're talking about the ubiquitous chicken breast, the bland, inoffensive protein source you hoped would eventually be your kid's gateway to food exploration … until you discovered that the gate is locked and your kids have thrown away the key.

When you've run out of new ideas and overplayed all of the ingredients your kids will sanction, there are only two options. Either place yourself in a hermetically sealed cryonic capsule for the next 10 years and hope that when they thaw you, your children will have discovered the Food Network.

Or step out of your comfort zone.

One of the challenges of cooking with chicken breasts is that they're visually uninspiring. Instead of trying to reinvent the flavor wheel, release your inner artist. Here are three chicken recipes with playful, kid-friendly presentations.

CHICKEN LOLLIPOPS

Slice two skinless, boneless chicken breasts into 1/2-inch-thick slices. Then cut each slice into two to three 1-inch square pieces (see diagram). Season with salt and pepper.

Set out three medium bowls. Place 2/3 cup flour in one, crack two eggs into the second and beat them, and add 2/3 cup panko (or coarse breadcrumbs), 1/3 cup grated Parmesan cheese, and 1 tablespoon dried oregano or thyme to the third. Line the three bowls in a row.

Toss about a third of the chicken in flour until well covered, then swirl in egg until well soaked, and finally, roll in the panko mixture until completely covered. Transfer to a plate and repeat the process with the remaining chicken.

In a frying pan, over medium-high heat, melt 2 tablespoons of butter and add 1 tablespoon of olive oil. When butter begins to sizzle, add chicken. Cook for approximately 3 minutes on the first side or until the bottom is golden brown. Turn once and cook for approximately 2 more minutes, or until the second side is golden brown and the nuggets are cooked throughout.

Remove the pan from heat and immediately add lemon juice (from one lemon). Stir for 10 to 15 seconds to loosen up brown bits, and let the lemon juice reduce by half. Drizzle a few drops over each tender, and season with salt.

Transfer your glorified nuggets to a plate. Insert a 6-inch bamboo skewer through the thin side of the chicken, then stick skewers in a watermelon wedge. Yields about 20 lollipops.
CHICKEN 'N' WAFFLE CONES

Option 1

Start with your favorite store-bought chicken salad, guacamole and a waffle cone. Assemble cone per photo, and top with a cherry tomato or a grape.

Option 2

Pan-cook two chicken breasts. Let cool, then dice.

Add your kid's favorite chicken salad ingredients (celery, grapes, raisins, cranberries, green onions, herbs, pecans, pistachios, etc.). Toss with a few tablespoons of mayonnaise and a squeeze of lemon juice. Season with salt, pepper and paprika.

Whip an avocado in a food processor with a squeeze of lemon juice, or mash in a bowl. Assemble cone per photo, and top with a cherry tomato or a grape.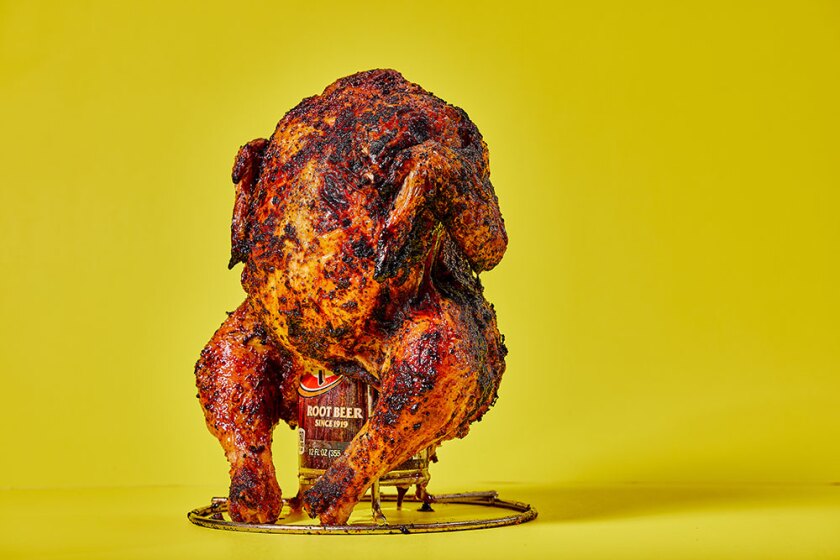 ROOT BEER CHICKEN

Preset grill on high for indirect cooking [outside burners on high, middle burner(s) off]

Remove neck and giblets from one 4- to 5-pound whole chicken. Rinse chicken inside and out; pat dry with paper towels. Rub chicken lightly with 2 tablespoons of vegetable oil, then rub inside and out with 2 tablespoons of salt and 3 tablespoons of your favorite dry spice rub. Reserve.

Open a can of root beer and pour out one-third. Place root beer can (with the remaining root beer) on a solid surface. Grab a chicken leg in each hand and plunk the bird cavity over the beer can. Adjust if necessary, so that the bird is sitting upright. Stuff one baby potato, one head of garlic or shallot in the small top cavity of the bird and pull loose skin overtop to seal. Transfer the bird-on-a-can to your grill and place in the center of the grate, over the unlit burner(s), balancing the bird on its two legs and the can. Close lid.

Cook chicken for approximately 1 1/4 hours, or until the internal temperature registers 165ºF in the breast area and 180ºF in the thigh, or until the thigh juice runs clear when stabbed with a sharp knife. Remove from the grill (being careful not to spill the root beer, as it will be very hot) and let rest for 10 minutes before extracting the beer can and carving. Yields 4 to 6 servings.

Oven version: Can be set on a sheet pan and baked in a 375°F oven for approximately 1 1/4 hours