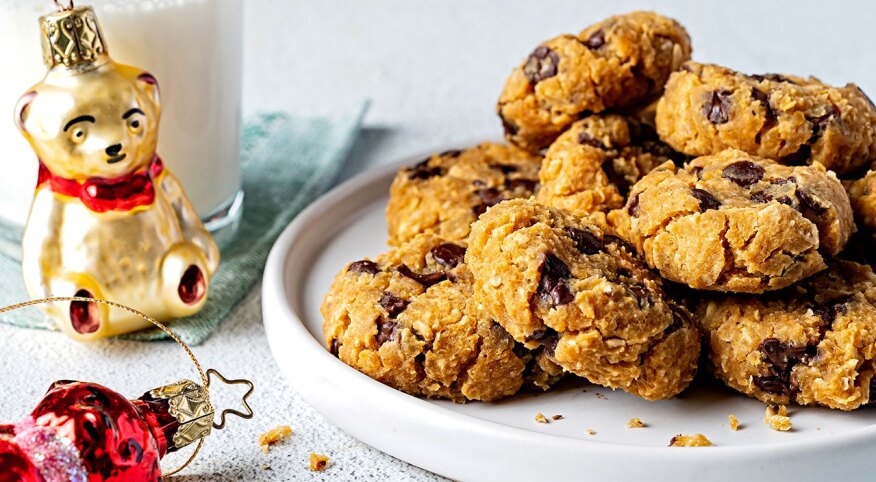 The holidays are all about making bad nutritional decisions. Pecan pie and eggnog? Bring it on! It's even more difficult to avoid sugary concoctions if you have kids. But there is a way to (ahem) have your cake and eat it too.

Instead of letting them (and you) gorge on the usual holiday sweets, make your own versions that aren't so heavy on the processed sugar. Better still, turn making healthy desserts into an all-family project. Now you've got a fun activity to do over the holiday break, and nobody goes into 2023 with pants that don't fit anymore.

Here are five recipes guaranteed to bring holiday cheer without the sugar rush.

Chickpea Cookie Dough

The main nutritional star in this dessert is chickpeas, which can lead to a higher intake of protein and fiber, per a study in the British Journal of Nutrition. "And this recipe boasts 8 grams of protein per serving," says Amy Gorin, a plant-based dietitian in Stamford, Connecticut.

Toss the following into the food processor and blend until smooth.

● 2 15-ounce cans no-salt-added chickpeas, drained and rinsed

● ½ cup gluten-free rolled oats

● ½ cup unsweetened powdered peanut butter

● ½ tsp baking powder

● ½ tsp ground nutmeg

● ½ cup maple syrup

● ¼ cup canned unsweetened coconut milk

● 1 tsp vanilla extract

Add ½ cup mini dark chocolate chips. Refrigerate the mixture for 30 minutes. Portion into small balls and place on cookie sheets. Bake for 10-12 minutes, until outer edges are crisp.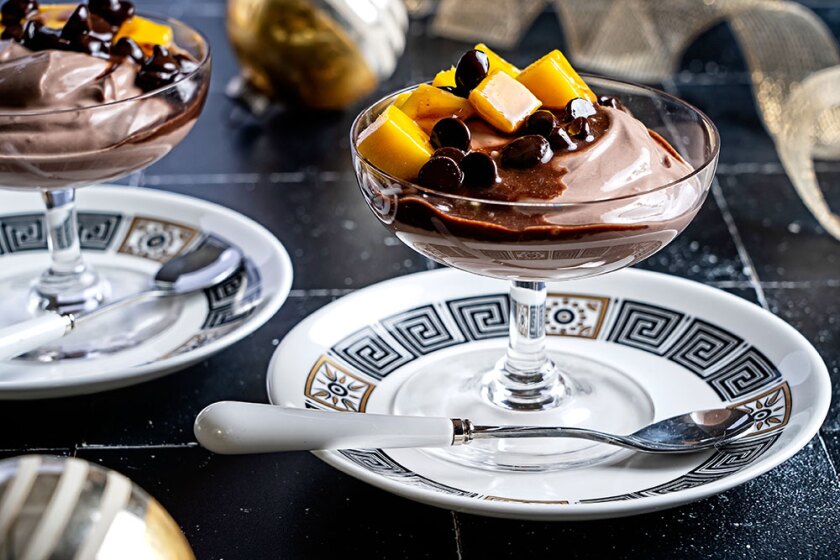 Chocolate Yogurt

Grab some Greek yogurt — Allie Echeverria, a nutritionist in Atlanta, recommends a plain, unsweetened variety — and mix it with chocolate. You can heat up some fruit, such as sliced mango, which Echeverria says goes surprisingly well with chocolate, then let chocolate chips or cocoa powder melt on the combined concoction.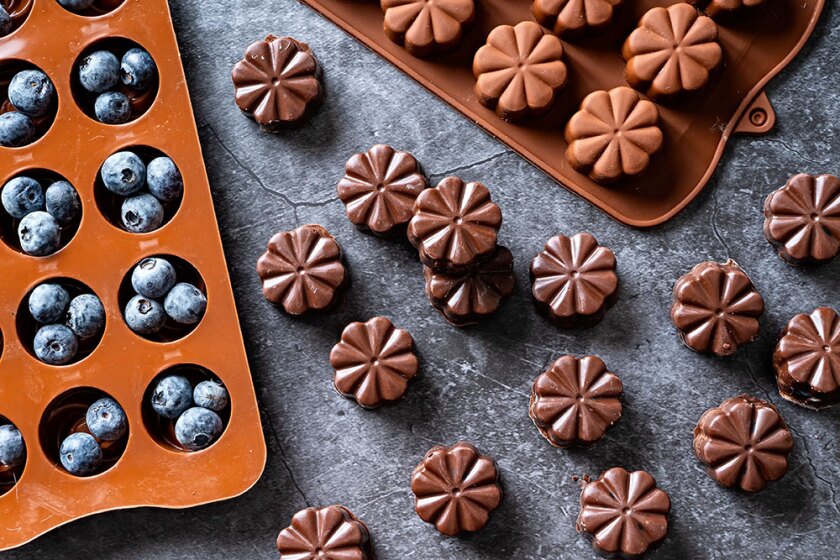 Blueberry Chocolate Clusters

"A one-cup serving of blueberries has just 80 calories, while delivering beneficial vitamins and minerals like vitamin C and K and fiber," says Mackenzie Burgess, a registered dietitian nutritionist. "This healthy dessert tastes just like candy without all the processed fillers and added sugars."

Melt one cup of chocolate and pour over one cup of blueberries. Mix it all together and spoon out into clusters, placing them 1 inch apart onto wax paper or into silicone candy molds. Refrigerate for 30 minutes and enjoy.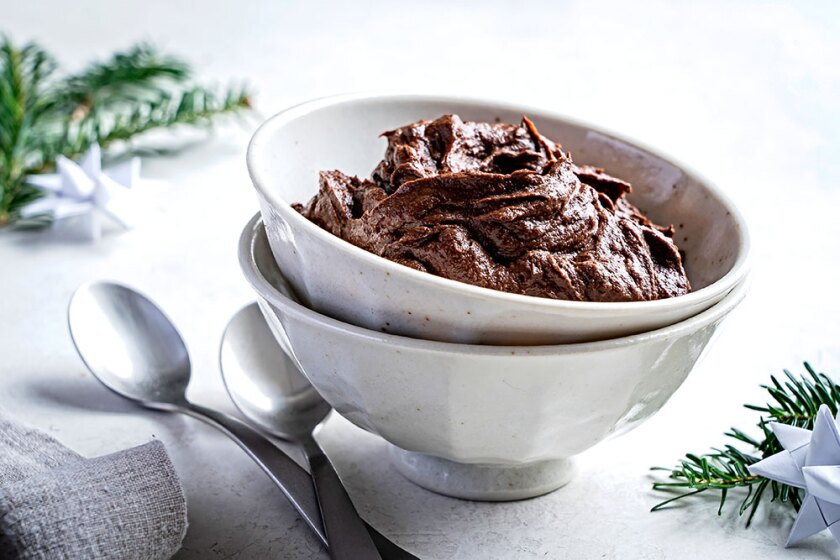 Keto Chocolate Mousse

This healthy mousse, courtesy of Josh Axe, M.D., a clinical nutritionist and founder of Ancient Nutrition, features avocados — a great source of healthy fats — and packs in the protein with the addition of protein powder or collagen.

Pop the following into the food processor and puree:

● 2 avocados, mashed

● 1 teaspoon vanilla extract

● 2 scoops chocolate protein powder or collagen

● ¼ cup cacao powder

● ½ cup water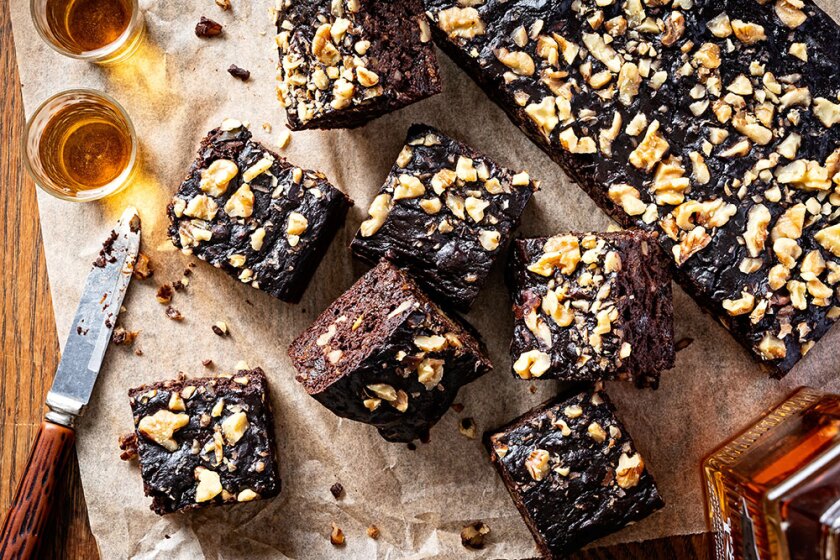 Prune Brownies

You know prunes are good for you — research found that eating five to six prunes a day can help prevent bone loss — but do any of us ever actually eat them? Sneaking them into your food may just be the way to make this happen. "You're going to be surprised in a really good way with these brownies," Gorin says.

In this recipe, prunes provide moisture and sweetness. "You also get avocado, which supplies heart-healthy fats, and antioxidant-rich unsweetened cocoa powder in this dessert," Gorin says.

Preheat oven to 350 degrees. Then combine the following:

● 1 cup diced pitted prunes

● ¼ cup water, hot

● 2 avocados, ripe

● ½ cup coconut palm sugar

● ½ cup gluten-free baking flour (Gorin uses Bob's Red Mill 1-to-1 Gluten Free Baking Flour)

● ½ cup unsweetened cocoa powder

● ½ tsp baking soda

● ¾ tsp vanilla extract

● 3 eggs

● 1¼ cups walnuts, chopped and divided

Spoon it all into a greased baking tray and pop in the oven for 22 to 25 minutes.