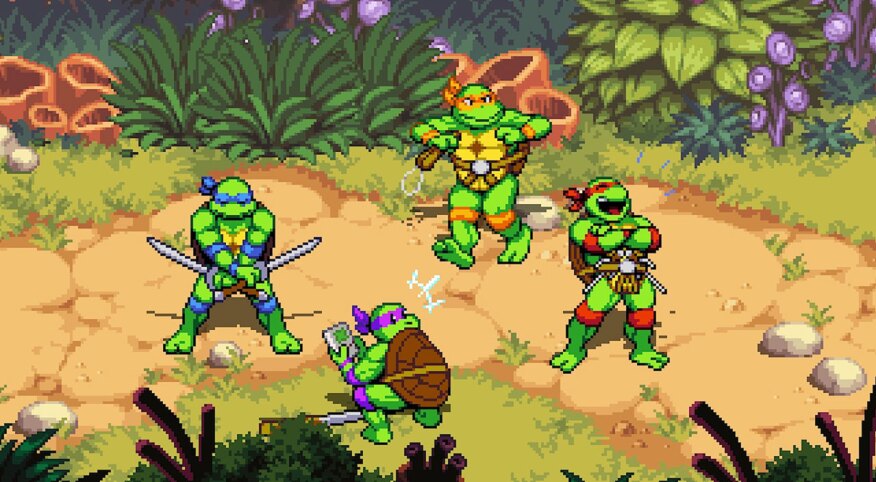 When we were younger, video games were something that kids did with other kids. You never invited your dad to the arcade to play Street Fighter II. That way madness lies.

But that's been slowly changing ever since video games moved from the arcade into our homes and became a ubiquitous part of mainstream culture. Over 80 percent of Gen Zers — anyone currently between the ages of 10 and 25 — have played at least one game in the last six months, the most of any generation by far.

And they're not doing it alone. In a 2021 survey by the Entertainment Software Association, 74 percent of parents have played video games with their kids at least once a week, up from 55 percent the previous year.

You could make an argument that playing video games with your teen has become the new parental bonding ritual, the modern equivalent of a game of catch in the backyard. Not every dad who tossed the ball around with his kid loves baseball. And you don't need to love video games to make the effort.

Sometimes it's as simple as being a captive audience. If your daughter is deep on an Animal Crossing binge, sit down on the couch and watch her explore. Ask questions about what she's doing on-screen with genuine curiosity. Glean the rules of this and never — never — make her feel like she's wasting time or doing something wrong.

If you want to participate in your teen or tween's console habit but haven't played a video game since Atari, you're in luck. Microsoft has launched a Netflix-like service called Game Pass across both PC and Xbox. For $10 or $15 a month, you're granted passage to a huge back catalog of classics and a constant churn of high-profile new releases. Sony just launched PS Plus Premium, which effectively does the same thing but with PlayStation games.

If you don't know where to start, here are a few simple games perfect for guys who are looking to get back in the game — perhaps a little anxious, but oh-so ready to get it on … on like Donkey Kong.

Teenage Mutant Ninja Turtles: Shredder's Revenge — Xbox Game Pass

This just-released brawler is an homage to the classic arcade mainstays of the late '80s and early '90s. You and your kids can step behind the visage of the turtles and beat up on an endless string of bad guys. You'll rarely be able to ask to press more than one button, nor do you have to fret over feeding the machine a stream of quarters.

Human Fall Flat — Playstation Plus Premium

It's basically a sandbox full of silly physics tricks. You can mess around with seesaws, trap doors and merry-go-rounds, laughing as someone gets ejected from the map. It's the closest you can get to taking your kids to a playground without leaving the house.

Golf With Your Friends — Xbox Game Pass

The name says it all. Golf With Your Friends is a basic mini-golf game that anyone — literally anyone — can enjoy. You don't even need a second controller. Just take your shot and pass the joystick down the couch.

Injustice 2 — Playstation Plus Premium

Injustice 2 is a fighting game filled to the brim with iconic DC characters. If you've ever wanted to beat up the Joker at the hands of the Flash, now is your chance. You and your kids can facilitate all of your dream matchups without ever worrying about any advanced techniques. Bang on the buttons and see what happens.

That's a good preface for this journey. Remember, video games are a linchpin of youth in 2022. Don't try to resist the trend. Not only is that foolish, but you'll be missing out on a lot of fun.