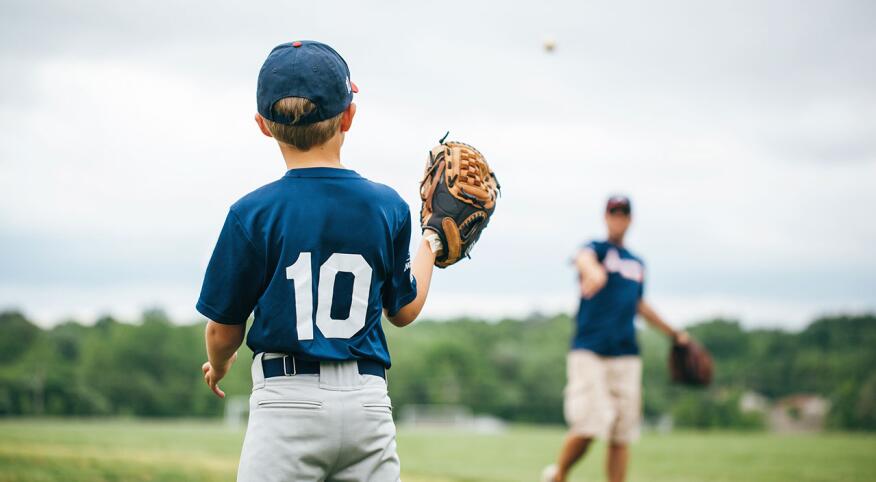 Last August, I found an abandoned baseball glove on a weed-choked ball field. The glove was in good condition and the correct size for my 11-year-old son.

I kept it in my car's trunk for a few weeks. Part of me wanted to share baseball — the most defining part of my own childhood — with my son. And part of me didn't want to exhume that painful part of my past.

My father taught my older brother and me how to throw a ball on the high school fields across from our home. There was only one way to throw the ball — overhand, hand held aloft near the ear and tilted back, as if holding a tray, with a follow-through across the thigh that looked as if we were stabbing ourselves. Raising the ball to any degree less than 90 degrees infuriated our father.

"Stop being lazy!" he'd yell if our (make that "my") arm dipped too low.

My brother's elbow and arm flawlessly aligned at 90 degrees whenever he threw the ball, while my arm naturally dropped to a 70-degree angle, enraging our father.

"Throw the correct way, goddamit!" he'd bellow, flame-faced. "What the hell's wrong with you?"

The good news about this shaming rhetorical question: It goaded me into becoming a good pitcher and an even better hitter, slugging seven home runs my final year of Little League. The bad news: The only way I could excel was to loathe and dehumanize opposing pitchers.

I quit baseball when I was 14. When you hate your opponents, you grow to hate the game — and yourself.

One day my son Macallah saw the glove in my car trunk and asked if he could have it. The next day, we played catch in our yard, and Macallah grew bored. He ran the same patterns we practiced when tossing a football, yelling, "Throw me a pass" as he raced past me.

"This isn't how you play baseball," I boomed, swallowing back the sarcasm that wanted to surface.

When I reminded him over and over to hold the ball near his ear and to follow through, Macallah eventually blurted, "Can we please just play catch?"

I should have left that glove on the ball field, I told myself.

That evening, my wife, Elizabeth, showed me a video she made of our game of catch. A couple things stood out to me: How exuberant my child had looked at times, and how mortified I looked when I told him not to conflate baseball with football.

"Christ, this is embarrassing," I said, rubbing — and shielding — my eyes with my hand.

I asked Macallah to play catch after school the next day. After we tossed the ball back and forth a few times (I kept my tips to a minimum), he suggested we take turns playing pitcher and catcher. Macallah not only had a good arm, he loved throwing his "heater," as he called it, contorting his little face with a joyous ferocity I'd never seen in him.

He suggested we play a game in which he would run slants across the yard and try to catch my throws like a wide receiver. "Absolutely," I said without flinching.

Every time he caught the ball in motion, Macallah held up his arms and yelled, "Goal!"

I considered correcting him, but I was so taken with my son's joy that I went along with it all. My wounded old narrative surrounding a game of catch was starting to disappear.

And I had an abandoned baseball glove to thank for it.