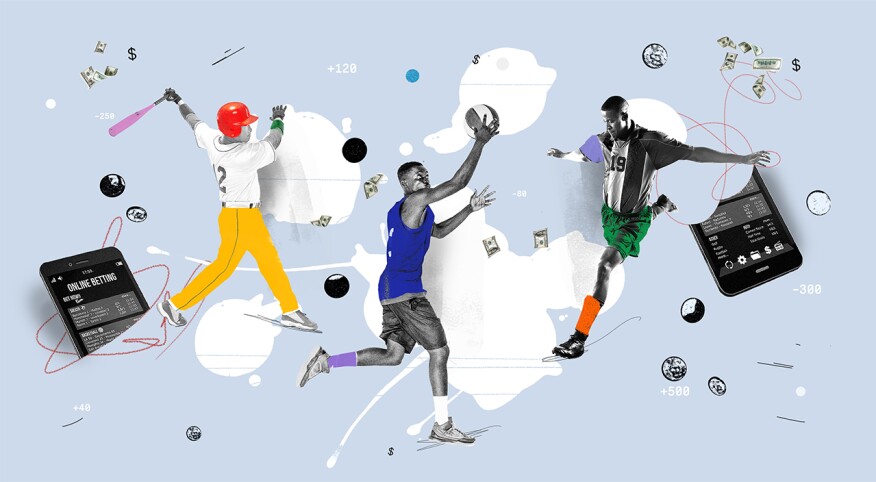 I started gambling illegally in high school. I would use those white football tickets that every gambler knows about — the ones where you circle a bunch of numbers and rip off the bottom receipt. But it wasn't until adulthood that I morphed into a full-blown sports gambling addict.

I've had highs and lows, but mostly lows. Things got so bad that, at one point, my bookies forced me to work for them, which was better than the alternative (getting beaten up). My job was to go around New York City and collect gambling debts from degenerates like myself. I have no muscle; I was the Calista Flockhart of enforcers. But the people I collected from knew who I was with, so if anyone claimed they couldn't pay, all I had to do was say, "I'll tell him," and the money would magically appear.

When legalized gambling came to New Jersey, I made a decision to bet legally instead of using my bookies. I live in New York, and since I could only bet if I were in New Jersey, I thought it would be a surefire way to quell this addiction.

I used to drive my dates to the Meadowlands Racetrack, which was the closest place to New York where you could place a bet. I'd leave the women in the car and tell them I'd be right back. Back then, the Meadowlands parking lot was full of unhappy women waiting for their boyfriends to make football bets.

After a while, I decided that downloading the betting app was the way to go. You could only use the app in Jersey, so every Sunday morning, I found myself sitting with a group of guys I didn't know on the ferry to Hoboken, all of us ignoring the beautiful Manhattan skyline to focus on our phones.

In 2021, New York finally joined the Mega Millions party. I no longer needed to travel to New Jersey every weekend to gamble. I could bet every day again, and it was all legal. Yay. Oy.

I still have a problem, and I still lie to myself about it all the time: I tell myself I'm going to break even this fall because it's football season, and even though I've never had a winning season gambling on football (or anything else), come every September I'm sure I've got the system figured out. (P.S. The Jets are going to the Super Bowl. Tell your friends.)

But I feel bad for the 15-year-old who is seeing commercials everywhere, telling you that if you deposit $5, gambling sites will match that with $1,000 or something equally ridiculous. If I were a 15-year-old, I would be champing at the bit, just waiting to turn 18 and start gambling. My heroes like Peyton and Eli Manning are shilling for the gambling game, which makes it that much more dreadful.

I don't have kids, but if I did, I'd sit them down and show them sexy cigarette commercials from the 1950s. And I'd explain to them that what's being sold to them today is just as dangerous, just as toxic and just as addictive.

Be prepared to house a generation of sports gambling junkies. We're in trouble.