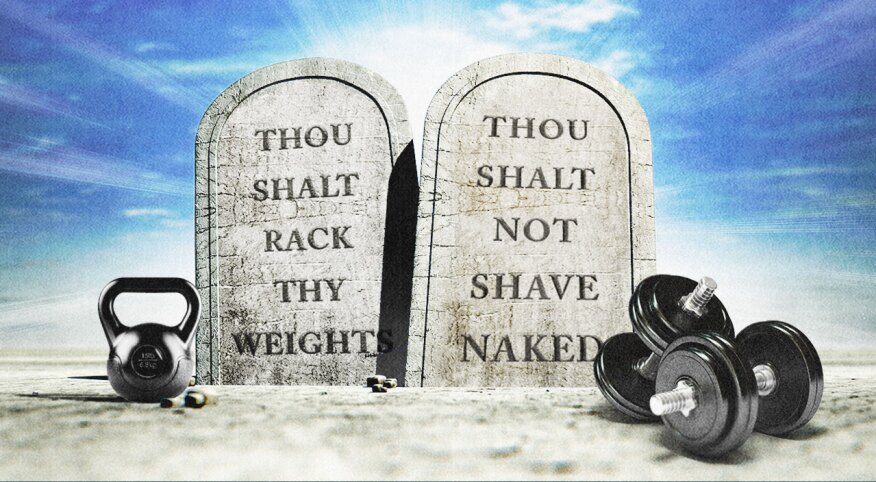 Recovered from COVID-15 yet? That's how much weight everybody supposedly gained during the pandemic. (The real number is more like 12 or so pounds, but whatever, who's counting?) It was the Dad Bod of 2021, the excuse everybody used for why their bodies had gone soft. "It's not me," we'd say, "it's COVID's fault!" And then we'd laugh and poke each other's bellies like Pillsbury Doughboys.

Well, that moment has passed. It's 2022, and blaming the virus is no longer an excuse for skipping the gym. Our reasons today are often about routine. After more than two years of picking the couch over the weight bench, we're out of practice. The gym feels strange and unfamiliar.

Here's the good news: The gym landscape is much the same, just a touch breezier from improved HVAC. Most of the unspoken rules are unchanged since the Before Times, but if you need a refresher, here's how to avoid acting like you haven't been there since March 2020.

1. WIPE DOWN EVERYTHING

If you have workout equipment at home, you probably aren't as strict about wiping it down. But gyms are teeming with bacteria, and not all of it is your own. Post-pandemic gyms have more spray bottles, towels and wipes than a daycare center. Use them.

2. PUT AWAY YOUR STUFF

"Young guys think every space they enter should look like a dorm room," says Lou Schuler, coauthor of The New Rules for Lifting book series. "We're talking about nice, polite kids with excellent gym etiquette — except when it comes to puttingsh*t back where they found it."

Rerack the dumbbells, strip the barbells, and put the bands, boxes, balls and kettlebells back where you found them. Consider this lifting and carrying part of your functional fitness program.

3. NAKED GUY GETS THE RIGHT-OF-WAY

When the quarters are tight, the man wearing the most clothes steps aside. That's just common courtesy and also helps you avoid some unintentionally intimate encounters with your locker-room neighbors.

4. EARBUDS DON'T ENSURE PRIVACY

We're each in our own earbud-induced cocoon these days, but there are still rules. When you crank your math-metal mix, it's still audible to old-school, bud-less lifters, and you don't want to annoy old-school lifters.

Related: "Your noise-canceling headphones don't cancel your singing voice," says Ethan Benda, a trainer in Kansas City, Missouri. Same with taking phone calls from your wife about that thing you have tonight that you swore was Friday night.

5. KEEP A FRIENDLY DISTANCE

At most gyms, enforced COVID spacing is long gone. But the unspoken six-foot social distancing rule is something that's made gym life infinitely better, even if you're not worried about breathing in droplets. Nobody needs to be standing that close to strangers, especially sweaty strangers.

6. THIS ISN'T YOUR OFFICE …

Your phone is for cranking (within reason) that math-metal mix. It's not for checking emails and texts — unless you're on a cardio machine going quietly insane with boredom. But not on a bench, resting between sets.

7. … OR YOUR STUDIO

Never pause your workout to snap a "selfish selfie," says Bryan Krahn, a trainer and author of Men's Health: Muscle After 40, who has lately noticed "an alarming level of mirror action."

If you must, do it during an uncrowded time, and only once a month. "Every day is a recipe for discouragement," he says. "It takes a while to notice fat loss, and muscle gain takes even longer."

8. NO CROP DUSTING

A Gordita Supreme, Benda notes, "creates a toxic chemtrail that can clear a room." Visit the bathroom. We've got enough to deal with Covid-laced aerosols.