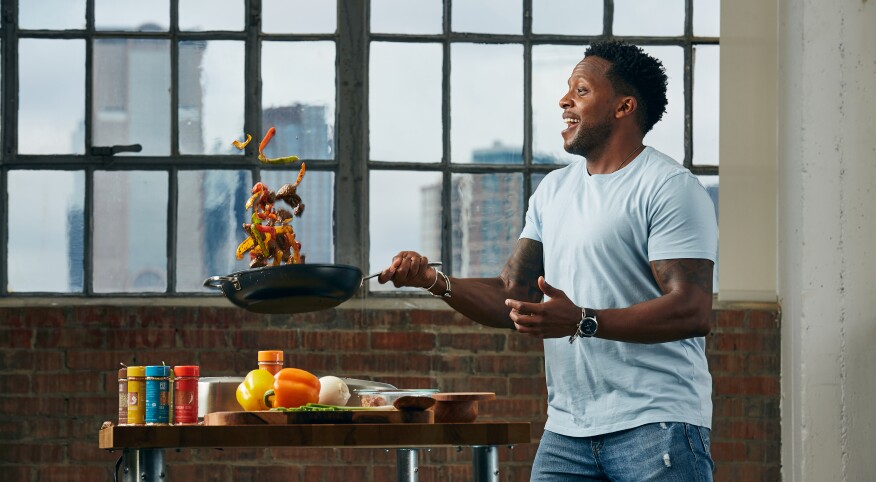 Kevin Curry has his own fitness app, millions of followers on social media and the rippled physique of a Marvel superhero. But it wasn't always so: A decade ago, Curry was living on his parents' couch in Dallas, 30 pounds overweight and desperate to figure out his life. He was freshly out of a job, out of a relationship and out of money. Even antidepressants couldn't quiet the thunderclouds of despair.

That's when Curry started cooking. Instead of the fried catfish and cheese grits from his Louisiana roots, Curry filled his plate with air-fried panko chicken and late-night protein crepes. Now 40, he slimmed down, kicked the meds and brightened his entire outlook.

Here are Curry's top five tips for applying the mood-altering powers of healthy eating to push past anxiety and depression at any age.
Eat Your Eight Glasses of Water
"Nutritionists love telling you to drink eight glasses of water a day. I try to eat my eight glasses instead. Grapefruit consists of 91 percent water. Oranges are around 85 percent. Strawberries, celery, grapes, broccoli, watermelon—they all keep you hydrated and give you the fiber and vitamins your body and mind need to thrive."

Make Sides Your Mains
"I tried to go vegan , but I only lasted a week. What works best for me is making vegetables the star of my dishes and complementing those with proteins. I'll stuff beefsteak tomatoes with lean beef and serve them with quinoa or cauliflower rice. I do a beef and broccoli you probably should call broccoli and beef. Rather than denying yourself, you're almost tricking yourself into eating healthier."
Shake Up Your Guilty Pleasures
"One of my joys in life is Mexican food. But instead of consuming the family-size bag of chips and 32-ounce cup of salsa, I'll use a low-carb whole-grain tortilla and avoid copious amounts of cheese. I'll mash in some delicious avocado or black beans and then add some chicken or steak as protein, with some bell peppers or zucchini. I put it in a nonstick skillet with olive oil spray , to make it toasty on the outside , and then enjoy it with some low-cal barbecue sauce. You're not left with that heavy, bloated feeling."
Mind Your Digital Calories
"Social media can be exhausting and make you lonely. I make a point of doing a weekly call or meeting with actual friends who don't need me to be Instagram-perfect. The pandemic wasn't easy for me. It was essential to have friends I could be honest with and say, 'Hey, I had a rough day and I'm not at my best.' Literally just saying those words helps me turn my mood around."
Gorge on Grace
"One of my prayers used to be, 'God, help me to see situations and people through your eyes.' At my age now, I'm trying just to live that. Even when people get on my nerves or get me super upset, I force myself to see things from their vantage point. You won't believe how much that can help in terms of feeling good."