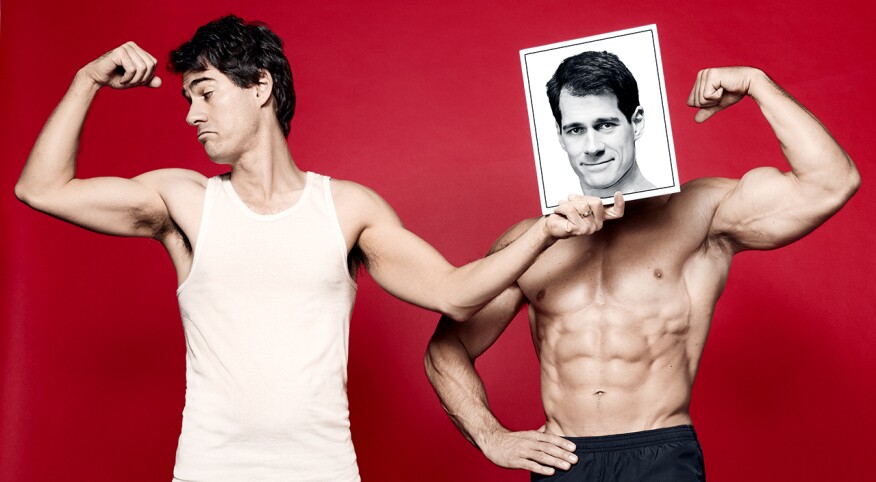 I decided that the best present I could give myself for my 50th birthday was to get in shape. Immediately, I realized how foolish that was. Sculpting my body isn't a gift for myself. It's a gift to the world. Here's how I did it.

Consistency is key

I knew from friends who had transformed their bodies that 70 percent of getting in shape involves talking about smoothies. But according to Jake Harcoff, a certified sports nutritionist from Canada, I also had to be consistent. "Radical changes are typically unsustainable and don't work," he told me.

I transformed my diet to five meals a day: two full meals; two half meals; and six rotating morning smoothies packed with complicated ingredients like chia seeds, ground flax, and plain, nonfat Greek yogurt.

I'd avoid sugar and alcohol, or at least stop consuming them before sundown, to improve my sleep. Because, as any doctor will tell you, sleep is the smoothie of the soul.

Find someone to pester you

For my pandemic-era workout, I got a few workout apps. AllTrails helped me find new hikes in my neighborhood. The TRX app provided video workouts I could do with my TRX straps. I also downloaded Future, which allowed me to pick a personal trainer to design bespoke weekly workouts with premade videos I could follow on my phone whenever I wanted.

Mike, my trainer, immediately became an enormous part of my life. The key to working out isn't about analyzing heart rate variability or tailoring the perfect mix of squats, lunges, pushups and curls. It's guilt.

Mike constantly sends me messages and videos. Way more than my wife does. Stuff like, "Good morning! HAPPY THURSDAY!" He schedules 15-minute FaceTime catch-ups. I would be bothered less if I had an actual affair.

Slow your roll, fatty

I got some great advice from David E. Conroy, a professor of kinesiology at Penn State University, which was essentially a motto I've attempted to follow my whole life: Don't try too hard.

"If you haven't been exercising regularly and you try to jump into a high-volume training program right away, you're elevating your risk for a musculoskeletal injury," he said. "For midlife men who sit all day, the general guidance I would offer is to sit less and move more."

Conroy, while smart and reasonable, was not pumping me up like my app-coach Mike.

For the last six months, thanks to Mike, I've worked out four days every week without fail. It's about 50 minutes of lifting I do on a bench on my deck with adjustable barbells, mixed with an occasional sprint and some stretching.

Mike built me up over time until I was doing things I never thought I could possibly do — like jogging.

Achieve your fitness goals, then be underwhelmed

It all worked. I'm way stronger, actually have a six-pack, and can run three miles without crying.

I know I'm supposed to say that I feel great and have all this energy, but I feel the same as I did before. I feel 50. I look good, but no one sees me without a shirt and even if they did, they wouldn't care.

Nevertheless, I'm really glad I got in shape. I built a body that can hike a mountain, lift my 12-year-old son, and bike as far and fast as he wants. My body works. And it's worth suffering a little every day for that privilege.