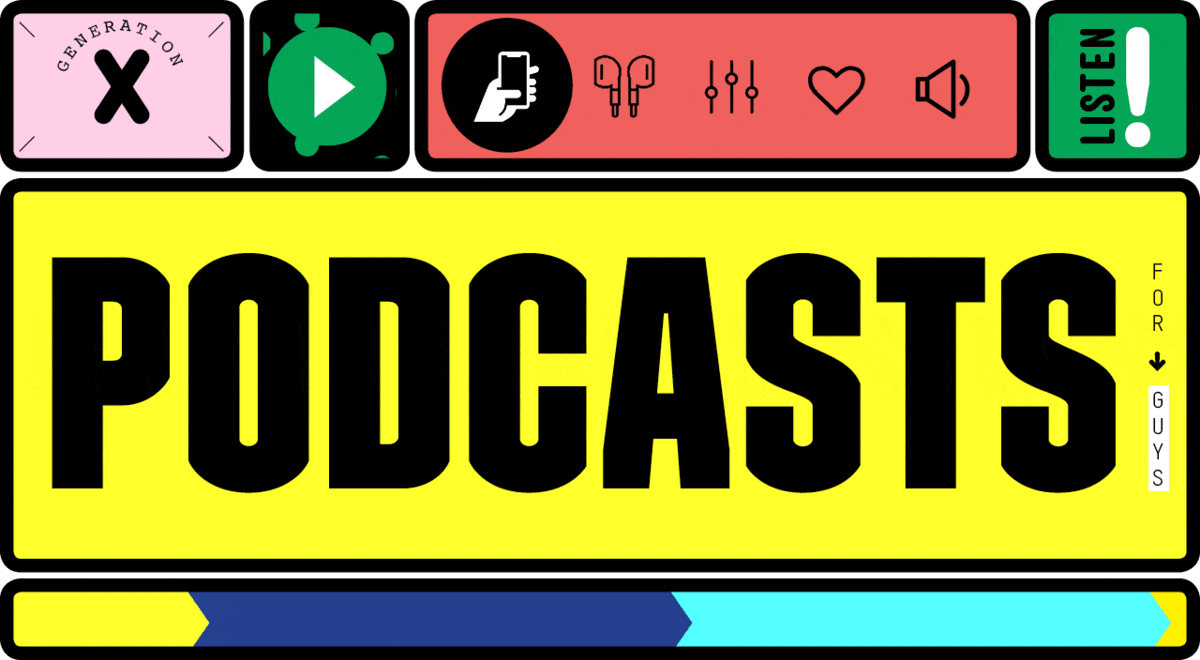 Finding a podcast used to be easy, mostly because there were so few of them. We all agreed that WTF with Marc Maron was hilarious or listened to Serial, along with everybody else on the planet. But these days, the choices can be intimidating: There are now over 2 million podcasts and roughly 58 million episodes waiting to be heard.

We've ventured into the audio ghost towns of Internetlandia, tracking down some of the freshest, most obscure podcasts out there. How do you know which one is right for you? We've made it easy: Know thyself; know thy podcast.

If: You can recite every line of dialogue from Pulp Fiction

The Rewatchables is, at face value, about movies that host Bill Simmons and his guests can't seem to stop rewatching. But it's also a smart and well-informed discussion of the cultural narratives around films. The "Fight Club" episode, for example, delves into the proximity of the film's release to the Columbine High School massacre.

If: You once attempted to play "Everybody Hurts" at an open-mike night

No audio journey would (or, frankly, should) be complete without 60 Songs that Explain the 90s. It's smart, polished '90s nostalgia, hosted by music critic Rob Harvilla, that takes you back through your favorite long-lost mixtapes with new clarity and context. But it's more, because Harvilla is simply one of the most original, hilarious voices in podcasting today.

If: You're the guy everybody wants on their bar trivia team

Decoder Ring, hosted by Willa Paskin, is about "cracking cultural mysteries," with episodes exploring the history of hydration (because, as the show notes point out, we weren't carrying water bottles in the '80s), how Musak happened and the mystery of the mullet.

If: You're a sports fan who thinks most sports radio is dumb

Look to That's What She Said with Sarah Spain for whip-smart and witty conversation around sports and sports-adjacent culture that's entertaining and real. Recent episodes include a conversation about behavioral science in sports with the director of performance and mental health for the Chicago Bulls and a discussion with three-time Olympian Lolo Jones.

If: You're down for some emotional wellness, as long as there aren't affirmations and stuff

Hosted by John Moe, Depresh Mode is a podcast about mental health but in a way that's refreshingly funny, approachable and surprisingly uplifting. Each episode features conversations with people who have experienced diagnoses, loss, trauma and beyond.

If: You're into history and deep down are a little bit goth

Lore, hosted by Aaron Mahnke, is a hauntingly wonderful exploration of dark, creepy true tales. Recent episodes include a look at the dangerous history of lighthouse keeping, ancient ghosts of Florida and a remastered early episode devoted to serial killer H.H. Holmes.

If: You hate small talk and like to dive right into the deep end

Death, Sex and Money delivers exactly on its titular promise, and then some. Host Anna Sale talks with people — famous and not — about these life-questioningly big topics. Recent episodes include a guide to navigating the hardest of hard conversations, like caring for dying parents.

If: You're the weirdest dude you know, but it's totally cool

You've never heard a podcast quite like Whatever Happened to Pizza at McDonald's? Hosted by Brian Thompson, WHTPAM has you wondering at first, Is this guy for real? Before realizing he, in fact, is not at all for real. Thompson and company brilliantly roast investigative journalism, debunk internet disinformation-spreading crackpots and push the boundaries of comedy.