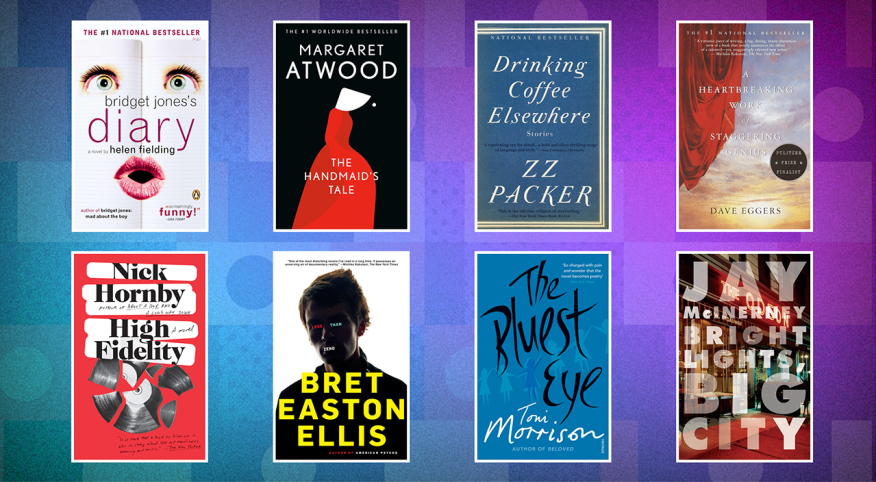 Gen X might be the last generation to really read books for pleasure while growing up.

We didn't have smartphones, the internet was mostly AOL chat rooms filled with our divorced parents, and since we were locked out of the house a lot, it was important to always have a paperback or two with you. This habit stuck with us into adulthood, the paperback morphing into e-books. Sitting outside alone reading Sybil became boozy book clubs with our friends, and then most of our favorite books became movies and TV shows we could complain about not being as good as the original.

But the point is Gen X are readers. And reading changes a person from the inside out. It teaches you empathy, forces you to view a world different from your own, and tends to make you feel less alone in the world you do inhabit — all things Gen X deeply needed.

In picking these eight books, I didn't set out to choose the best. Rather, I chose the books that most influenced the way we think and affected the way we live (or lived), or those that best reflected our ideals, our logic, our hopes, our dreams and our deepest fears, as well as the secrets we thought no one would ever understand.

8. The Handmaid's Tale by Margaret Atwood (1985)

Imagine a world in which all the civil rights advances boomers and Gen X fought for have disappeared, plunging the United States into a burgeoning fascist morass. Imagine women losing their rights. Imagine authoritarian religious fanatics taking over the country. The Handmaid's Tale is not just a worst-case scenario for a society on the brink; it's also a masterwork of speculative and dystopian fiction that has become Gen X's 1984.

7. Bridget Jones's Diary by Helen Fielding (1996)

The novel that launched an entire subgenre. Thirty-four-year-old Bridget Jones resolves to date better men, drink less, smoke less and generally become a better person in hopes of finding happiness. It's a modern spin on Pride and Prejudice set largely in offices and bars, the two places Gen X spent most of their 30s. The novel's workplace dalliances feel cringey and wrong today, but at the time they were considered high comedy.

6. Bright Lights, Big City by Jay McInerney (1984)

Even the novel's cover made you want to do cocaine. Told in second person, McInerney's novel was a postmodern evocation of the first wave of Gen Xers entering the workforce, hyped to the eyeballs on Manhattan nightlife, running from real emotion and toward designer goods at every turn, obsessed by self-image and petulant to a fault. On its face, the novel might seem like a relic from the "greed is good" era, but in truth Bright Lights, Big City has more in common with The Catcher in the Rye than, say, The Bonfire of the Vanities.

5. Drinking Coffee Elsewhere by ZZ Packer (2003)

The title story of Packer's immaculate collection first appeared in The New Yorker in 2000 and was an instant literary sensation, which is saying something in the age before social media. Her collection arrived fully formed three years later, the eight stories lit with questions about identity, lost notions of religion, and raw sexuality.

4. The Bluest Eye by Toni Morrison (1970)

Published just five years into Gen X, The Bluest Eye slowly worked its way onto high school reading lists (and, subsequently, lists of frequently banned books) and thus was often the first major bit of literature read by teens in the '80s that wasn't The Great Gatsby or Ivanhoe. The Bluest Eye remains a profound recitation on the horrific ills of racism, the damning realities of child molestation and the haunting power of family secrets.

3. A Heartbreaking Work of Staggering Genius by Dave Eggers (2000)

Reality does indeed bite in Eggers' memoir, a finalist for the Pulitzer Prize, about a college senior raising his 8-year old brother after the death of both their parents. Funny, ironic, maddening and highly influential, Heartbreaking launched Eggers into the stratosphere while ushering in the rapid rise of irony-filled confessional writing, for better or worse.

2. Less Than Zero by Bret Easton Ellis (1985)

Ellis was famously only 21 and still a student at Bennington College when his debut novel was released. Michiko Kakutani, in her New York Times review, called it "one of the most disturbing novels I've read in a long time." Distance has made the substance-addled experiences of the young L.A. elite seem less disturbing and more accurate — turns out it wasn't just the rich and beautiful who were taking drugs and having illicit sex; everyone was — yet in the intervening years, the novel's influence on Gen X has only increased due to its prescient social critique. Ellis didn't create reality TV or social media, but his characters would have eventually.

1. High Fidelity by Nick Hornby (1995)

What happens when Gen X grows up and falls in love? A wise person would know the essential truth already: Love will tear us apart. It takes Hornby's heartsick 35-year-old narrator, Rob Fleming, a little longer to figure that out. When his lawyer girlfriend dumps him, the record shop owner's life devolves into mixtapes and Desert Island lists, the way all good Gen Xers were taught to cope.


Credits: Background: Shutterstock; Books: Courtesy Pamela Dorman Books; Courtesy Vintage and Anchor Books; Courtesy Riverhead Books