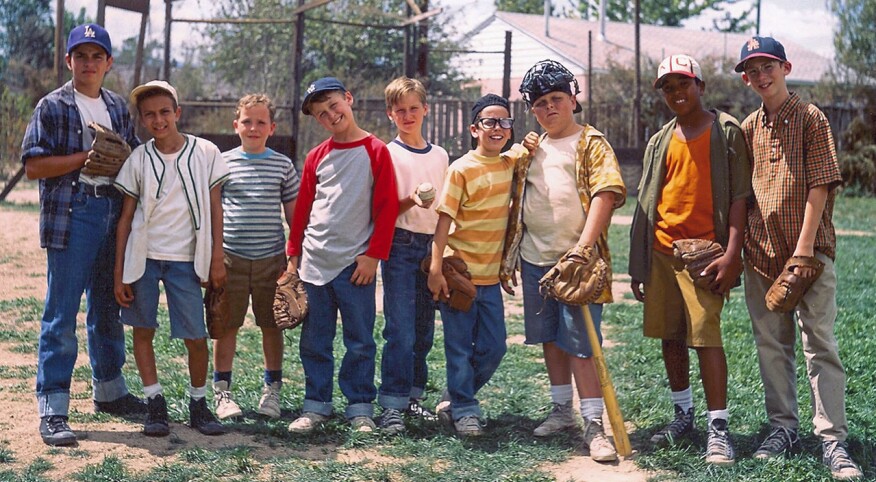 The Sandlot might not be the best movie about baseball, but for many Gen Xers, it hit the hardest. The scrappy, baseball-loving gang — Scotty, Benny, Yeah-Yeah, Squints and Ham — felt like kids we remembered from our own childhoods. We were teens or just barely adults when the movie came out in 1993, but it made us tear up with nostalgia the same way our dads got all weepy over Field of Dreams.

To celebrate the 30th anniversary of this baseball classic, The Arrow sat down with some of the cast and crew to talk about their favorite Sandlot memories.

Denis Leary (Bill)
I'm a huge sports and baseball guy, so when The Sandlot script came on my desk, I identified with so much of it. And it had Karen Allen and James Earl Jones! Are you kidding me?

Tom Guiry (Scotty Smalls)
I was a lot different than Smalls. I wasn't a great baseball player, but I was pretty good. I remember Dave (the director) taking me aside and trying to show me what it would look like if he couldn't throw a ball. I had a real baseball coach at the time who saw the movie. He called me after and said, "What did you do to me? You embarrassed me so bad."

Patrick Renna (Ham)
I had no idea "You're killing me, Smalls" was going to turn into what it has, but we probably kept repeating it in the movie because we knew it was funny and it was getting laughs. We were in San Antonio for the 25th anniversary, and we were doing an interview at the Spurs Arena. A girl came up to us, rather attractive, and pulled her lip down and showed us her tattoo inside her lip that said "Smalls" on it.

Shane Obedzinski (Repeat)
I punched Patrick. Ultimately, him and me were going at it just verbally, just being stupid. And he's kind of known back then for being an intense bigmouth. I punched him in the face, and then he ran to my mom and told her, "Shane just punched me," and my mom said, "Good."

Grant Gelt (Bertram Grover Weeks)
Ah yes, the chewing tobacco scene. That stuff was actually shredded beef jerky and black licorice. They didn't tell us about the licorice, which, looking back, I think was intended to actually make us feel nauseous. David wanted to capture that immediate sharp reaction of, "Holy s - - t, this is terrible. What were we thinking?" After a summer of David and the crew having to put up with us, I think that night was a good way for them to get revenge.

Terry Haskell (prop master)
That was a real tobacco brand, and yep, the black jerky and licorice was me. I absolutely wanted them to feel revolted. [Laughs.]

David Mickey Evans (writer, director)
People don't understand that Chauncey Leopardi, who played Squints, was not a goofy kid wearing glasses in real life. I guess in the day they called them players.

Chauncey Leopardi (Squints)
They were trying to tone me down, and I was obviously trying to keep that Chauncey swagger thing going. And I think we found a happy balance. I was trying to swag them up more, and David was trying to keep it authentic as a period piece. It's kind of hard to explain to an 11-year-old.

David Mickey Evans
The pool scene is probably the finest bit of directing I've ever done. I said to Chauncey, "Now, listen to me," and I take a knee. "This is a very important scene." He's looking at me like, "Yeah, yeah, yeah." I go, "No. Are you listening to me? You keep your tongue in your mouth. Do you understand that? Seriously, dude. Do not, under any circumstance, take advantage of your fellow actor."

Chauncey Leopardi
Yeah, that was my first kiss. Maybe there was some little peck in elementary school, but I always count that as my first real kiss because, why wouldn't you?

Victor DiMattia (Timmy Timmons)
I remember the first day Wendy Peffercorn showed up on set. We all thought we were cool and that we were ladies' men. David came over to our table and said, "Listen, that's Wendy over there. Don't go up to her. Don't even talk to her. Leave her alone. If you guys mess with her, you're fired." We all went up to her and asked, "Out of all of us, which one would you date?"

Marty York (Yeah-Yeah)
We were all staying in these condos with our parents, but it was like summer camp. We snuck into the movie Basic Instinct at one point. Back then, R-rated movies were hard-core. The ushers were really on the lookout. Tom Guiry's older brother got a ticket to the film and opened the back door to the theater and let us all in.

Terry Haskell
One day, Denis Leary shows up. There's a scene when they're out in the backyard playing catch. I said, "Hi, Denis. I'm Terry, the prop master. Here's your baseball glove, 1962." It had Mickey Mantle's fake autograph on it. Denis puts it on, and it was one of those six-fingered gloves. He looks down and says, "This is a Yankee glove. I'm from Boston. I will never put Mickey Mantle's glove on my hand," and threw it on the ground. He was dead serious. I had to go find him some Giants or Sox glove.

Victor DiMattia
There was a really cool moment where Brandon [Adams, who played Kenny DeNunez] and I were up on the top deck of the tree house. We had these earpieces in so that David could talk into a microphone and give us direction up there. All of a sudden in our earpieces, we hear, "Hello, boys." We're like, "Dude, that's the voice of Darth Vader." We looked down and there's James Earl Jones waving to us.

Denis Leary
I gotta tell you my own personal Sandlot story. My son was born in 1990, so he was 2 when I was making Sandlot. By the time he was 8, he was playing baseball, becoming a big baseball fan, and had watched the movie a gazillion times. In 1999, the All-Star Game was at Fenway Park. During batting practice, Cal Ripken hit a foul that bounced, hit the wall, and I caught it. I gave it to my son, and he asked if we could get it signed. "Dad, please!?" I tried getting Cal's attention but couldn't get it signed. No big deal.

When we got home, I made a couple phone calls and chased down a guy that knew Cal Ripken. I go through all the rigamarole and got the ball personalized. I got it inside a collectible cube. Six months later, we had a place in Connecticut and the kids would play baseball in the backyard. There was a pond about 500 feet from where they'd bat, but you'd have to hit a massive Mickey Mantle bomb to hit the pond. One day, I'm walking by his room, and I see that the cube is open, and the ball was missing. Him and his cousins are upstairs playing video games, and I say, "Hey, Jack, where's the Cal Ripken ball?"

He goes, "We ran out of balls playing home run derby, so we used it. I batted lefty, and Dad, you wouldn't believe it. I hit such a long bomb." I'm getting really nervous at this point. "So, where's the ball, Jack?!" He responds all calmly, "Oh, it's in the pond." I'm about to lose it when he says, "Well, can't you just call Cal Ripken and get another one?" I had to laugh and say, "This is just like in The Sandlot!" He's like, "Oh yeah, that's so funny!" I couldn't believe it. He must have hit it at least 375 feet in the air, so I couldn't be that mad at him.