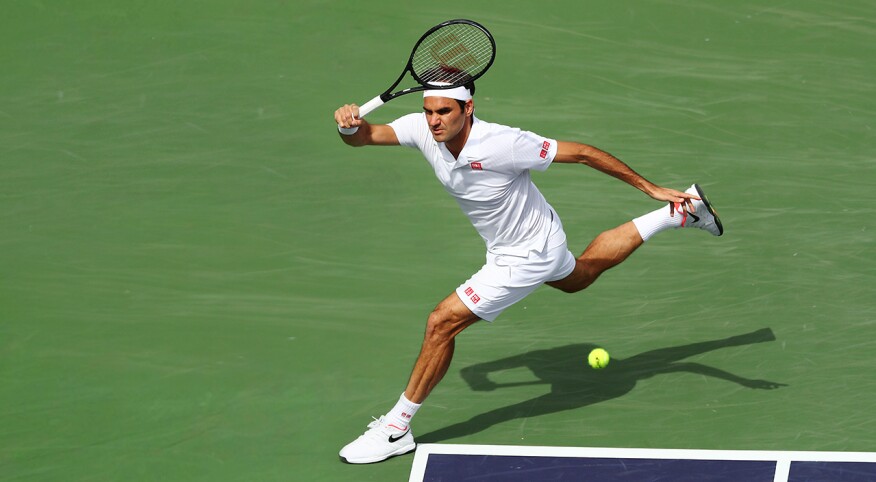 My father introduced me to tennis as a kid. Before he taught me how to hit a ball, I'd sit on his lap in front of the TV and we'd watch the US Open together, witnessing the magic of Jimmy Connors from our living room. During Connors' final years on the court, my dad was moved and inspired by the 39-year-old's never-ending energy. Though the aging athlete was at the tail end of his career, he decided not to bow out gracefully but rather to storm out of the 1991 Open with the crowd at his feet.

While he was entertaining, I never viewed Connors as a man of grace or even gratitude. He was loud and abrasive, cocky and crude. He was, by all measures, the quintessential American male of his time. There was nothing wrong with him. He was just a man of his era. A caricature.

With the announcement of Roger Federer's plans for retirement, at 41 years old, I feel privileged to have come of age during the rise of such an iconic figure — not only because of his overwhelming talent, but because he's set a standard for how men should behave in society, on and off the court.

Of course, we need bad boys, as much as we don't like to admit it. Where would we be without John McEnroe? Today, Nick Kyrgios seems to be following in his footsteps. But with so few adult male role models in our society these days, I've been able to turn to Federer as an example of class and humility, sophistication and manliness — without all the nonsensical machismo.

Federer is not just one of the most successful and spectacular players that tennis has ever seen. He's also a goodwill ambassador for the sport, a dedicated family man, a philanthropist and crusader for underprivileged children, and an outright composed gentleman with a friendly demeanor. Plus, in an age where sloppily dressed men have become the norm, he's a sharp dresser to boot. (Thanks, Anna Wintour.)

Whether he's been ranked number 1 in the world or the underdog trying to make a comeback against newcomers, I've felt a duty to root for him as if he were my own friend competing on the court. When I was finally able to afford a ticket to see him live, in 2012, against American hopeful Donald Young, the sold-out Arthur Ashe Stadium crowd was one-sided in its support — and it wasn't for the homegrown competitor. From my vantage point in the second-to-last row, all 23,771 in attendance were cheering for the five-time US Open champion from Switzerland who'd managed to capture the hearts of even casual tennis fans.

As he developed into a family man, his apparent love for his wife and children diminished my own cynical outlook on marriage. Once a disheveled teenager himself, he finally cut his shaggy hair and wore more form-fitting clothes. I did the same, and I actually began to feel more confident in my personal and professional life as a result.

Now, as Fed is due to take his final bow at the Laver Cup next week, I'll thank him from the comfort of my living room, just as my dad thanked Connors under his breath following his final match three decades ago.

While Roger Federer doesn't need extra adoration for his contributions to tennis and our greater culture, I do hope we continue to benefit from his presence in the world. Society is filled with ill-dressed men with obnoxious personalities, and we're being sold this pathetic image as the standard for masculinity. At a time when many of us have become Tony Sopranos and Al Bundys, Federer hearkens back to the male icons of yesteryear: John F. Kennedy, Cary Grant, Atticus Finch, Sidney Poitier, Pete Hamill, Marcello Mastrioanni.

Federer shows us that there's a more positive way for us to adhere to male values. As well-dressed and even-tempered men, we are better fathers, role models and leaders.