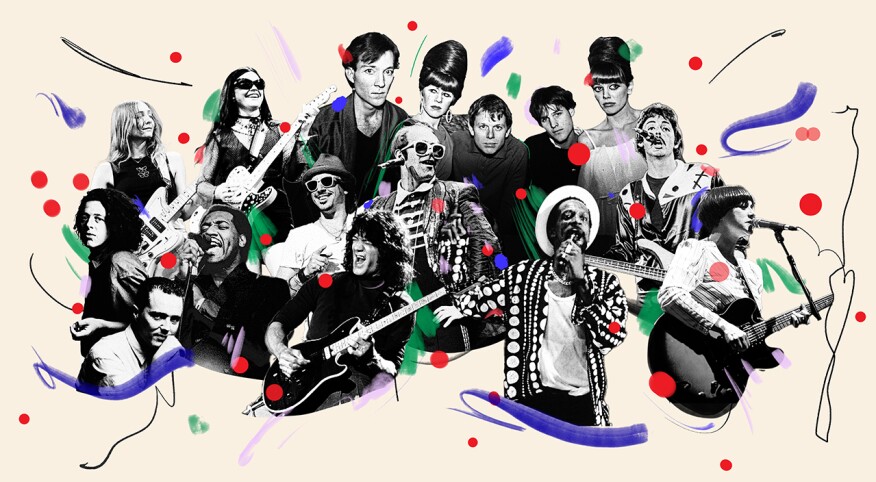 I asked a few of my favorite musicians and music obsessives to help create the perfect playlist for any summertime gathering of Gen Xers. The challenge: What song perfectly captures summer for you? I wondered, would they feel compelled to show off and pepper their picks with new music, or rely on old tunes that spark nostalgia?

What would you include in our summer mix? We want your suggestions! Add a song in the comments below, including a little backstory on why you love it, and we might just add it to the official Arrow Summer Jamz mix.

"I Wanna Be Adored"—the Stone Roses
Picked by Mike Doughty, musician, Ghost of Vroom and Soul Coughing

The first Stone Roses album sounds like summer to me, because in 1990 I had a job driving a delivery van for a gourmet ice cream company, and I played the hell out of the cassette. It was one of my favorite hot, sticky, exceptionally odorous Manhattan summers, when you could still be a broke poet and live in Manhattan, and when I hear "I Wanna Be Adored," I'm all the way back there.

"(Sittin' on) the Dock of the Bay"—Otis Redding
"Chaise Longue"—Wet Leg
Picked by Butch Vig, producer, guitarist for Garbage, actual legend

Redding's classic has an absolutely perfect chill-out groove, and it inspires me to kick off my shoes and dip my feet in a pool. "Chaise Longue" is a great party song: minimalistic, comedic, a bit weird, super catchy, and it never fails to ramp up the energy. I mean: "Would you like us to assign someone to butter your muffin?" Genius.

"Philadelphia Freedom"—Elton John
"Everybody Wants to Rule the World"—Tears for Fears
"Good Day"—Nappy Roots
"Love Will Find a Way"—Pablo Cruise
Picked by Merrin Dungey, actor, Shining Vale, Malcolm in the Middle, Alias, Big Little Lies, etc.

There are a few songs that super viscerally take me back, like I hear them and summer washes over me and I'm drinking a Sunkist by the pool in denim shorts. You've just watched Friday Night Videos at a sleepover, and now you're on the back of someone's Vespa scooter and he has a palm tree shaved into the back of his hair.

Once we're loosened up, "Good Day" by Nappy Roots is an instant good mood. And I feel proud that my kids can successfully identify "Love Will Find A Way."

"Silly Love Songs"—Paul McCartney and Wings
Picked by Jon Wurster, musician, the Mountain Goats and Bob Mould band; actor, The Best Show

My disinterest in the Beatles is legendary, but no song conjures summer vibes better than this punishingly long confection. The moment you hear that train sound at the beginning (or is it an oil rig?), you're transported back to Mack & Manco Pizza on the boardwalk down the Jersey Shore, roight?

"Night Nurse"—Gregory Isaacs
Picked by Nick Hornby, author of "High Fidelity" and "About a Boy," mixtape-making legend

I always think that the sound of summer in London is 1970s reggae, post-ska, pre-ragga. It's what you were most likely to hear blaring from open windows.

"Summertime Clothes"—Animal Collective
"Panama"—Van Halen
Picked by Jacob Givens, TikTok '90s music enthusiast

It's a tradition in my family: When I put that song on, summer has officially begun. It makes me feel like it's time to get on the bathing suit, itime to open up the barbecue. I'll follow that with some classic Dad barbecue rock, like "Panama." Everybody starts doing split kicks into the air, and then the party's up and running.

"Hello Hello Hi"—From Bubblegum to Sky
Picked by Craig Finn, the Hold Steady

It was a college radio hit on 770 Radio K while I lived in Minneapolis. We especially listened to it a million times in the Lifter Puller touring van during a West Coast tour in the summer of 2000, so perhaps that's why it's seared into my brain as a summer song. But it's also a carefree upbeat song that sounds great in the warm weather.

"Jimmy Buffett"—Cisco Adler
"Sand Roads"—Claire Wright
Picked by G. Love

I've just been a featured guest on two brand-new tracks, so I'm picking those. Both of these jams bring that beachy surf-side vibe. You can almost feel that warm summer sun as you listen. "Jimmy Buffett" pays tribute to the original "toes in the sand" legend, and "Sand Roads" is just a perfect summer love song about driving slow down the sand roads to the beach with your love and something cool to sip on.

"Lloyd, I'm Ready to Be Heartbroken"—Camera Obscura
Picked by Kay Hanley, lead singer for Letters to Cleo

My ex put it on a mix CD, and I relate the song to driving around L.A. listening to that reverby guitar hook and soaring chorus real loud with the windows down. One from today that's a must is "As It Was" by Harry Styles.

If I'm making a playlist for a summertime gathering, there is no question what I'm basing it on: late '70s–early '80s disco, like Shalamar.

"Private Idaho""—the B-52's
Picked by Laura Ballance, Superchunk

The B-52's bring back all kinds of fond memories from when I was about 12 until now. I heard them pretty early thanks to my sister. It felt like the most fun music I had ever heard up until then. It reminds me of dancing around in the TV room with my brother and sister. It reminds me of the time I went to visit my sister at UGA when I was maybe 15 and she took me to a house party. It reminds me of the first time I ever got stoned. It reminds me of dancing in my living room with my daughter when she was 5 and we had dance parties every night after dinner.

"This Must Be the Place (Naive Melody)"—Talking Heads
Picked by Dave Holmes, writer of this piece you're reading right now

Let me set the scene: a hot summer sun is setting, and you're in the pool. The party was well attended and noisy an hour ago, but now it has simmered down to just a committed few: your closest couple of friends, maybe someone new you just had your first great conversation with, a random neighbor who overserved himself. Temps are about to drop; the firepit is waiting to be lit. Everyone is on a float or a deck chair, drowsy from a day in the sun, beyond the need for conversation, comfortable. This exact moment is the one for which "This Must Be the Place (Naive Melody)" was created.

Photo credits: Wet Leg: Emma McIntyre/Getty Images; B-52's: Lynn Goldsmith/Getty Images; Tears for Fears: colaimages/Alamy Stock Photo; Otis Redding: Elaine Mayes/Getty Images; Cisco Adler: ZUMA Press/Alamy Stock Photo; Hearst Newspapers/Getty Images; Elton John: Images Press/Getty Images; Gregory Isaacs: John Lynn Kirk/Getty Images; Patrice Picot/Getty Images; Camera Obscura: Lorne Thomson/Getty Images