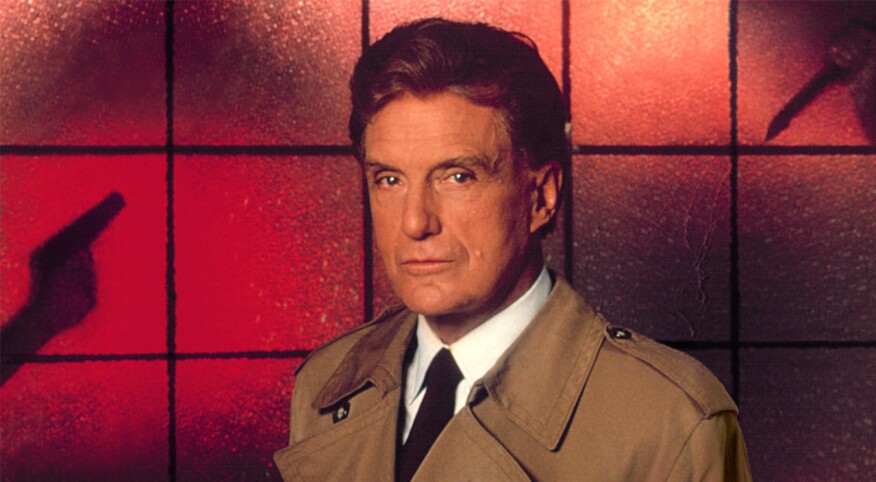 True crime, James Ellroy tells me, is all about "solving the riddle of human motivation and how people end up dead."

He should know. The now 74-year-old has made a career writing about the gruesome ways humans butcher each other, from The Black Dahlia to L.A. Confidential. And he's doing it again with a new podcast, James Ellroy's Hollywood Death Trip, covering cases from his true-crime reporting in Vanity Fair and GQ.

Ellroy's true-crime obsession is personal. His mom — whom Ellroy had a troubled relationship with — was raped and murdered in 1958, a case that remains unsolved.

"I wished her dead, and damned if it didn't come true," Ellroy tells me. "That's a load to live with for a 10-year-old kid."

One cannot compare tragedy of this magnitude, but in 1996, my brother's wife, five months pregnant, was strangled to death. Her case remains unsolved.

I'm not saying her murder inspired my writing career, but it had an impact, certainly. For nearly 25 years, I've been writing true-crime books, producing and presenting on television as a true-crime expert, and now podcasting.

But if the last decade has proved anything, it's that you don't need firsthand experience with true crime to be fascinated by it. From that controversial Jeffrey Dahmer Netflix series to podcasts like Crime Junkie, My Favorite Murder and Serial, true crime is everywhere. Even Kim Kardashian has recently released a true-crime podcast.

But true crime wasn't invented in the last few decades. As Ellroy tells me, "The 20th century [was] the century of the detective." It's when Americans learned to be armchair sleuths.

At least for most Gen Xers, it started in childhood, watching Scooby-Doo on Saturday mornings and reading the Hardy Boys and Nancy Drew mystery series. We watched Leonard Nimoy present "real" mysteries on the TV series In Search Of … , a show that introduced us to the first "viral" video(tape), a grainy Super 8 film of Bigfoot skulking through the woods, looking back at the camera over his hairy shoulder.

Then came Robert Stack's deadpan crime noir shtick and iconic voice on Unsolved Mysteries, introducing stories about alien abductions, yeti, voices from the grave and even superficially strange murder cases, like that of Jeffrey MacDonald, the former medical doctor and Army captain convicted of murdering his pregnant wife in 1970.

We obsessed over it then, and clearly love it even more today. So, what's going on? What does true crime make us feel?

I think partly it's because our brains desperately need to establish right versus wrong, and above all get to the bottom of things. Our grandparents had World War II and the very clear line between good and bad. Our parents had the Cold War and the fight for civil rights. But what do we have? "Alternative facts," social media nonsense and dueling cable news networks.

True crime gives us something we crave: a way to find certainty that's otherwise been missing in our lives.

There are some fears — and even research to back it up — that true crime is doing us more harm than good. It makes us more terrified of death and murder. But I disagree. At least for Gen Xers, it's a balm for our rattled souls. Gen Zers get their dopamine hit from 15-second TikTok videos. But our reward is in the journey the mystery provides, and the adrenaline rush of solving it and seeing a scumbag pay for their crime.

Maybe that's why over 50 percent of Gen Xers and millennials watch true crime series compared to around 40 percent of Gen Zers and baby boomers, according to survey data from research firm CivicScience.

I remember as a kid being amazed by Columbo. Peter Falk, playing the trench-coat-wearing, cigar-smoking detective, harasses suspects until they confess to murder. We know who the killer is a few minutes into the episode, but the thrill for the next 90 minutes — what keeps us watching — is how Columbo will convince the killer to confess.

It only makes sense that we've transferred that need to see Columbo or Scooby-Doo solve a crime into watching, listening to and reading about real detectives solving real crimes. As Ellroy told me, there's a thrill in "good, commonsense detective work, the way they create a suspect pool and find the people with varied motives for committing the crime. It can be profound."

Maybe it's because it gives us a sense of control that we don't get anywhere else. We grew up in a world of chaos, and it's only gotten worse as we've become adults. Latchkey kids have turned into adults who aren't quite sure whom to trust.

But in true crime it's still possible to find the truth — or at least feel empowered by the process of trying to.