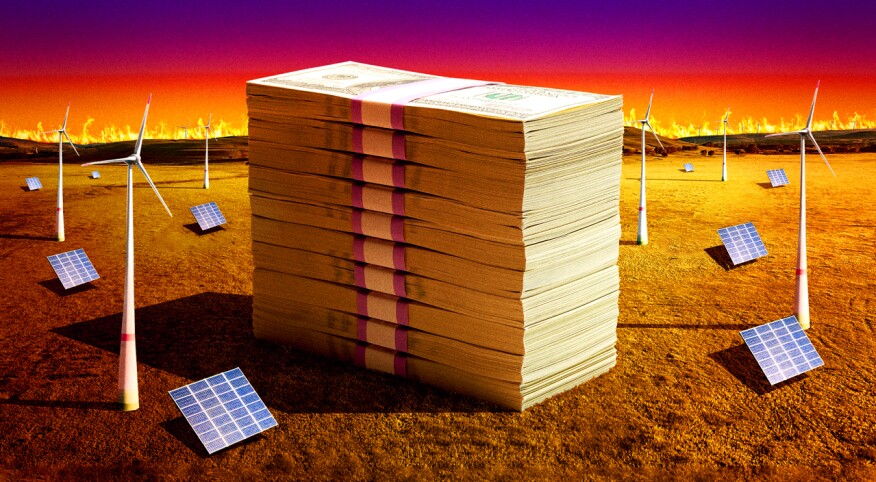 From California wildfires to deadly hurricanes and tornadoes in the South, life in the U.S. can feel downright apocalyptic. That retirement home in Miami may be underwater in a decade or so, and with temperatures soaring, both Los Angeles and Phoenix seem to have been relocated to the inside of a pizza oven.

Forget cryptocurrency and "meme stocks," warns Kareem Rathore, a partner at Hoxton Capital Management in London. They're usually bought on impulse, he says, and don't have provable value. Instead, here are three other investment ideas for these dystopian times.

Green Companies

Due to climate concerns, "investors are becoming more consciously aware of ESG [Environmental, Social, and Governance] investing and the responsibility they carry as investors," says Rathore.

In plain English, ESG companies are those that actively care about their impact on the environment. According to research from Sustainalytics, companies that focus on ESG goals tend to have stronger financial performance. And a record $174 billion was invested globally in renewable energy during the first six months of 2021.

It's essential for the future of humanity. In other words; a pretty safe bet. You can check the MSCI ESG Ratings and Climate Search Tool to find out which companies are publishing ESG goals and sticking to them.

Gold

The tech and green spheres are growing, but traditional, real-world commodities you can hold in your hand (or bite between your teeth) still have a place. Shashank Pandit, the founder of personal finance app Buxfer, notes that gold is always "an excellent commodity to have in your portfolio."

You don't need a pick and a treasure map to get in on the action, either. You can contact a gold bullion dealer to buy gold or contact a brokerage that offers a gold account to stake your claim.

Real Estate Markets

Moving south isn't just about retirement anymore. States like Florida and North Carolina are currently booming due to an abundance of new jobs and increases in population, according to Adam Mutawak, founder of London-based Future Finances.

But you don't have to buy new to benefit. Mutawak advises keeping an eye on the repossession market to unearth pre-loved bargains.

"Cash is king in times like these," he adds. "During the 2009 crash, you could get your hands on some properties being sold up to 60 percent off market value. This approach protects you from any future threat to the real estate market."

Ultimately, financial patterns are difficult to predict, especially during times like these. But, with a little bit of smart investing, you could be on the path to riding out the impending apocalypse in comfort.