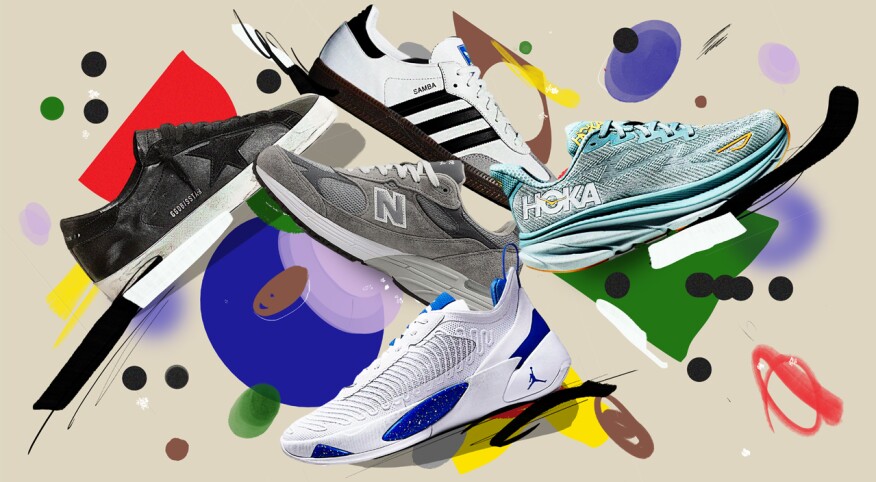 Finding the right pair of sneakers wasn't all that difficult back in our teens and 20s. You'd throw on a pair of Chucks, Reebok Pumps or (if your parents were rich) Air Jordans and you were good to go. But as we get older, our priorities change. We don't just want something that looks cool — we want comfort and quality. And what we consider comfortable is far different than it was 25 (or more) years ago.

How do we find multifunctional, reliable streetwear that supports our aging feet and also looks stylish? We want sneakers that say, "I'm a sophisticated modern man," not "Hey Mom, are there any more juice bars in the fridge?"

Here are five sneakers with versatility and style that you can throw on quickly when you're running out the door and will look fantastic with jeans, chinos, shorts or even sweats.

New Balance 990v3

Wear it with: Denim

If you're a fan of practical, neutral-colored sneakers that are made well and have plenty of support and cushioning, you're in luck: The "Dad Shoe" craze is in full effect. Sneakers considered lame just a decade ago are now being worn by 20-year-olds and 45-year-olds alike. And thanks to footwear moguls like Ronnie Fieg and Teddy Santis, there's no cooler brand at the moment than New Balance.

The timeless look of the New Balance 990v3 pairs perfectly with both slim and baggier denim. Because New Balance sneakers are typically clean and understated with simple lines and neutral colors, they're easy to pair with a casual outfit. And, thanks to their durability and high-quality materials, they're made to last and worth the investment.

Adidas Samba

Wear it with: Chinos

Originally released as an indoor soccer shoe, the classic Adidas Samba has been embraced as a casual lifestyle model for decades. Whether you're wearing them to the office or out after work, the combination of Sambas and chinos creates a casual, yet put-together look, especially if your pant legs are rolled up to show off your socks (or ankles) and the full silhouette of your sneaker. The casual vibe of the Samba pairs well with the tailored fit of the chinos, creating an effortless and stylish outfit.

To keep the look balanced, go with a pair of chinos in a neutral color, such as khaki or navy, and pair them with neutral-colored white or black Sambas.

Golden Goose Super-Star

Wear it with: A suit

You can't just pair any sneaker with a suit, because it can look downright silly. In order to keep that formal vibe with a touch of classy casual, try the Golden Goose Super-Star. The key is to create a balanced look that incorporates both formal and casual elements. To achieve this, consider pairing them with a more casual suit, such as a linen or cotton blend, in a light color such as beige or light gray.

It's also important to pay attention to the overall fit of your suit. A well-tailored suit that fits you properly will help balance out the casual look of the Super-Stars. They definitely create a high-low contrast, which is what men's style is all about these days.

Hoka Clifton 9

Wear it with: Shorts

Whether you like sporty 5" running shorts, casual 7" chino shorts, or baggy 11" basketball shorts, running sneakers are typically a safe bet if you're daring enough to show some leg. Most running shoes are designed to be lightweight, breathable and low profile, which can help to create a sleek and streamlined appearance. But what running sneaker should you go with, especially if you're not really into running sneakers?

Try a technical shoe like the Hoka Clifton 9. They look great with ankle socks or quarter socks, and feel amazing. They're versatile enough for 5K runs or walks to the grocery store. The Clifton 9 is a popular shoe among runners for its balance of soft cushioning and responsive feel.

Jordan Luka 1

Wear it with: Track/sweatpants

Comfortable and versatile enough for both the basketball court and the street, the Jordan Luka 1 is perfect for any guy who wears tracksuits or sweatpants as part of his regular wardrobe. The Luka 1, the first signature model of Dallas Mavs star Luka Dončić, comes with Formula 23 foam that gives a soft, responsive feel.

This model is part of the Jordan line of basketball shoes, which have a long and storied history in the sport and are known for their performance, style and cultural impact. If you were the only kid on your block without a pair of Air Jordans growing up, these are definitely for you. They're widely considered one of the most fashionable basketball shoes on the market today.