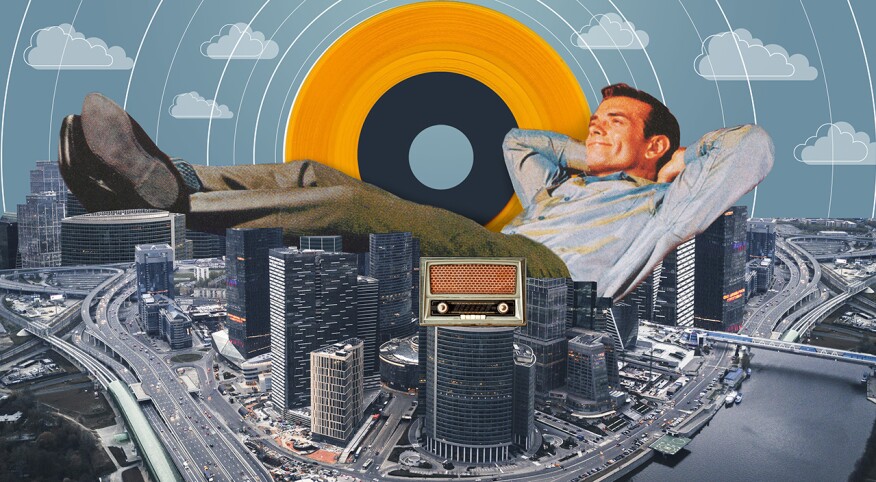 "We all need the human touch," sang Rick Springfield in 1983, and if you've heard that song recently, it was probably served to you by an algorithm. You asked your virtual assistant to play you some '80s songs, or Spotify threw it in based on what it noticed you listening to, or it came up on a satellite radio station whose songs are selected by a computer program.

Artificial intelligence is getting better at knowing what we like, based on the data we give it. That's fine, but I'll be damned if I don't want a human being to play me a record sometimes.

Luckily, radio — real, old-fashioned and, most importantly, free radio where DJs decide what songs to play in real time — is still alive. Across the country and around the world, there are stations small and large where actual people make decisions about which song they'll spin next, based not on what the research says won't turn you off, but on what turns them on.

And it may do the same for you. A stranger, all alone in a studio in a far-off place, can make a personal connection with you, broaden your horizons and do something that even the best technology cannot: surprise you.

If you want to dip your toe into the world of independent radio shows, where no subscription is ever required, I've created this handy guide to get you started.

I'm in a Crappy Mood and Need to Get Out of This Funk

Happy, Joyous & Free, WERA, Arlington, Va., Monday-Friday, 8 a.m. (EST)

Cool Papa Jeff plays an eclectic mix of music with one thing in common: joy. It's "optimistic music and hopeful messages," but never dips into Radio Disney for adults territory. As it turns out, the Cars and Courtney Barnett have some positive jams in their catalog.

Classic American Top 40 Radio, iHeartRadio, Always

Original Casey Kasem countdowns from the '70s and '80s. Ol' Casey took his job seriously, gave equal weight to The Escape Club and The Beatles and really knew how to put some oomph into a song title: "Everybody Wants? To Rrrrruletheworld."

I Want To Hang Out With a Friend With a Much Better Record Collection

Uncertain Times, Uncertain.FM, Monday-Thursday, 10 a.m.-1 p.m. (EST)

Until 2021, TJ Connelly was the house DJ at Fenway Park, but he left to focus on his digital station, Uncertain.FM, which is worth tuning into at any time of day. Connelly's morning show feels like a mixtape he's making in real time, just for you.

Kyle Meredith With…, WFPK, Louisville, Ky., Monday-Friday, 6-7 p.m. (EST)

Kyle Meredith has a soothing voice and a great ear for music. The first hour of each show is a great interview, the next three are music: Mondays are for new tunes, Fridays are for flashbacks and the days in between are a mix of the two. Don't be surprised to hear Wet Leg segue into Up With People.

All Over The Place, an attic in Westfield, New Jersey, Always

It sounds like it broadcasts from someone's garage in a New Jersey suburb. And it's possibly just a hard drive full of that someone's record collection, set on shuffle. But what a record collection! It defies description. Just tune in.

I Want to Start My Day in the U.K.

Craig Charles, BBC Radio 6, Monday-Friday, 9 a.m.-noon (EST)

Hosted by the former star of Red Dwarf, each show opens with Craig Charles' Time Machine, in which he plays three songs and makes listeners guess the year they were released. It's a perfect morning brain teaser for the music lover.

Steve Lamacq, BBC Radio 6, Monday-Friday, 4-7 p.m. (EST)

In each show, Lamacq selects a news story of the day, then invites listeners to request the perfect song to complement it. Recently, to commemorate the discovery of an 80-foot 13th century ship unearthed by construction workers in Estonia, "Dig, Lazarus, Dig!!!" by Nick Cave just barely lost out to Ben Folds Five's "Underground."

I Have a Favorite Genre and It's…

R&B

Bop Street, KFAI, Minneapolis/St. Paul, Minn., Monday, 5-7 p.m. (EST)

Kind-voiced Pete Lee plays rhythm and blues from the '40s and '50s, with "big voice blues shouters, honking tenor saxophones, fine — fine — superfine vocal group harmony." Perfect for cocktail hour.

Post-punk

Evan "Funk" Davies, WFMU, Jersey City, New Jersey, Wednesday, noon-3 p.m. (EST)

Classic New York post-punk mixed with disco and new wave, plus at least a few new treasures Davies has just copped from the record store and can't wait to play for you.

'80s new wave

Transmission, The Current, Thursday, 10 p.m. (EST)

Jake Rudh concentrates on a hyper-specific subgenre of indie music — power pop, anti-war new wave, artists who were played on the first broadcast day of MTV — and goes deep on it. A recent dive into dream pop gave me the Lush, Cocteau Twins and My Bloody Valentine my blood pressure needed.

Reggae

Positive Vibrations, KEXP, Seattle, Wash., Saturday, 9 a.m.-noon (PST)

If you have worked hard through the week, you deserve a Saturday filled with reggae.

Hip-hop

The Vibe, WDBM, East Lansing, Mich., Saturday, 8 p.m.-12 a.m. (EST)

Old school R&B and hip-hop with DJs Zar and Sky. This show's been running since 1989, so they know what they're doing.

Psychedelia

Psychedelic Sundays, K-ZAP, Sacramento, Calif., Sunday, 1-3 p.m. (PST)

Listen, I don't know what kind of psychedelic business you get into, and it's none of my business, but you have to imagine a Northern California radio station called K-ZAP can guide you even through the harshest trip.

I Want to Discover a Musical World I Know Nothing About

EQXposure, WEQX, Manchester, Vt., Sunday, 7-9 p.m. (EST)

Every Sunday night, this station introduces you to "the band down the block," and they mean it: To submit music, your band must be based within the station's broadcast range. Tune in and find a new underdog to root for.

Switchin' to Glide, WYXR, Memphis, Tenn., Friday, 2-4 p.m. (EST)

Lori and Jared McStay are a married couple who run Memphis' oldest record store, Shangri-La Records, and on Friday afternoons, they play whatever the hell they feel like, with an extra helping of local music.

Chez Beets, Uncertain.FM, Thursday, 6-8 p.m.

Radio veteran Mark Hamilton offers a "two-hour exploration of moods and themes." If you want to hear Beastie Boys' "Shake Your Rump," then the Alphonse Mouzon track it sampled its drum hook from, this is where that will happen.