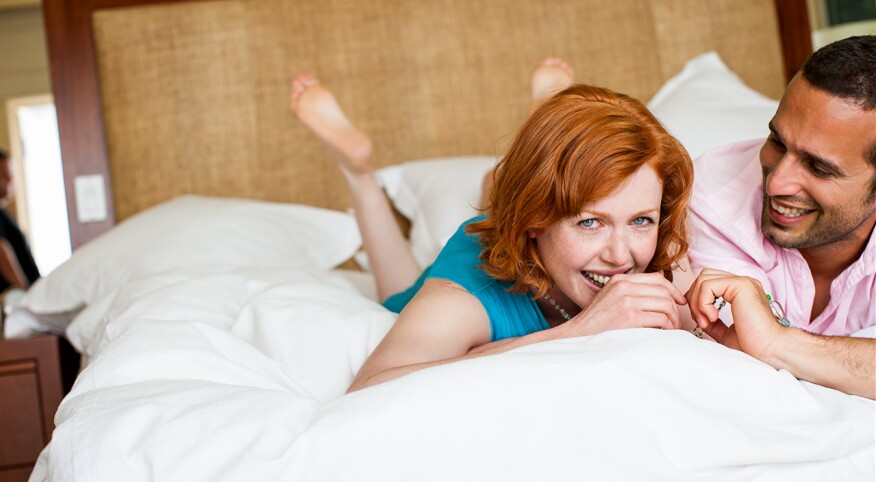 It can be difficult to care about Valentine's Day, especially if you've been in a committed relationship for years. Isn't it just a forced date night? Well, what if this year, instead of doing the holiday by the numbers, with the obligatory flowers/candy/fancy dinner out, you tried something different, something unique to your relationship?

Here are four date ideas for Valentine's Day that will actually make your partner feel loved.

Recreate your first date

"There's something romantic about taking a trip down memory lane together," says Sandra Myers, a certified matchmaker and president/cofounder of Select Date Society. Take her to the same restaurant you went on your first date, or visit the same theater, or stream that first movie you watched together.

The more details you can bring to it, the better. Wear the same outfit, order the same dishes, buy the same flowers. Don't worry if that first date wasn't especially romantic or extravagant. If you took her to a greasy-spoon diner because it's all you could afford, feel free to snazz it up by bringing a bottle of champagne or your own candles. But the real appeal here is the nostalgia. You're celebrating how far you've come as a couple, looking back at your relationship origin story. Just the fact that you remembered, and still think so fondly on that first date, makes it a better choice than any five-star restaurant.

Get competitive

Go to the arcade, hop on the axe throwing trend, or sign up for an escape room and see if you have what it takes to maneuver your way out. Plan an activity in which you face off against each other and make it interesting with some friendly wagers — i.e., the winner gets a sexy massage or … well, use your imagination. (We're not giving you a dirty "to do" list. You know what she likes, and vice versa.)

Bonus if the date is adrenaline-filled, such as a game of paintball or laser tag. "Research shows doing something adventurous together increases your attraction to your mate," says clinical psychologist and sex therapist Cheryl Fraser.

Learn something new

Every couple has a bucket list of activities they've always wanted to try or new skills they want to learn, but life's other obligations have a way of getting in the way. Valentine's Day is the perfect opportunity to leap into the unknown. Sign up for a fancy cooking class, stream a tantric yoga class, take a woodworking course, or go to the archery range. Why in the world would you just sit down for another meal when you could be watching her grip a bow and arrow and slice through her target like a merciless warrior woman?

You don't have to enroll in an organized class to mix things up. Head to your local art store, pick up some paint and brushes, and challenge each other to a portrait painting showdown. "Frame the portraits and hang them in areas you will always see and feel happy," says sex and relationship adviser Barbara Santini.

Do a staycation

Book a room at a local hotel for the night, and not just for what happens between the sheets. A hotel is like an escape room from the chores of life, where you can leave a mess like a toddler and somebody else has to clean it up. (Yeah, when you reach middle age, sometimes the sexiest thing you can hear is, "Somebody else is doing the laundry and cleaning the toilets.")

Don't skip on any of the amenities, says licensed marriage and family therapist Michelle Shivers. Soak in the hot tub, treat each other to massages, order breakfast in bed, and enjoy the sweet relief of a night with zero responsibilities. Don't want to spring for a hotel? You can do the same thing at home. Get an overnight babysitter, order takeout, and put the dishes on hold, so you can focus only on each other.