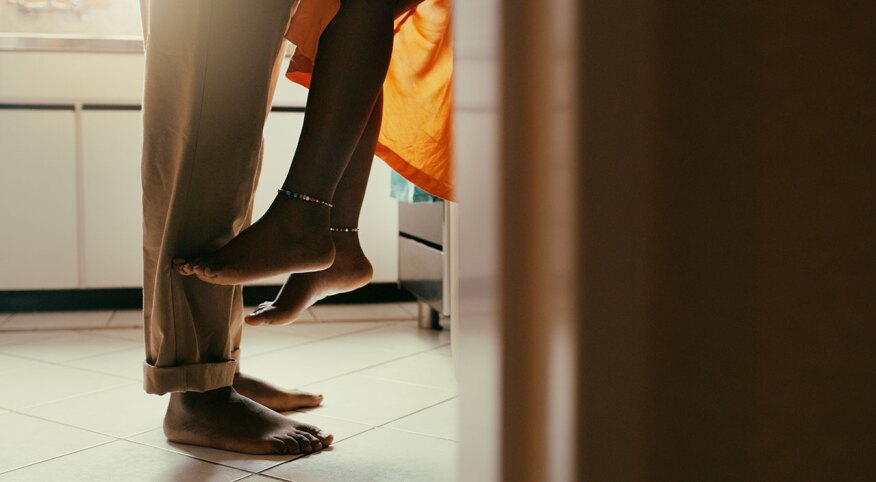 Imagine your very favorite gastronomic pleasure — Maine lobster, fillet mignon, a big greasy burger. Now imagine eating it every day for a week. Wahoo! A month? Hmm. At a certain point, regardless of how much you love a certain dish, a steady diet of the same thing will eventually rob you of your appreciation for its unique flavor profile.

You get that I'm talking about sex, right?

There comes a time when a man aches for something hotter or cooler or spicier or more tender. That said, a good chef knows he doesn't have to go shopping for something different every night. He knows, rather, how to turn what's already on hand into something exciting and new.

If a letter from the IRS was your last source of heart palpitations, it's time to initiate a marriage makeover with a kitchen takeover. Fear not, you don't actually need to cook like a chef; you just need to show that you've still got game.

Make it feel like the first time. A romantic mood starts with romantic lighting. You can never go wrong by illuminating your whole space with tea candles. And pick some tunes that set the mood, or go one step further and make a streaming playlist.

Give her what she wants. Forget about oysters, aphrodisiacs and all those other clichés. Tailor the meal to the foods she fancies. Think about the last meal that really wowed her. Perhaps it was on a vacation or at a romantic restaurant. Then do some stealth shopping (and, if necessary, some research), so that you can re-create the experience. It's a subtle reminder that even after all these years, you're still thoughtful, creative and good with your hands.

Try some new moves. Make a novel dish, and/or incorporate flavors that are outside of your standard repertoire. Chef go-to additives like citrus zest, fresh ginger, herbs and chilis can brighten a dish and stimulate her senses.

Is it risky to try to reignite romance by offering a creation you're making for the first time? Of course it is. Whether you're a culinary pro or a kitchen neophyte, inevitably something will go wrong. But when the soufflé sinks, the flambé flames out or the brownies burn, just laugh it off and let the games continue. If there isn't a perfect solution, there is always a salvageable one. Remember, the way you deal with adversity is likely one of the reasons she was attracted to you in the first place.

Make it a performance. Whether you're slicing and dicing in the moment or simply assembling a selection of store-bought gourmet ingredients, let her pull up a stool and witness you putting your heart and soul into the meal. A small study by an Australian company revealed that women were more aroused when their partners cooked in front of them than when they carried out "manly" tasks like using power drills. (If dinner's already been in the slow cooker for four hours, you can prepare a salad or simple side dish in front of her before serving.)

Give her the happy ending she craves. One way to inch toward intimacy is to make a dessert the two of you can share. The ultimate sensuous sweet finale is molten chocolate cake. It's deceptively simple and can be fully prepped in advance, then popped into the oven for 12 minutes when the time is right.

Want to go one step further? Blindfold and spoon-feed her. Bet you didn't see that one coming. Neither will she.