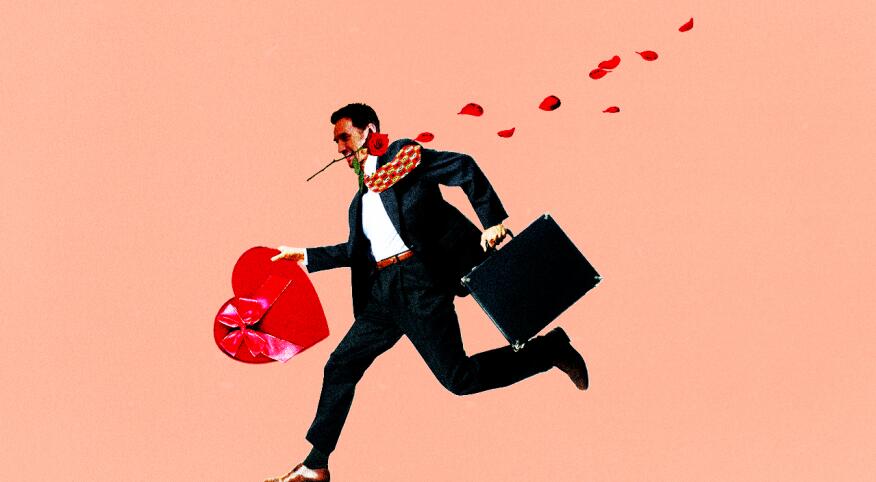 Here's something you may have missed: People magazine's Least Sexiest Man of the Year. He's the schlump over there in the CVS checkout line at 6:45 p.m. on February 14 with a box of Russell Stover chocolates and … wait, are those carnations?

Don't be that guy. Even if you failed to formulate a reasonable Valentine's Day plan for perhaps the one human being on earth willing to touch your dirty underwear, know that there are other options.

I learned long ago that Valentine's Day is a holiday of the mind as much as a celebration of the cardboard heart.

The brilliant woman I married reviles the forced romance of it all: the long stems and cringy teddy bears and lukewarm $26 crab bisque. She insists that society's pressure to demonstrate one's love with pricy offerings and flashy reservations is a consumerist trap and a recipe for unmet expectations and FOMO. (Is it any wonder Valentine's week sees more breakups than any other week of the year?)

And so, I had to get smart about marking the occasion without a stupidly large greeting card that chirps "Love Will Keep Us Together."

Trust me, even if you're down to the V-Day wire, you can create lasting and stress-free memories on this annual jollification of romance that my wife prefers to call Monday. Here are a few ideas.

Gamify your love

Breakfast in bed is so predictable, and maybe even a little gross. Make love a competition instead.

Stuck at home on 2/14 last year, I announced that we were doing a breakfast cooking challenge, using whatever ingredients were in the pantry and fridge for an IRL version of Chopped. Even though my grilled peanut butter-fluff-banana sandwiches finished second to Ruth's actually delicious hot-chili "poke-in-the-eye" fried-egg bread slices, it was the most fun we'd had in weeks battling on a 28-minute timer.

Listen up

Sometimes the most romantic thing you can do is shut the eff up and focus your attention on someone else. When was the last time you truly listened to your partner? If you need more than one second to answer, try it.

Deep sharing is a key component of solid relationships, according to psychologist Arthur Aron, whose 36 questions that lead to love can make even strangers fall for each other. Be warned, though: It's risky being vulnerable, and you two might end up feeling like randy 18-year-olds again.

Consume wisely

If your partner gets her or his kicks from champagne (or diamonds or expensive prix fixe brunches), I'm sorry for you. But there are plenty of other ways to show your love — even at the last minute — without getting too spendy.

Udemy offers schmancy online cooking and wine-tasting classes at roadside-diner prices. An afternoon hike topped off with a baguette, cheese and a bottle of Burgundy might delight more than a table next to the kitchen at Chez Pierre.

And even People mag's least sexy shopper can save himself by bringing home drugstore paints, brushes and sketch paper and making Valentine's Day a masterpiece of amorous creativity. Crank up George Michael's "I Want Your Sex" or maybe "Fever" by Peggy Lee, and Picasso it up together. Romance guaranteed.

But you may just want to hide that CVS receipt.