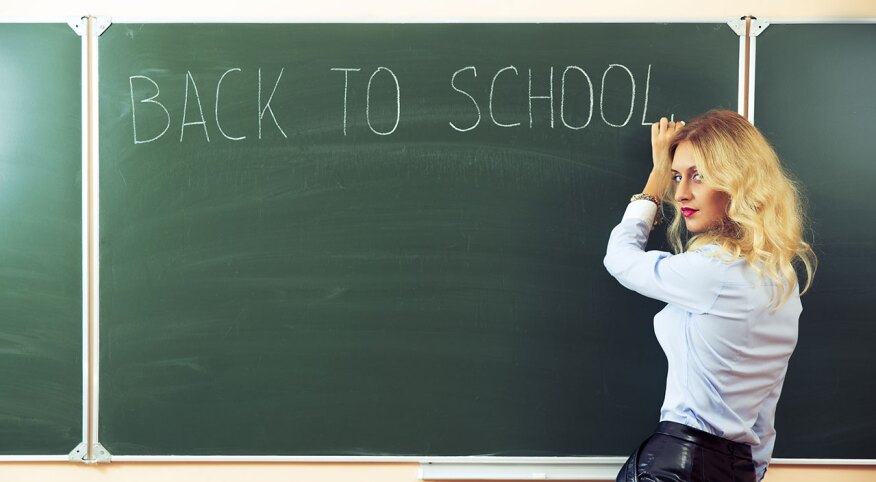 If you're doing life right, you never stop learning. Some skills you master and then move on, like learning how to drive a car or speak a second language. And other things, well, it's a continuing education. Like sex.

For many of us, the sex ed we got at school just skimmed the surface. Topics like "giving yourself and your partner pleasure" never came up. The big details we had to figure out on our own. And humans sometimes trust the worst sources. According to the "Let's Talk About Sex" 2022 Report, 32 percent of American adults think most of their sex education comes from pornography. Ugh.

It's never too late to go back to school, and we don't mean in a Rodney Dangerfield kinda way. Here are six adult sex ed platforms, from YouTube to podcasts to online schools, where you can fill in the gaps in your sexual knowledge and learn a few things they never taught us back in the last century.

Masterclass: Emily Morse Teaches Sex and Communication

Sex therapist Emily Morse is known for her long-running podcast Sex With Emily. Among the big takeaways to be learned from her Masterclass are "penis owners can do kegels" and "vulva owners are 80 percent more likely to orgasm with lube." Morse even uses anatomical models to demonstrate how to up your arousal game.

Sexfulness

A "master's degree in sex" is what Sexfulness, a website featuring over 175 sex improvement lessons taught by "12 highly professional sexologists," promises new users. You'll find guidance on everything from how to perfect your oral sex technique to navigating erectile dysfunction. Among the site's most popular videos are "How to Arouse Her Desire for Sex with You and How to Turn Her On" and "Sleeping Beauty: How to Awaken a Woman's Orgasm."

Lovehoney

This sex-positive YouTube channel, hosted by sex educator Annabelle Knight, features videos like "Masturbation Tips for People With Penises," "Sex Toys for People Who Think They Won't Like Them," and just in time for the holidays, "How to Have a Sexy Christmas." The goal is to talk openly about anything and everything pertaining to sex and help you feel like "you know what you're doing" when you shop for sex toys.

Foreplay Radio — Couples and Sex Therapy Podcast

Sex therapist Laurie Watson and couples therapist George Faller host this sex therapy podcast that walks you through "the real conversations about love and sex that you've always wanted to have." Some popular episodes have dealt with why some women give up on sex, how to get back lost attraction, why women need flattery, and how to know if you're a good kisser. With episodes dating back to February 2016, you're sure to find topics that have been on your mind.

Cyndi Darnell's Online Pleasure School

Cyndi Darnell boasts that she's "not your typical therapist/coach." The clinical sexologist offers an array of courses including 30 Days of Amazing Sex, targeted toward those who "have longed to attend a sexuality workshop but feel too awkward or prefer an anonymous or more private arrangement." The class promises to get you back to having "vacation sex everyday for a month" and uses a combination of techniques like erotic massage and meditation, intimate conversation prompts, and "sex magic."

O. School 

Head on over to this site and select "Choose your own adventure" for a dropdown menu that hits every topic you've ever wanted to know more about in the bedroom. There's even an Orgasm Order Form where you fill out a quick survey to pinpoint the exact type of orgasm you want and how to achieve it.