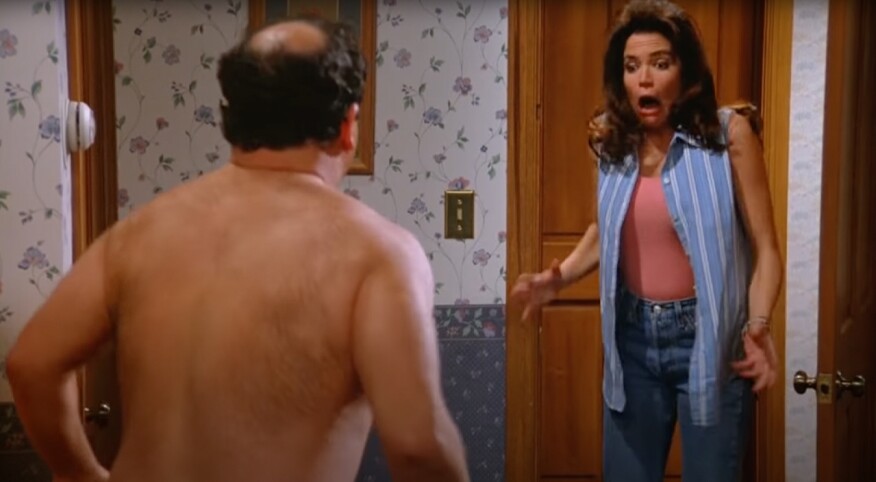 Penises. They're all over TV these days, and every last one of them is ginormous.

Male nudity has been having a renaissance in recent years, with star-making turns on shows including The White Lotus, And Just Like That, Pam and Tommy, Normal People, Scenes from a Marriage, Sex Education, Succession, Game of Thrones, Minx, the list goes on and on. And the majority of penises on screen are well above average, sizewise. It seems every cable network and streamer is in an arms race (a baby's arm race, if you will) to get the biggest male genitalia they can into their casts. In the Netflix show Sex/Life, star Adam Demos appeared to have a John Holmes-ian appendage that practically defies physics.

Of course, almost none of it is real. Matthew Mungle, an Academy Award-winning makeup artist who's created myriad prosthetic penises for film and TV, estimates that "at least 90 percent" of penises on TV are fake. It's just shock value, he says. Shows are "writing full male nudity into their productions to get more viewership." And more free press. The aforementioned Sex/Life got tons of PR just from the "was it real or not?" coverage of the lead actor's asset.

It's a weird thing to witness as a Gen Xer. When we were growing up, male nudity was very taboo in the media. In real life? Not so much. We all used communal showers after gym class. In changing rooms at pools and beaches across the country, men stripped down in front of each other constantly. Our generation saw penises aplenty and knew that they came in a multitude of acceptable sizes and shapes.

"It used to be socially acceptable," says psychologist and sex therapist Shannon Chavez. "It wasn't sexual or eroticized. It was part of social development and part of body development."

As a culture, over the years, we've flipped it around. Gone are the communal showers we grew up with. Everyone is constantly covered up. Although that may have benefits, it also leads to more men growing up seeing other penises only on TV and at the movies.

We had some of that during our formative years, but it was easy enough to dismiss. The only comically large penis I remember from the '90s was Mark Wahlberg's prosthetic in Boogie Nights, and he was playing a porn star. But today, we're seeing a wide array of seemingly average guys on these shows sporting record-breaking phalluses.

Even if you know there's nothing normal about it — researchers at King's College London Medical School in 2015 found that the average penile length while erect is nearly 5.2 inches — it can still mess with your head.

As any guy could tell you, it's not just about size, it's about presentation. Who among us hasn't watched one of these shows with our partners, and when a preposterously large penis is unveiled, we glance nervously at her and wonder, 'She doesn't think that's what a flaccid penis is supposed to look like, right?' We all revert to our inner George Costanza, worried that women don't know about shrinkage.

What would Costanza make of today's never-ending parade of enormous schlongs? Only one way to find out. I reached out to former Seinfeld scribe Peter Mehlman, who penned that infamous shrinkage episode, which may've been the first network reference to penis insecurity.

The episode's origins began with show cocreator Larry David. "He goes, 'What if George goes into the pool and he's seen naked after he's gone into the pool and the pool is cold?'" Mehlman told me. "And I said to him, 'Oh, you mean like shrinkage?' And Larry, in his brilliance, says, 'Yes! Shrinkage. And use that word. A lot!'"

I asked Mehlman how Costanza would react to the onslaught of giant penises on TV. "I think George would be very upset about this," he said. "Because with all of those penises not really being legitimate, it's impossible to live up to. He'd be thinking that all these women are now believing what a penis should look like and it's false advertising. It was like push-up bras and padded bras. How is George going to be able to stand up to that kind of thing? He's going to be hopeless."

How to avoid a Costanza spiral into hopelessness? Chavez, who's seen an uptick in male clients dealing with penile insecurity thanks to the recent barrage of male nudity, suggests reminding yourself that what we're seeing is "based on someone's fantasy and it's not the norm."

Or to paraphrase another great line from Seinfeld, what you've got is real … and it's spectacular.