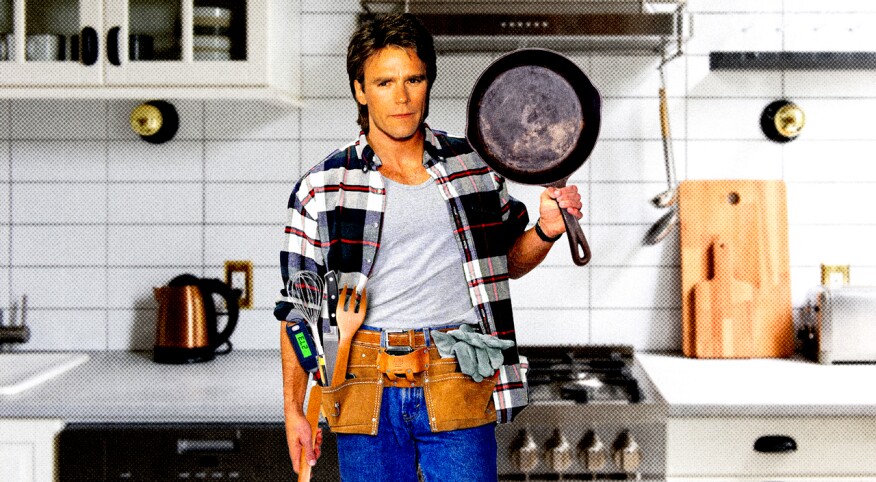 Cooking without the right tools is like chopping garlic with a butter knife: frustrating and pointless.

If you want to up your home-cooking game, you need to ditch the semi-impractical kitchen gadgets — nobody needs an avocado peeler or taco shell warmers — and streamline your batterie de cuisine to just the essentials.

As a dietitian and hard-core cook, these are my picks for the absolute most vital stuff — no useless frills, no apps and nothing that won't get used endlessly for years to come.

Cast-Iron Skillet

More versatile than a Swiss Army knife, an indestructible, 10- or 12-inch cast-iron skillet will see you through a tremendous range of cooking tasks, whether that's searing a steak like a pro, roasting vegetables, braising a pork shoulder for tacos, making game-day cheesy nachos or even baking Chicago-style deep-dish pizza.

The heavy metal can go from stovetop to oven to grill and back again — not bad for a piece of cookware that costs around 30 bucks or less.

Food processor

You may ask yourself: "I've already got a blender, so why bother investing in another blade runner?" For starters, many food processors come with switchable slicing and shredding blades that can make quick work of vegetables for salads, slaws and other needs.

It expedites any project that would normally take up a big chunk of your afternoon. Rapid-dicing onions? Check. Pulverizing handfuls of nuts? Check. Slicing stick pepperoni for pizza night? You bet!

While you're at it, use the MacGyver of the kitchen to knead pizza dough. It can also be your go-to tool for making pesto, mayo, guac, dips, DIY nut butter, and even grinding meat for burgers and meatloaf.

Digital instant-read thermometer

If you've ever pressed on a piece of meat to gauge its degree of doneness only to slice in and discover just how wrong you were (oh, the blood!), you understand how unreliable this common trick is. And being overcautious and cooking your pricey grass-fed steak into shoe leather to ensure it's heated to a safe internal temperature isn't exactly an appealing alternative.

The best way to guarantee that meats in all guises are moist, tender and still cooked to a temperature that body slams gut-wrenching bacteria is with a quick and accurate digital instant-read probe thermometer. Few tools will do a better job of increasing your confidence in the kitchen.

Zester

To keep Buddha belly at bay and blood pressure from boiling over, we need ways to make food pop with flavor without relying on calorie-bomb sauces or treating the saltshaker like a sledgehammer. Enter the humble zester.

The tiny razor-edge holes make hundreds of fine cuts on whatever you drag across it, so flavors can be widely dispersed into dishes. Use shreds of citrus zest to instantly brighten up oatmeal, yogurt, salad dressings and seafood with virtually zero calories.

You can also use a zester to break down a chunk of Parmesan, whole garlic cloves, fresh ginger, a stick of cold butter, hot peppers and bars of dark chocolate to send their specks of flavors flying everywhere. You've never had a better cappuccino than with a whisper of grated whole nutmeg gracing its frothy top.