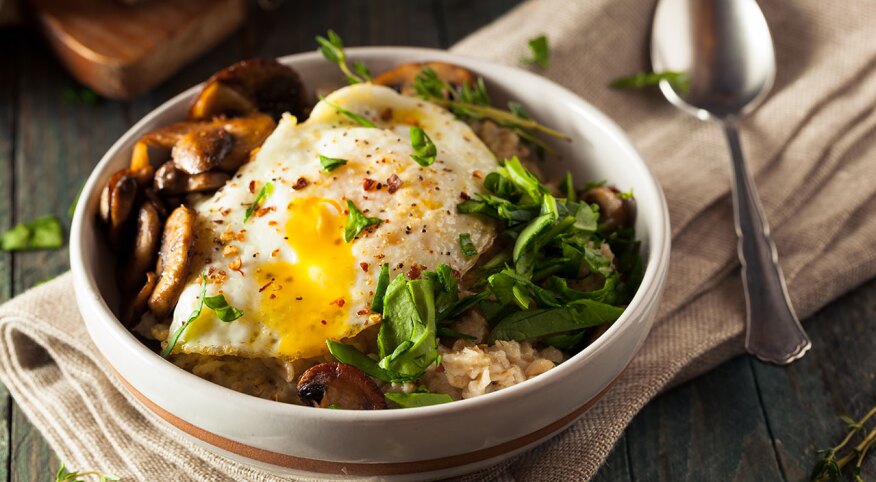 Is your first meal of the day a nutritional black hole?

We rarely give much thought to our morning grub. But research shows that going bigger at breakfast, while also paring down how much you eat during the rest of the day, can be good news for your nutrition score, metabolic health and buff-to-blubber ratio. As a dietitian and unabashed breakfast enthusiast, I consider my daybreak feast a way to set the stage for another day of building muscle.

Bulletproof your body with these breakfast recipes, and breathe new life into your most important meal of the day.

1. Yogurt Bowl (But Better)

Start with 1 cup plain Icelandic yogurt, a thick and creamy yogurt that delivers even more muscle-building protein than Greek and all the gut-friendly microcritters you can stomach. Stir it together with 1 teaspoon orange zest and 1/2 teaspoon vanilla in a bowl.

Here comes the kicker: Top it with 1/2 cup cubed cooked beets. Yes, beets! Don't make that face. Beets are among the sweetest-tasting veggies and packed with nitrates that research shows can boost muscle power. Add 3 tablespoons hemp seeds and a drizzle of honey, and you're ready to eat.

2. Coffee, Smoothie Style

Think of this as your morning cup of joe on steroids. Place 1 cup brewed coffee and 2 pitted dates in a blender container and let cool to room temperature. Add 1 scoop of your favorite protein powder, 1 chopped frozen banana, 1 tablespoon almond or peanut butter, 1 tablespoon cocoa powder, 1/8 teaspoon cardamom and 1 teaspoon vanilla. Blend until smooth.

It tastes like a java milkshake, and it's not just good for your tastebuds. Research shows that protein in the morning is vital to spurring muscle growth. The banana and dates deliver all the energizing carbs you need to shake off the cobwebs and power your morning bench presses.

3. Bagel and Lox, Deconstructed

We're here with a friendly service announcement: Any guy gunning for a fit body should aim to eat at least 3 cups of nutrient-dense vegetables a day. This breakfast salad is the equivalent of a nutritional bear hug first thing in the morning.

Flatten 2 slices pumpernickel bread with a rolling pin and brush both sides with olive oil. Season with Italian seasoning and garlic powder; bake at 425°F until crisp, 6 to 8 minutes. (Pro tip: Do this the night before.)

Next, assemble a bowl of baby spinach, sliced red onion and sliced cucumber, and top with smoked salmon and capers. Break apart the toasted bread over the salad and squeeze on a yogurt-based creamy dressing.

4. Toast With the Most

Cheesecake for breakfast? Yes, please. Rich-tasting ricotta cheese is a strong source of whey protein, which nutrition science tells us is one of the best forms of protein you can eat to help build muscles.

Stir together 1/2 cup ricotta cheese with 1/2 cup raspberries and 1 teaspoon lemon zest. The raspberries aren't just there to add flavor—they're packed with antioxidants that can improve muscle recovery, which means you can bounce back faster from your workouts.

Spread the cheese mixture on slices of whole-grain toast and top with chopped pistachios and a sprinkle of sliced fresh mint.

5. Oatmeal, Not Sweet

Ditch the sugary instant oatmeal packets for this power bowl. Rocky Balboa was right; eggs have what it takes (hello, awesome protein) to help build muscle like nobody's business.

Heat 1 tablespoon oil in a large saucepan over medium heat. Add 1 chopped shallot and 1 chopped garlic clove and cook, stirring occasionally, until softened, 1 to 2 minutes. Add 2 cups rolled oats and stir for 1 minute, until oats smell toasty. Add 4 cups water, 1/2 teaspoon dried thyme and 1/4 teaspoon each salt and black pepper. Bring to a boil, then reduce heat to a simmer.

Cook, stirring often, until creamy, 10 to 12 minutes. Stir in 3 cups baby greens and heat until wilted. Stir in 1 cup grated cheddar cheese. (This makes enough oatmeal for 4 servings, so reheat and eat through the week.) Scoop into a bowl and top with a half-slice of avocado, a runny fried egg and a few squirts of hot sauce.