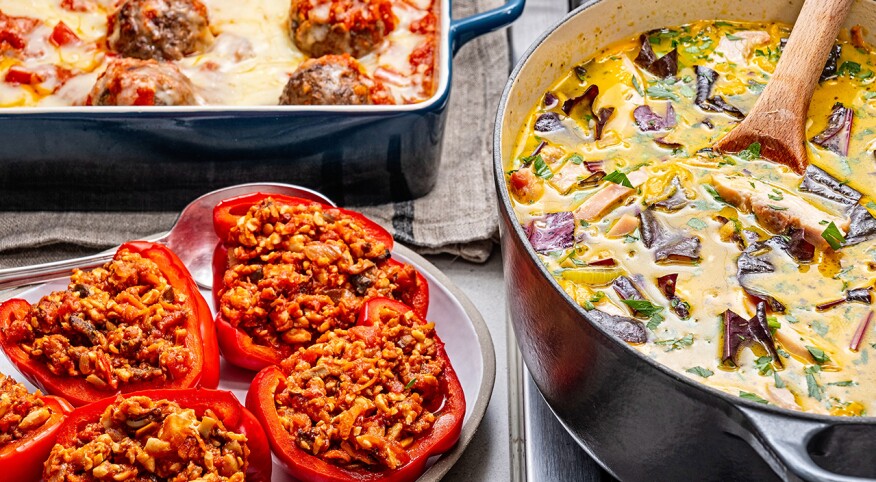 We may be older and wiser, but sometimes we still eat for comfort. Especially as we inch closer to winter, and the days get shorter (and colder). We need something to fight seasonal depression, and salads just don't cut it. We crave carbohydrates to give us a mood boost, like a cheesy mac or mom's greasy meat loaf. Just set me up next to a trough and let me feed on my autumn slop.

There is a better way. Comfort food doesn't have to be delicious junk that leaves you bloated and ready to hibernate till spring. Here are three recipes that trigger the same parts of your brain as your favorite comfort foods — making you feel warm and safe, like a cozy blanket for your mouth — but actually fill you with enough nutrition to make you feel and look better.

Chicken No-Noodle Soup

Strands of sweet potato replace the starchy noodles and beans up the fiber ante, so each spoonful is more waistline-friendly.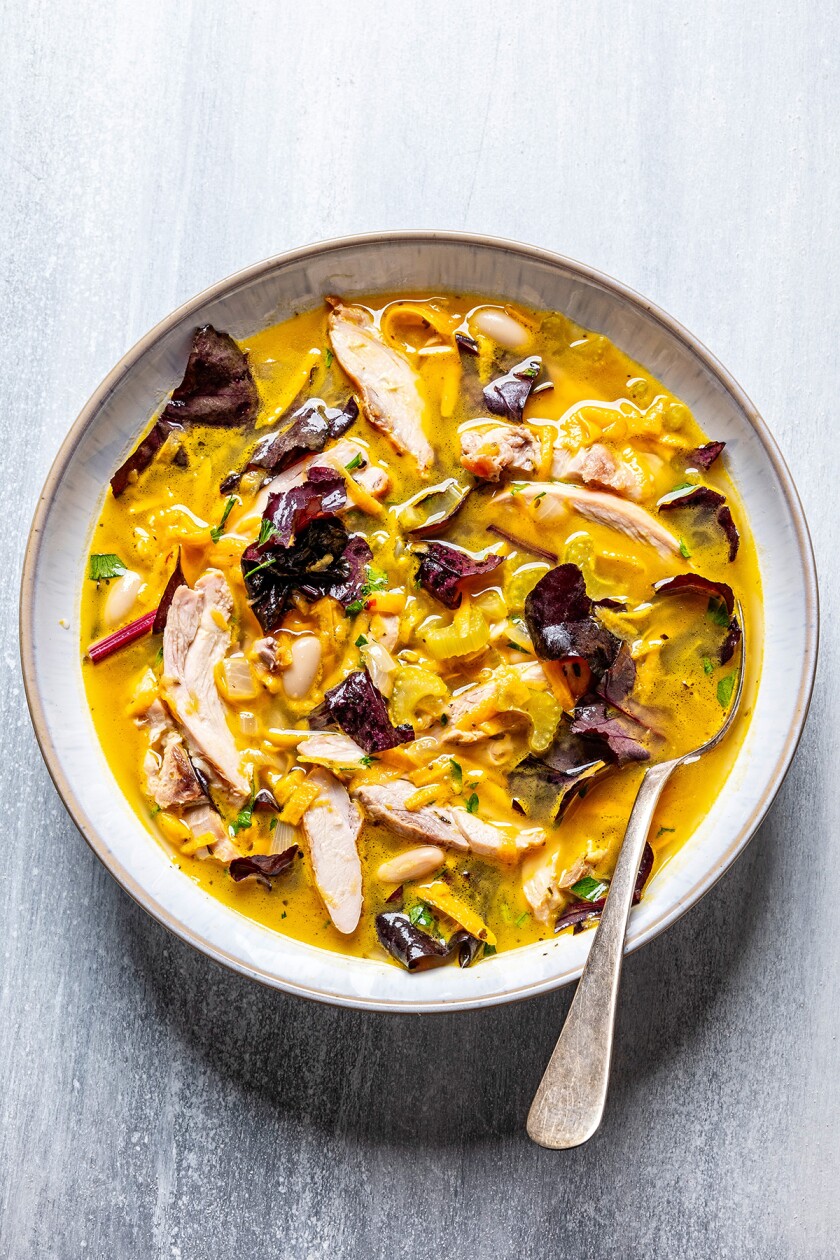 2 tablespoons oil
1 pound boneless, skinless chicken thighs
1 medium onion, chopped
1 large sweet potato, peeled and shredded
2 celery stalks sliced
½ teaspoon salt
3 cloves garlic, chopped
1½ teaspoons Italian seasoning
½ teaspoon black pepper
½ teaspoon red chile flakes
1 cup white wine
1 14-ounce can cannellini beans, drained and rinsed
5 cups low-sodium chicken or vegetable broth
3 cups chopped Swiss chard leaves
Juice of ½ lemon
⅓ cup parsley

Preheat oven to 400°F. Heat 1 tablespoon oil in an ovenproof skillet over medium-high heat. Add chicken and cook until browned on both sides. Place skillet with chicken in oven and roast for 15 minutes, or until meat reaches an internal temperature of 165°F. Let chicken rest for 10 minutes.

Meanwhile, heat 1 tablespoon oil in a large saucepan over medium heat. Add onion, sweet potato, celery and salt; cook until veggies are tender, about 5 minutes. Add garlic; cook for 1 minute. Add Italian seasoning, black pepper and chile flakes; cook for 30 seconds. Add white wine; simmer for 3 minutes. Add beans and broth; simmer for 5 minutes. Add Swiss chard; simmer for 2 minutes. Turn off the heat, and stir in the chicken and lemon juice. Serve garnished with parsley.

Yield: 4 servings

Pepper-Stuffed Sloppy Joes

This riff on the classic comfort dish swaps the fatty beef for tempeh, which is a gut-benefiting fermented soy product that is high in protein and has a satisfyingly savory, nutty flavor.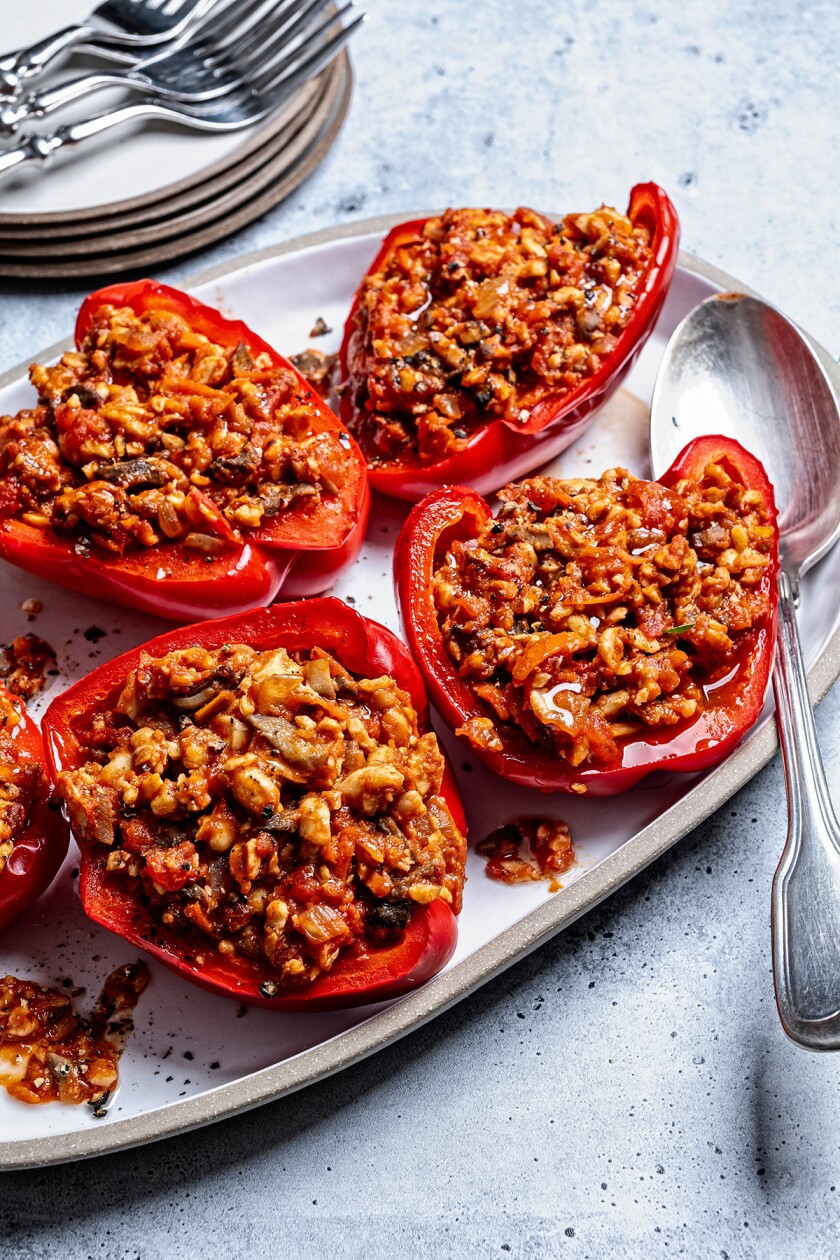 2 8-ounce packages tempeh
2 teaspoons oil
1 yellow onion, diced
1 cup shredded carrots
2 cups chopped cremini (brown) mushrooms
2 tablespoons tomato paste
1 minced chipotle pepper in adobo sauce
1 teaspoon dry mustard powder
1 teaspoon dried oregano
½ teaspoon garlic powder
½ teaspoon cumin
¼ teaspoon salt
¼ teaspoon black pepper
1 28-ounce can crushed tomatoes
2 teaspoons Worcestershire sauce
2 tablespoons balsamic vinegar
4 large red bell peppers

Finely chop tempeh with a knife. Heat oil in a large skillet over medium heat. Add onion and cook until browned, about 5 minutes. Add carrots and mushrooms; cook for 3 minutes. Add tempeh; cook for 3 minutes. Add tomato paste, chipotle pepper, mustard powder, oregano, garlic powder, cumin, salt and pepper to the pan and cook for 1 minute. Stir in tomatoes and Worcestershire; simmer for 10 minutes. Stir balsamic vinegar into sauce.

Halve each pepper lengthwise, from stem to base, removing white veins and seeds. Place peppers in a microwave-safe dish, cut sides up, cover with a paper towel and microwave on high for 5 minutes, or until tender. Stuff peppers with tempeh mixture.

Yield: 4 servings

Spaghetti Squash Meatball Casserole

Spaghetti and meatballs is a timeless comfort food. This lightened-up veggie noodle version has the same flavors without the empty calories.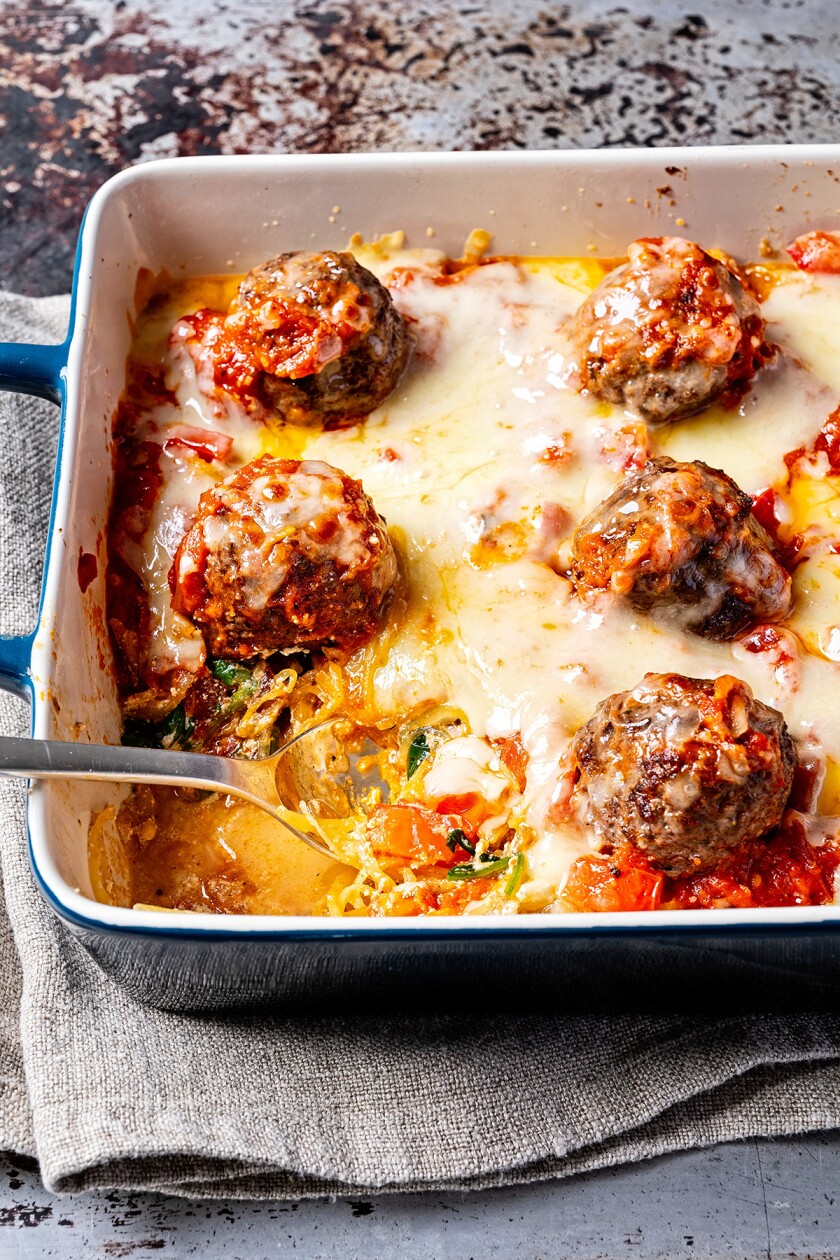 1 spaghetti squash
1 pound 90 percent lean ground beef
½ teaspoon salt
1 teaspoon Italian seasoning
½ teaspoon garlic powder
1 medium onion, chopped
4 cups baby spinach
1 cup part-skim ricotta cheese
½ teaspoon red chile flakes
2 plum (Roma) tomatoes, choppe
1 cup marinara sauce
1 cup shredded part-skim mozzarella cheese

Cut the squash in half lengthwise and scoop out the seeds. Place halves in a microwave-safe dish, cut side down, and add 3 tablespoons water. Microwave, uncovered, on high until tender, 15 to 20 minutes.

Preheat oven to 350°F. Gently mix beef with ¼ teaspoon salt, Italian seasoning and garlic powder. Shape into 1½-inch balls. In a large skillet, brown meatballs over medium heat; remove from pan.

In the same pan, heat oil over medium heat; sauté onion until tender. Add garlic; cook for 1 minute. Stir in spinach, ricotta, chile flakes and ¼ teaspoon salt; remove from heat.

Using a fork, separate strands of spaghetti squash; stir into ricotta mixture. Transfer to a greased 13-by-9-inch baking dish. Top with the tomatoes, meatballs, marinara sauce and cheese. Bake, uncovered, for 30 minutes.

Yield: 4 servings