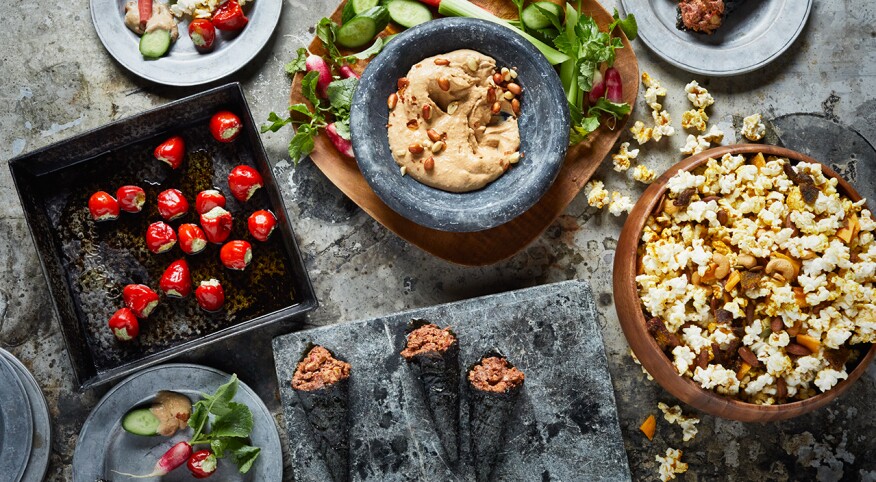 When most of us reach for a snack, our first instinct is to grab something that tastes good. And that rarely means grabbing a stick of celery. We crave the prepackaged junk that's heavy on the carbs, salt and fat. Chips, pretzels, candy, jerky … pretty much anything not found in nature.

But we are men, and men need protein and fiber to keep our muscles pumped, our bellies lean and our appetites in check. So forget strolling the dangerous middle aisles of the supermarket for your Cheez-It fix and make your own between-meal munchies.

Here are four recipes that are so tasty and easy to make, you won't even notice they're packed with nutrition.

Blockbuster Snack Mix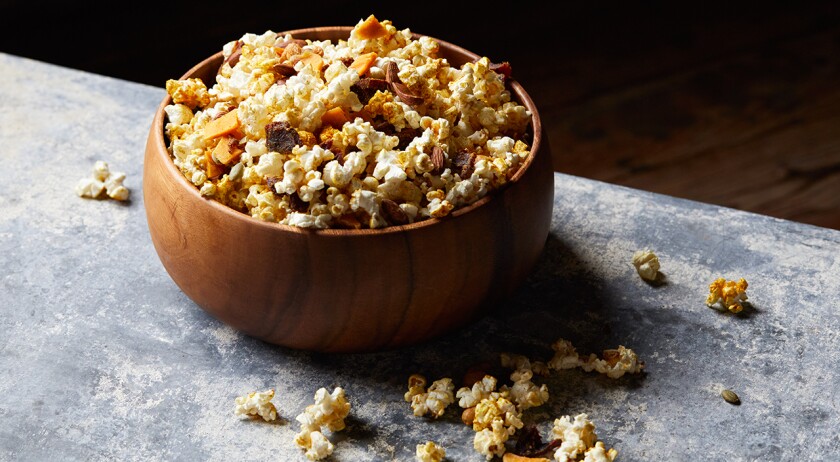 Calories: 283; protein: 11g; carbohydrates: 24g; fiber: 4g; fat: 17g

This beefed-up trail mix will sate all of your texture and flavor cravings, whether you're lost in the woods or planted firmly on the couch to get cozy with Netflix. Each handful delivers a winning combo of protein, healthy fats and quality carbs to take a sledgehammer to hunger pangs.

Heat 2 teaspoons canola oil or avocado oil in a large heavy-bottom saucepan.

Put 4 corn kernels in the pan and cover the pan. When the kernels pop, pour in the remaining 1/3 cup kernels in an even layer. Cover pan, lift it off the heat, and count to 30 seconds. Return pan to heat, with the lid slightly ajar to release some steam, and once the popping is rapid, gently shake the pan back and forth on the burner. Once the popping slows to a crawl, remove pan from heat and pour popcorn into a large bowl.

Immediately coat popcorn with some oil spray and toss with the 2 teaspoons yellow curry powder, 1/4 teaspoon salt and 1/4 teaspoon cayenne.

Place a bag of chopped jerky, 1 cup sliced dried mango or pineapple, 1/2 cup roasted cashews, 1/2 cup roasted almonds and 1/3 cup pepitas (pumpkin seeds) in the bowl with the popcorn, and toss to mix. Makes 6 servings.

Pesto Stuffed Peppers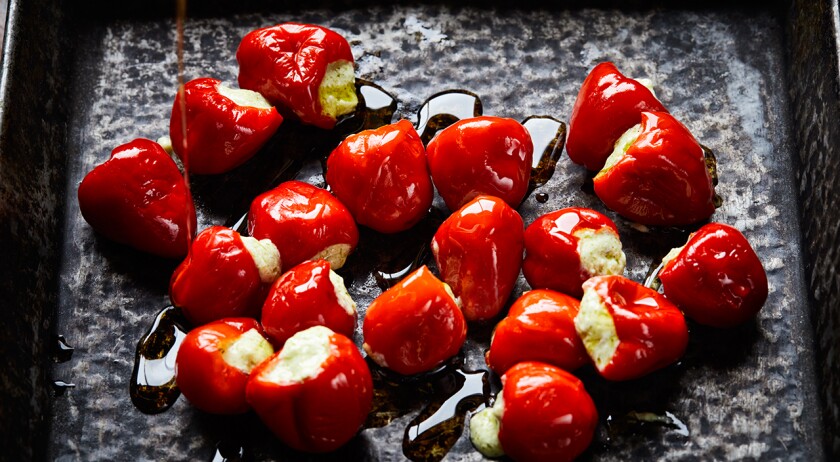 Calories: 146; protein: 6g; carbohydrates: 19g; fiber: 1g; fat: 7g

This grownup snack leans on Peppadews, a brand of sweet-fiery peppers hailing from South Africa with a perfectly sized cavity for stuffing in a thick, herby yogurt. They are often sold in the deli or specialty jarred-food section of supermarkets. The peppers can be stuffed a day or two ahead of time if covered and chilled.

Place 16 Peppadew peppers on top of a paper towel to drain, and then pat them dry.

In a bowl, stir together 1/2 cup plain Greek yogurt, 3 tablespoons pesto and 1 teaspoon lemon zest.

Using a small spoon, stuff peppers with pesto mixture. You can also transfer the filling to a small ziplock bag, snip off the corner of the bag and pipe the filling into the peppers. Makes 4 servings.

Walnut Pâté Nori Wraps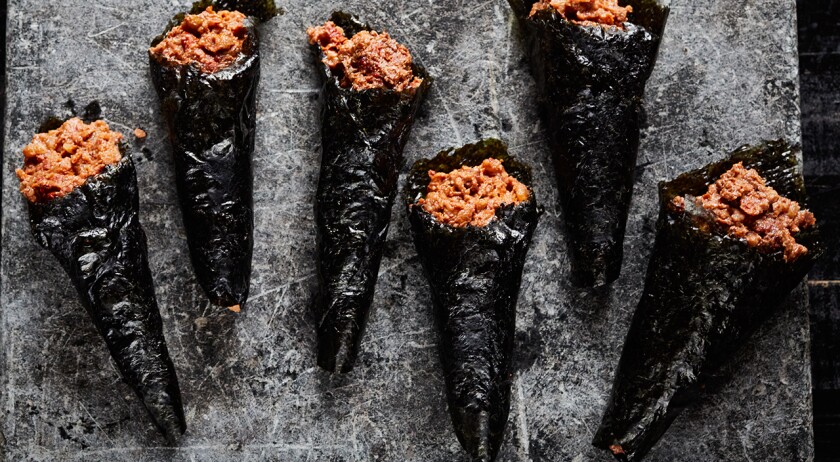 Calories: 143; protein: 4g; carbohydrates 5g; fiber: 3g; fat 12g

The main nutritional star here is walnuts, which provide a good dose of heart-benefiting omega-3 fats. Wrapping everything up in sheets of nori keeps calories reasonable and lends the snack an umami punch. The stuff is good for more than just sushi.

Place 1 cup walnut halves, 1/2 cup oil-packed sun-dried tomatoes (drained), 3 tablespoons water, juice of 1/2 lemon, 1 garlic clove, 1 teaspoon smoked paprika and 1/2 teaspoon salt in a food processor container. Blend until just slightly chunky.

Spread about 3 tablespoons of the nut mixture on a nori sheet and roll tightly. Repeat with more spread and nori sheets. Makes 6 servings.

Chipotle PB Hummus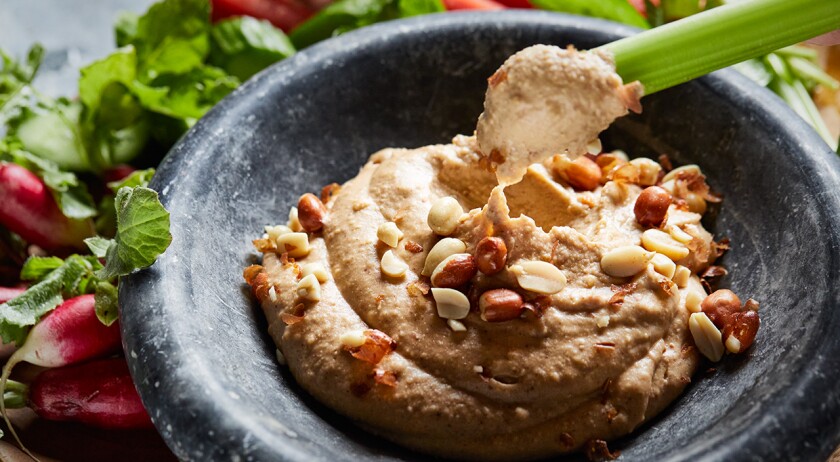 Calories: 207; protein: 9g; carbohydrates: 19g; fiber: 5g; fat: 12g

Hummus, but better. Chipotle delivers a smoky kick while chickpeas and peanut butter pony up the required protein and fiber to make double-dipping better for you. Serve with wedges of bell pepper, baby carrots or apple.

Pro tip: Better hummus does not come from a can. Soaking and simmering dried chickpeas with baking soda encourages them to break down during cooking, making for a creamier dip.

Cover 1/2 cup dry chickpeas and 1/2 teaspoon baking soda with 2 inches water, and soak overnight. Drain chickpeas and place in a saucepan with another 1/2 teaspoon baking soda and enough water to cover by 2 inches. Simmer until chickpeas are very tender, about 25 minutes. Reserve 1/4 cup soaking liquid, drain and set chickpeas aside to cool.

Place cooled chickpeas, 1/3 cup smooth peanut butter, 1 chipotle chili pepper in adobo sauce, juice of 1/2 lemon, 2 teaspoons honey, 1 minced garlic clove and 1/4 teaspoon salt in a food processor container, and blend until smooth. If needed, blend reserved soaking liquid, 1 tablespoon at a time, into mixture to create a creamy texture.

When ready to serve, place some hummus in a serving bowl and scatter on some chopped peanuts. Makes 5 servings.