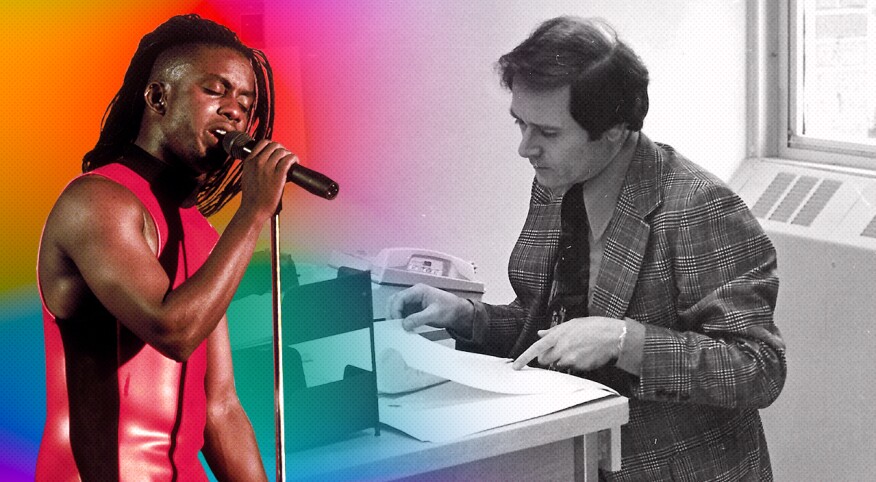 The first speaker at my dad's Zoom memorial service was someone most people knew — but from MTV, not real life.

My dad was a middle school principal, and almost 50 years ago, a future rock star was regularly sent to his office, which apparently was something he remembered fondly.

"His passing is a milestone in my life, and I'm just glad there was somebody like [Mr. Levitan] in this world," Corey Glover, lead singer of the band Living Colour, told my dad's friends and family members. "I'm very grateful to him, and I'm sure that everybody else here is as well."

Because not everyone in the Zoom meeting was a Gen Xer, I made sure to sing the recognizable chorus of "Cult of Personality," so they knew who we had in our presence. (Even with that, my 80-year-old mother thought Corey had starred in the '90s sketch-comedy TV show In Living Color and was perhaps Keenen Ivory Wayans.)

If I ever became a rock star — something I seriously aspired to in my teens and early 20s — the last thing I would ever do is speak at my middle school principal's funeral. I might have danced on that asshole's grave, if anything.

But everyone loved my dad, even when you were sent to his office because you were in trouble. The principal of a majority Black school in Crown Heights, Brooklyn, for 15 years, my dad was offered a higher-paying job at a school in the white New York suburbs where we lived. He turned it down because he wanted to be where he could make a bigger difference.

My dad's school had some of the best reading and math scores of any inner-city school in the New York City public school system. That's because my dad only hired outstanding teachers with proven abilities to get through to his underserved student population. After a while, that became easier. Outstanding teachers sought out the school, because they wanted to be a part of an institution bucking the trend.

I first met Corey Glover during one of my annual childhood visits to my dad's office. He had been sent to my dad's office for acting up. This had gotten to be almost a daily occurrence by 1978.

"Corey, meet the other Corey who's a pain in my ass," my dad said, introducing us.

"What I really am very grateful for," Corey continued his eulogy, "is that Mr. Levitan recognized that I had a different learning style, and he recognized that way before it became a thing, and I'm very grateful to him for making my family understand who I was and what I am."

In 1988, my dad received a direct order from his superintendent to install metal detectors. It was part of a districtwide initiative spurred by a few kids caught bringing guns to school. He refused the order.

A lot of why his school excelled, my dad believed, came down to an atmosphere of trust. Metal detectors would destroy that trust.

My dad held the metal detectors off for three straight years. They were installed only after he retired in 1991. The school's test scores plummeted after that, just as my dad predicted. The school was shuttered in 2007.

I knew all of this. But as a kid and young adult, it was just backstory. It was what my dad did for a living. I knew all the bullet points, but did I really know the man?

Guys in general have weird relationships with other guys. We keep each other at arm's length. It's no different with our dads. We know them, but most of us only know them on a surface level. I had a great relationship with my dad, but I wish I'd spent more time asking him questions and getting to know what made him tick.

The last time I was able to communicate with my dad, he could only answer yes/no questions. I told him who I was and that I loved him. I asked if he understood. He did. Then I told him he was dying of Parkinson's disease and Lewy body dementia in a memory care facility. I asked whether he knew that. He didn't.

I wish I hadn't waited until he was dead to think about why his life mattered, what it all actually meant. It took the guy from Living Colour to remind me how lucky I was to be his son.

Corey Glover finished his speech with one heartfelt request. "Please," he said, looking directly at me. "Corey, never sing 'Cult of Personality' ever ever ever ever again."

I don't believe in an afterlife. But I like to think my dad was there, watching that Zoom meeting and laughing at the two Coreys who were still, even after his death, being a pain in his ass.