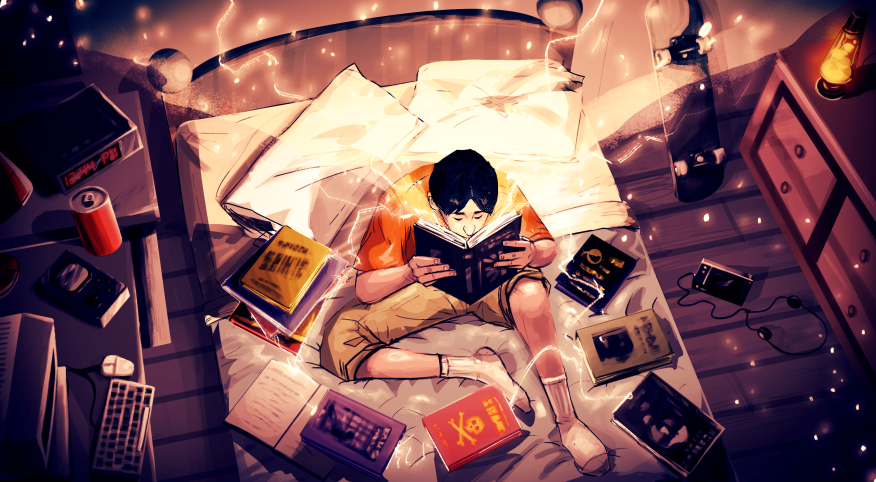 Settling on 75 books essential to the Gen X experience meant plenty of amazing books had to be left off the list, because this isn't a list of the "best" books. Rather, this is a compendium of works that helped shape the way Gen X views the world, how we process information, where our logic base comes from and, finally, how we see ourselves. We consulted our friends, our colleagues, strangers on the street and actual experts to cull this list. But that doesn't mean it's definitive — it surely is not, reading being a highly subjective experience — however, it is exhaustive.

The first 65 books are listed chronologically, so you'll see the arrival and departure of trends and reading habits and might just get a sense of how we as Americans consume literature.

And then we leave you with the Top 10 books overall, the texts that have stayed with Gen X the longest or tested our mettle most directly.

What did we miss? Surely there's a book you loved that didn't make the cut. Let us know in the comments below.

75. The Stranger by Albert Camus (1946 English version)

What can a French existentialist novel from 1946 tell you about Gen X? Imagine you're at the gelato shop. It's 1987. There are four kids sitting out in front wearing band T-shirts. You can see them. The Cure. Bauhaus. Joy Division. They're smoking cloves. They're all reading. What are they reading? The Stranger.

74. The Catcher in the Rye by J.D. Salinger (1951)

Holden Caulfield's depressed and deeply opinionated narration descends from The Stranger and gives rise to Bright Lights, Big City, Less Than Zero, and The Perks of Being a Wallflower, and in between comforts and repels a generation of readers who see both themselves and their parents in the pages. And then, one night, a man with a profound obsession with the novel encounters John Lennon. …

73. A Separate Peace by John Knowles (1959)

If you went to high school between 1980 and 1998, you read A Separate Peace. It was typically assigned either right before or right after The Bluest Eye. It taught you a lot of important lessons, chief among them: Climbing trees can kill you. Also, boarding schools seem terrible, so don't anger your parents. And: Trust no one named Phineas.

72. Dune by Frank Herbert (1965)

Released the first year of Gen X, Dune would go on to become the book every unathletic kid would read on the sidelines for the next 40 years.

71. One Hundred Years of Solitude by Gabriel García Márquez (1967)

Told using magical realism and in a style that would influence writers as disparate as Aimee Bender, Kelly Link and George Saunders, Solitude is first and foremost a story of a family. And like all great family stories, it all turns deadly and awful … and then things start to disappear.

70. Slouching Towards Bethlehem by Joan Didion (1968)

Gen X loved the 1960s so much, we tried to re-create Woodstock, and we gobbled up Didion's classic to help us understand how our parents ended up so messed up. The center could not hold, and the result was Nixon, Reagan and endless secret wars. Fun!

69. I Know Why the Caged Bird Sings by Maya Angelou (1969)

Though initially released in 1969 to wide acclaim — it was an immediate bestseller — Angelou's stirring memoir reentered the popular culture in 1993 when she read her poem "On the Pulse of Morning" at the inauguration of President Bill Clinton, putting her front and center with Gen X. The autobiography then returned to the bestseller list for a remarkable 36 weeks. Like most great works, it remains one of the most widely banned books.

68. Slaughterhouse-Five by Kurt Vonnegut (1969)

Vonnegut's genre melding would serve as the foundation for a generation of writers who used elements of fantasy and speculative fiction to tell powerful stories set in our own lives. Later, Vonnegut's gut-wrenching satire, anti-war stance and striking realism would show up in such disparate works as The Hitchhiker's Guide to the Galaxy and The Things They Carried.

67. Are You There God, It's Me, Margaret. by Judy Blume (1970)

Blume's middle-grade novel was the subject of playground fascination from the moment it was released. It treated tweens with respect and honesty and then asked — and answered — many of the most pressing questions we had about our bodies, and our friends' bodies too. Simply put: legendary.

66. Bless Me, Ultima by Rudolfo Anaya (1972)

This classic of Latino coming-of-age literature is now old enough to have grandchildren of its own — and in many ways it does, with books like Elizabeth Acevedo's National Book Award–winning The Poet X — but that shouldn't stop you from reading it for the first time if you somehow missed it during your formative years. Magical, mysterious, heartwarming and heartbreaking in equal measure, Anaya's evocation of the American Southwest in the 1940s is unforgettable.

65. Diving Into the Wreck by Adrienne Rich (1973)

With a single verse in her iconic poem, Rich started to change the world:

"We are, I am, you are
by cowardice or courage
the one who find our way
back to this scene
carrying a knife, a camera
a book of myths
in which
our names do not appear."

64. Where the Sidewalk Ends by Shel Silverstein (1974)

Go into any Gen X home, snoop around a little bit, and there it will be, the illustrious collection of children's poetry and drawings by the incomparable Silverstein. Joyful, subversive and, above all else, tremendous fun, it was written for children but still speaks to adults decades later.

63. Interview With the Vampire by Anne Rice (1976)

Rice couldn't have known what her debut novel would start — the vampire industrial complex, essentially — but this book, written in the grief of her young daughter's death, would alter the landscape of literature, television and film for the next four decades. When the history of vampire fiction is written, it will start with two names: Bram Stoker and Anne Rice.

62. The Woman Warrior by Maxine Hong Kingston (1976)

Blending memoir and Chinese folk tales, Kingston's debut was like nothing else when it was first published, opening a door on both the first-generation Chinese American experience of the author as well as the lives of her mother and two aunts. A standard in women's studies and literature courses in the '80s and '90s, The Woman Warrior is also a poetic examination of what it means to merely survive in a world that does not see you, much less understand you.

61. The Shining by Stephen King (1977)

Forget about a haunted house. How about an entire haunted resort hotel! A generation of kids on vacation slept with this book underneath a pile of pillows or towels or blankets, and then woke up the next morning scared they'd find "REDRUM" scrawled on the mirror. If you had an older sibling who read the book first, well, that was a real possibility.

60. The Sexual Outlaw by John Rechy (1977)

Rechy screams from the rooftops in this essential piece of gay literature. Subtitled "A Documentary," it depicts a loose version of Rechy himself on a three-day sexual bender that is equal parts voyeuristic thrill ride and searing indictment of the oppression of homosexuals. Jumping from bars and BDSM romps to chapters on police corruption and the ills of a justice system aimed squarely against gay men, The Sexual Outlaw helped change laws.

59. The World According to Garp by John Irving (1978)

The book that pushed Irving into the kind of literary superstardom that eventually requires shirtless photos is also one of the novelist's very best. Garp, the son of a feminist icon, lives a life possessed by wrestling, sex and fiction writing — which may sound familiar to fans of Irving's — but the novel explores issues of gender and sexuality more deeply than most novels of its time. No wonder it remained on bestseller lists for years.

58. Kindred by Octavia Butler (1979)

A time-traveling Black woman writer finds herself transported back and forth to antebellum Maryland, with horrific results: She eventually loses an arm and discovers the shocking reality of a life enslaved. Butler's Afrofuturism upended previous notions of science fiction and still reads as innovative today. Kindred paved the path for writers like Nalo Hopkinson, Tananarive Due and Natashia Deon.

57. The Choose Your Own Adventure series, concept created by Edward Packard (1979)

These ingenious novels were a true precursor to first-person video games (though they were written in second person), where a wrong turn can end with your character's death. For a young person with a vivid imagination, Choose Your Own Adventure novels were an amazing gift to the mind, each presenting the perception of creative agency to the reader, so that you weren't so much consuming the story as creating it along the way. This brand of storytelling would alter how Gen X would eventually create art for others.

56. Flowers in the Attic by VC Andrews (1979)

One of the worst books you'll ever read, which is why it's important to read it before you have any literary taste at all, Flowers was nevertheless as important to adolescents in the late '70s and early '80s as the work of Judy Blume. It was the kind of book you passed around at recess, trying to figure out just what on earth you were reading. And then maybe a few years later, say around the time you were 15, you read the whole thing, and it was so risible you couldn't help but hand it off to your little sister or brother, restarting the cycle.

55. The Hitchhiker's Guide to the Galaxy by Douglas Adams (1979)

For kids weaned on Star Wars and reruns of Star Trek and Lost in Space, Hitchhiker's was the perfect novel to get you through those awkward years waiting for Return of the Jedi. It's funny, irreverent, filled with quotable lines and so very British, which made being a fan feel like being part of a secret club. Adams' humor and lack of self-seriousness can be seen in everything from the current iterations of Dr. Who to Guardians of the Galaxy to the novels of Neil Gaiman and beyond.

54. This Bridge Called My Back: Writings by Radical Women of Color edited by Cherríe Moraga and Gloria Anzaldúa (1981)

An anthology of powerful women's voices finally unfettered, This Bridge transformed feminist writing and serves as a landmark testimonial for women writers of color. Nothing is off-limits here — sexuality, race, politics all get equal weight — but it's the individual voices that shattered the norms in the early '80s and continue to do so today.

53. The Color Purple by Alice Walker (1982)

This amazing epistolary novel, which chronicles the life of Celie, a poor African American girl growing up in rural Georgia at the turn of the last century, won the Pulitzer Prize in 1983. It has rightfully earned a place in the American literary canon — as well as on most-banned-book lists — for its unflinching realism and dramatic examination of the postCivil War South.

52. Love Medicine by Louise Erdrich (1984)

Erdrich's debut followed the interconnected lives of several Ojibwe families across time, focusing on issues of Indigenous identity, the land, mythology and the experience of living in a country that has tried to eradicate you. The novel was widely popular and critically hailed at the time. Erdrich has released two updated versions, one in 1993 and another in 2009, each time expanding the world of the book, turning it into a kind of living document.

51. The Unbearable Lightness of Being by Milan Kundera (1984)

Two women, two men and a dog in the middle of the Prague Spring. It sounds romantic, doesn't it? Kundera's masterpiece appeared, weather-beaten, in Gen X backpacks for years, spurring conversations about fate, eternal return and the very fabric of existence. It's the kind of novel you read in college and then wonder if it holds up. It does.

50. White Noise by Don Delillo (1985)

The National Book Award–winning novel that gave us the term "Airborne Toxic Event" may have inadvertently prepared Gen X for how to survive a pandemic and home confinement, the rise of conspiracy theories, quack medical advice and the meshing of neo-Nazism with popular culture. At the very least, if you read White Noise, you weren't surprised by any of those developments.

49. The Silence of the Lambs by Thomas Harris (1988)

Our collective fascination with serial killers and forensics started right here and was only buttressed by the 1991 film adaptation of Harris' thrilling and groundbreaking novel. A true classic of crime fiction, it sadly turned the dead white girl at the hands of a maniacal super criminal into a trope that has leaked into how we consume real news.

48. Weetzie Bat by Francesca Lia Block (1989)

Set in a dream world of 1980s Los Angeles punk, Block's debut is a landmark in young adult literature, where sexual identity, gender fluidity, AIDS, unrequited love and coming of age are treated with profundity and wit, as well as a healthy dose of magical realism. Weetzie Bat took YA literature out of Sweet Valley and brought it into the real world.

47. Geek Love by Katharine Dunn (1989)

There was a time when Gen X became fascinated by all things freak show — quick, go show your kids clips of the Jim Rose Circus on YouTube — and, oddly, all things cultish. Geek Love was the urtext. Dunn's novel about a traveling carnival family will break your heart while making your skin crawl.

46. The Joy Luck Club by Amy Tan (1989)

Focused on the experience of Chinese immigrants in San Francisco, The Joy Luck Club feels like a direct descendant of The Woman Warrior because it essentially is, although in the form of fiction. This novel about the relationship between Chinese American women and their mothers is likewise filled with folklore and myth, but it's also a charming evocation of family life, the games we play and the food we eat.

45. The Things They Carried by Tim O'Brien (1990)

"You can tell a true war story by the questions you ask. Somebody tells a story, let's say, and afterward you ask, 'Is it true?' and if the answer matters, you've got your answer." O'Brien's genre-bending book — Is it fiction? Is it nonfiction? — is the standard by which all war fiction has been judged subsequently, but it was also the first book for Gen X that took pains to explain what many of our fathers had gone through and why they never wanted to speak of it again.

44. Devil in a Blue Dress by Walter Mosely (1990)

Mosley reinvented L.A. noir with his classic take on the form, his PI Easy Rawlins a far more believable character than Marlowe ever was. A bonus: Mosely's version of postwar Los Angeles as a vibrant, dangerous and culturally diverse city of cons is more precise too.

43. The Firm by John Grisham (1991)

The only thing that could stop the cruise ship industry again, short of a pandemic, would be if John Grisham stopped writing novels. That said, The Firm was an absolute moment. Every Gen Xer graduating law school with designs on changing the world à la Atticus Finch, or at least wearing fancy outfits like the folks on LA Law, instead found themselves pondering what lengths they'd go to if they found out they got the job of their dreams … and it was working for the Mob.

42. Generation X: Tales for an Accelerated Culture by Douglas Coupland (1991)

The novel that gave us our name. Set in Palm Springs, California (where this article's Gen X writer happened to grow up and live during the writing of the work), the novel isn't required reading, exactly, not because it's a bad book — it's simply aged poorly. Where novelists like McInerney and Ellis might feel of their time, Coupland feels out of time, as if he's writing about a future that isn't going to come true.

41. The Secret History by Donna Tartt (1992)

Tartt's debut novel about a group of friends at an elite liberal arts college who murder a farmer and then a classmate and then, well, things really start to fall apart, is a unique melding of high literature and pulp fiction. Which would be enough for it to stand as a classic about disaffected young people, except it then spawned a legion of imitators for the next 30 years, its influence apparent in everything from the crime novels of Gillian Flynn to the YA series Pretty Little Liars.

40. Jesus' Son by Denis Johnson (1992)

Johnson's collection of darkly sardonic stories were catnip for a generation of readers raised by parents high on valium and 7 and 7s. The collection moves heroin-sick across the middle of the country, finally landing in Seattle, in recovery, but for how long? The book was released just as grunge was overtaking America, and it's almost impossible to separate the two now in the minds of Gen X, the smell of flannel enough to bring you back to this amazing work and your old Nevermind tape.

39. Women Who Run With the Wolves, edited by Clarissa Pinkola Estés (1992)

A mixture of pop psychology, mythology, folklore, literature and theory, Women spent 145 weeks on the New York Times bestseller list. For Gen X, this was often one of the first books we read in college psychology or women's studies courses, or one of the first books we read in that weird post-college book club, the one with too much red wine and not enough of that good hummus we'd heard about. Still, the melding of forms in what ends up being largely a self-help guide would set forth an entire industry of like-minded books.

38. Waiting to Exhale by Terry McMillan (1992)

McMillan's third novel was a runaway success — fetching her a multimillion-dollar paperback deal along the way — and spent most of the year on bestseller lists. It endures, however, because not only did it accurately represent the lives of four professional Black women in Phoenix trying to navigate love and loss while celebrating the enduring power of friendship, but it did so with humor, grace and biting social critique. The 1995 film version, starring Angela Bassett and Whitney Houston, only cemented the novel's place in the hearts of readers.

37. Girl, Interrupted by Susanna Kaysen (1993)

This slim, nonlinear memoir ushered in a genre of mental-health confessionals and hung a lantern over the systemic issues in the field, while the 1999 film of the same name brought the book into broad, popular culture, turning it from a cult classic into a defining Gen X artifact.

36. The Virgin Suicides by Jefferey Eugenides (1993)

"On the morning the last Lisbon daughter took her turn at suicide — it was Mary this time, and sleeping pills, like Therese — the two paramedics arrived at the house knowing exactly where the knife drawer was, and the gas oven, and the beam in the basement from which it was possible to tie a rope." So begins Eugenides' yellowed memory of 1970s suburban adolescent malaise, told from the point of view of a Greek chorus of neighbors who are fixated on the tragic lives inside the two-story home down the street. A striking novel that is both familiar and haunted.

35. Bird by Bird by Anne Lamott (1994)

With what's essentially a self-help book — its subtitle is "Some Instruction on Writing and Life" — Lamott discovered a legion of readers who found her creative wisdom applicable to their daily lives, turning the writer into a Gen X guru. While writing "shitty first drafts" doesn't always help a novelist, it's not a bad way to approach your actual existence.

34. Prozac Nation by Elizabeth Wurtzel (1994)

Gen X ended the century with a cabinet filled with antidepressants, just as Wurtzel's memoir essentially predicted. Paired with Girl, Interrupted, which was released the year before, it made clear that the mental health industry needed serious reform. We're still waiting.

33. Permanent Midnight by Jerry Stahl (1995)

When you find out that Alf was written by a strung-out drug addict, a lot of your childhood starts to make more sense. So it was with Stahl's tragicomic memoir of addiction and redemption, which set the stage for an era of addiction tomes, from classics like David Carr's The Night of the Gun to the risible dreck of James Frey's A Million Little Pieces. Stahl's book did it all first, and better.

32. Fight Club by Chuck Palahniuk (1996)

You know the first rule of Fight Club.

31. Infinite Jest by David Foster Wallace (1996)

tl;dr

30. A Game of Thrones by George R.R. Martin (1996)

The title that launched thousands of pages of prose and thousands of imitators is still a crackerjack fantasy novel, Tolkien for the modern age and the book of choice for those who love their wars fought among families. Once the HBO series landed, it also served as a reentry drug for Gen X to go searching for our cloaks and 20-sided dice.

29. Into The Wild by Jon Krakauer (1996)

Christopher Johnson McCandless, the subject of Krakauer's nonfiction account, was Gen X to the fullest. The son of a well-to-do family boasting a high-priced education, McCandless ditched it all in 1990 to walk the land, renaming himself Alexander Supertramp and taking on adventures across the West. He ultimately hitchhiked to Alaska, where he eventually died of starvation after spending over a hundred days living in the wilderness in an abandoned bus, all of which, naturally, has turned him into a cult hero.

28. The Perks of Being a Wallflower by Stephen Chbosky (1999)

The first novel published by MTV Books, Perks was an underground sensation that eventually became a commercial smash, its opening line now iconic: "I am writing to you because she said you listen and understand and didn't try to sleep with that person at that party even though you could have." This epistolary novel about a young man battling depression, body image, sexuality and family life is also most likely the last true YA novel Gen X read while still an actual young adult.

27. House of Leaves by Mark Z. Danielewski (2000)

We were told that Danielewski's book would be how all books eventually looked — a mixture of typefaces, hypertext, photos, narrative and scribbles — and that its meta-narrative and "found" quality would change all forms of entertainment. That (paired with The Blair Witch Project) would be the path forward for the blending of the internet and popular culture. But you still had to, you know, read it.

26. Me Talk Pretty One Day by David Sedaris (2000)

Sedaris' unique voice — both literally and on the page — made for the perfect vehicle to dissect the American Gothic experience. One of a host of humorists, including Sarah Vowell and the late David Rakoff, to come out of PRI's This American Life, Sedaris dissects his childhood, his life as an expat, his relationship with his partner, Hugh, and, of course, what happens when someone doesn't flush. The human experience writ large and small and hilarious.

25. The Corrections by Jonathan Franzen (2001)

We all remember where we were when Franzen dissed Oprah's Book Club for being overly commercial. And then Oprah clapped back and dumped the book. And then Franzen won the National Book Award and his novel landed in every Costco in the land, selling millions of copies in the process, setting Franzen on a path toward books about birds, alas. We forget that the novel was, in fact, a bit of farcical genius, Franzen's attempt at the Great American Novel that largely succeeded.

24. Nickel and Dimed: On (Not) Getting by in America by Barbara Ehrenreich (2001)

In the wake of 1996's welfare reform laws, Ehrenreich went undercover in low-wage America, taking a series of minimum-wage jobs to find out just how dire life is on a few dollars an hour. "The 'working poor,' as they are approvingly termed, are in fact the major philanthropists of our society. They neglect their own children so that the children of others will be cared for; they live in substandard housing so that other homes will be shiny and perfect," Ehrenreich writes. "They endure privation so that inflation will be low and stock prices high." Sadly, nothing has changed.

23. Our Band Could Be Your Life by Michael Azerrad (2001)

Focusing on 13 indie bands — from the DYI punk rock of Minor Threat to the shambolic self-destruction of The Replacements — between 1981 and 1991, Azerrad perfectly captures what it was like being the "sons of no one" during the zenith of Gen X.

22. The Omnivore's Dilemma: A Natural History of Four Meals by Michael Pollan (2006)

Gen X became experts on food consumption. After a childhood spent ingesting Yellow #5 and Big Macs, we turned 40 and found out we were going to die if things didn't change. Along came Pollan's seminal work, which went from farm to table, literally, and started a revolution along the way.

21. Fun Home: A Family Tragicomic by Alison Bechdel (2006)

Bechdel's graphic memoir takes on gender roles, sexuality, family politics, love, death, violence, suicide and every other conceivable Gen X concern — along with the very meaning of home — in this game-changing format. For many in Gen X, this was our first foray into graphic nonfiction but not our last.

20. The Looming Tower: Al-Qaeda and the Road to 9/11 by Lawrence Wright (2006)

Wright's definitive account of the ascendancy of Osama Bin-Laden, Muslim fundamentalism and the events that gave rise to the tragedy of 9/11.

19. Columbine by Dave Cullen (2009)

Cullen's exhaustive investigation into the Columbine school shooting rewrote the history of the 1999 massacre. It might seem trite to call Columbine the end of innocence, but for Gen X, it might rightly be so, as the last of us graduated in 1999 in the shadow of mass murder. It took Cullen 10 years to piece it all together, and the result is not merely one of the great true-crime books of the 21st century, but perhaps the defining look at the end of a period when history seemed to be asleep.

18. A Visit From the Goon Squad by Jennifer Egan (2010)

It only took a few hundred years for someone to essentially tackle Tristram Shandy for the modern world, and it took a writer as skilled and as risk-taking as Egan to do it. Her PowerPoint chapter may go down in history as the moment Microsoft finally devoured something deep inside us all. A book about how modernity is killing us, it's also somehow timeless, urgent and deeply felt.

17. When My Brother Was an Aztec by Natalie Diaz (2012)

Diaz picks up where Adrienne Rich left off decades earlier, her collection of poetry and prose challenging all the systems currently in place. She's the sister to a drug addict; she's the child of inherited inhumanity; she's a passionate lover and wants deeply to be loved; she respects and fears a world that is margined against her, both as a woman and as a Native American. All of it in the voice of a woman raised in Gen X, aware constantly of the life passing around her. Stunning, evocative, timeless.

16. Citizen: An American Lyric by Claudia Rankine (2014)

Winner of the National Book Critics Circle Award in poetry and the NAACP Image Award (among a host of other honors), Rankine's collection refutes the notion that all is well in America and predicts, with shocking precision, the rise of white nationalism that plagues the country today. Born two years before Gen X, Rankine nevertheless feels the pulse of those around her, and this book thumps with pain and restless fear about where our world is headed.

15. Bad Feminist by Roxane Gay (2014)

Essayist and fiction writer Gay takes the stage set by This Bridge Called My Back and shifts the paradigm again. Gay identifies herself as "a mess of contradictions," though her book reveals a person very much in touch with reality, ready to argue for the rights she's surely earned, and eager to fight against patriarchal notions found in every cultural niche.

14. The Sympathizer by Viet Thanh Nguyen (2015)

The canon literature of the Vietnam War has long been dominated by American voices, so when The Sympathizer arrived — written by Gen X author and Vietnamese immigrant Viet Thanh Nguyen — it came with history on its back. The weight was no issue as Nguyen both satirizes the genre and redefines it at once, giving rise to a different kind of war novel, one where the winners and losers hardly matter at all as the novel descends into brilliant absurdity. Our children's children will be reading this in school.

13. Between the World and Me by Ta-Nehisi Coates (2015)

Gen X had to grow up at some point, and here one of our finest essayists writes a book- length letter to his own son, detailing what life as a 21st-century Black man has become. "Black people love their children with a kind of obsession," Coates writes. "You are all we have, and you come to us endangered."

12. The Underground Railroad by Colson Whitehead (2016)

Winner of the National Book Award and the Pulitzer Prize, Whitehead's novel is a pure Gen X take on alternative history: The railroad in question is a literal one, a series of trains that ferry escaped slaves to freedom. The novel bends genre, turning the slave narrative into a dynamic chase across time and meaning. A singular reading experience by Gen X's best, most versatile writer.

11. The Only Good Indians by Stephen Graham Jones (2020)

After we'd read every book Stephen King wrote for 50 years, Gen X was incapable of being scared. It just wasn't happening. It took one of our own to strike fear in our hearts and minds again. SGJ's novel came out four months into the pandemic, when we were all trapped inside our own homes, and made ceiling fans, shooting hoops alone and deer the scariest damn things on the planet.

10. Wild by Cheryl Strayed (2012)

In the summer of 1995, with no experience to speak of, and only hours removed from shooting up heroin, Cheryl Strayed embarked on a hike of the Pacific Crest Trail, a grueling 1,100-mile journey, in hopes of finding herself, her life, her past, her future. The memoir, released 17 years later, was not just a literary sensation but also a call to action. Turns out that slacker on the side of the road with a giant backpack was changing the world.

9. High Fidelity by Nick Hornby (1995)

What happens when Gen X grows up and falls in love? A wise person would know the essential truth already: Love will tear us apart. It takes Hornby's heartsick 35-year-old narrator, Rob Fleming, a little longer to figure that out. When his lawyer girlfriend dumps him, the record shop owner's life devolves into mixtapes and Desert Island lists, the way all good Gen Xers were taught to cope. The result is a hilarious and moving look at how a generation raised among crumbling marriages learns how to get over a fear of commitment.

8. The House on Mango Street by Sandra Cisneros (1984)

"In English my name means hope. In Spanish it means too many letters. It means sadness, it means waiting." This description, from the chapter titled "My Name," introduces us to Cisneros' indelible protagonist Esperanza Cordero, a young Latina growing up in Chicago. Written as a series of vignettes, the novel traces a life fraught by trauma and sadness, one of yearning and, finally, of profound hope.

7. Bridget Jones's Diary by Helen Fielding (1996)

The novel that launched an entire subgenre. Thirty-four-year-old Bridget Jones resolves to date better men, drink less, smoke less and generally become a better person in hopes of finding happiness. It's a modern spin on Pride and Prejudice set largely in offices and bars, the two places Gen X spent most of their 30s. The novel's workplace dalliances feel cringey and wrong today, but at the time they were considered high comedy.

6. Bright Lights, Big City by Jay McInerney (1984)

Even the novel's cover made you want to do cocaine. Told in second person, McInerney's novel was a postmodern evocation of the first wave of Gen Xers entering the workforce, hyped to the eyeballs on Manhattan nightlife, running from real emotion and toward designer goods at every turn, obsessed by self-image and petulant to a fault. On its face, the novel might seem like a relic from the "greed is good" era, but in truth Bright Lights, Big City has more in common with The Catcher in the Rye than, say, The Bonfire of the Vanities.

5. Drinking Coffee Elsewhere by ZZ Packer (2003)

The title story of Packer's immaculate collection first appeared in The New Yorker in 2000 and was an instant literary sensation, which is saying something in the age before social media. Her collection arrived fully formed three years later, the eight stories lit with questions about identity, lost notions of religion and raw sexuality.

4. A Heartbreaking Work of Staggering Genius by Dave Eggers (2000)

Reality does indeed bite in Eggers' memoir, a finalist for the Pulitzer Prize, about a college senior raising his 8-year-old brother after the death of both their parents. Funny, ironic, maddening and highly influential, Heartbreaking launched Eggers into the stratosphere while ushering in the rapid rise of irony-filled confessional writing, for better or worse.

3. The Bluest Eye by Toni Morrison (1970)

Published just five years into Gen X, The Bluest Eye slowly worked its way onto high school reading lists (and, subsequently, lists of frequently banned books) and thus was often the first major bit of literature read by teens in the '80s that wasn't The Great Gatsby or Ivanhoe. The Bluest Eye remains a profound meditation on the horrific ills of racism, the damning realities of child molestation and the haunting power of family secrets.

2. Less Than Zero by Bret Easton Ellis (1985)

Ellis was famously only 21 and still a student at Bennington College when his debut novel was released. Michiko Kakutani, in her New York Times review, called it "one of the most disturbing novels I've read in a long time." Distance has made the substance-addled experiences of the young L.A. elite seem less disturbing and more accurate — turns out it wasn't just the rich and beautiful who were taking drugs and having illicit sex; everyone was — yet in the intervening years, the novel's influence on Gen X has only increased due to its prescient social critique. Ellis didn't create reality TV or social media, but his characters would have eventually.

1. The Handmaid's Tale by Margaret Atwood (1985)

Imagine a world in which all the civil rights advances boomers and Gen X fought for have disappeared, plunging the United States into a burgeoning fascist morass. Imagine women losing their rights. Imagine authoritarian religious fanatics taking over the country. The Handmaid's Tale is not just a worst-case scenario for a society on the brink; it's also a masterwork of speculative and dystopian fiction that has become Gen X's 1984.